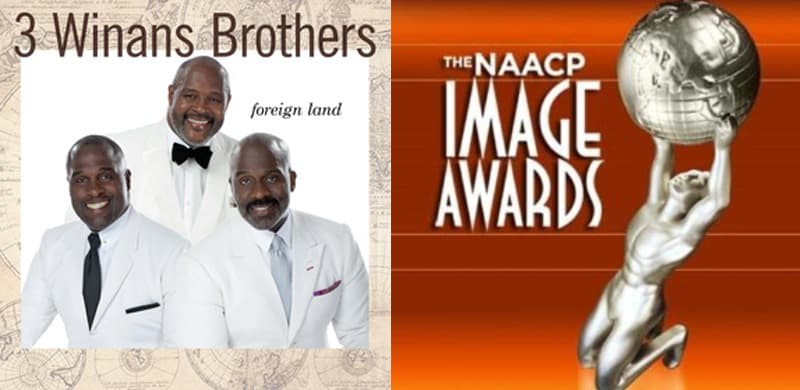 Multiple GRAMMY® Award-winning urban and gospel legends–BeBe, Marvin, and Carvin Winans–3 Winans Brothers- continue to celebrate the release of their debut album, Foreign Land, with the announcement of the "OUTSTANDING NEW ARTIST' Award win at the 46th NAACP IMAGE AWARDS, broadcast live from the Pasadena Civic Auditorium on Friday, February 6th, 2015.
The NAACP Image Awards is the premier multicultural awards show. It celebrates the accomplishments of people of color in the fields of television, music, literature and film, and also honors individuals or groups who promote social justice through creative endeavors.
"What my brothers Marvin and Carvin and I desired to accomplish with Foreign Land, the Image Award honor now provides another platform on which to continue to be relevant, allowing us to share through our music what we know and have recently experienced in our lives to this generation," noted Bebe Winans.
The brothers continue their non-stop promotional activities in support of Foreign Land and the cd's current single, "I Really Miss You," which is fast becoming an Urban/AC radio hit while continuing at Gospel radio. Written by Bebe in memory of the Winans' late brother, Ronald, and subsequently performed in 2012 at Whitney Houston's funeral, the song struck a chord with Today Show host's Kathie Lee and Hoda.
Recent appearances included The Hallmark Channel's Home & Family, The Queen Latifah Show, The 2014 Soul Train Awards, plus a special upcoming Bebe Winans performance on TBN's Praise (date t/b/a). Other high profile TV visits included two separate rousing performances on FOX Good Day NY and Sirius XM's Artist Confidential.
Released in partnership with BMG and eOne Music, Foreign Land arrived in stores and on the iTunes Store, and all leading digital retailers in late fall, 2014 and has been steadily selling. The album scored the number #2 spot on Billboard's Gospel Chart. Foreign Land's launch was supported by the brothers' non-stop, cross-country promotional schedule, including a day-of-release performance at Pastor Marvin Winans' Perfecting Church in Detroit.
3 Winans Brothers made their memorable live debut at last year's historic 50th Anniversary March on Washington ceremonies, performing "If God Be For Us" at the foot of the Lincoln Memorial in Washington, DC. Penned by BeBe Winans, "If God Be For Us" is but one of the many inspirational highlights found on Foreign Land. Recorded in Nashville, New York, and Los Angeles, the album sees 3 Winans Brothers teaming with such multi-faceted studio superstars as multiple GRAMMY®-winner Rodney Jerkins (Michael Jackson, Beyoncé, Mary J. Blige) and Daniel Weatherspoon (Donald Lawrence, Vashawn Mitchell), with additional guests including legendary GRAMMY® Award-winning Gospel vocal group, the Clark Sisters, featured on the upbeat "Dance." Fans are invited to sample Foreign Land via 3 Winans Brothers' official SoundCloud.
For updated news and information, please visit:
3winansbrothers.com
www.facebook.com/3WinansBrothers
twitter.com/3WinansBrothers
www.youtube.com/user/3WinansBrothers
www.pinterest.com/3winansbrothers
instagram.com/3winansbrothers
##
Media Contact:
Plan A Media, LLC
Patti Conte / 212 337 1406 ext. 2 / patticonte@planamedia.com
Daria Coppock / 212 337 1406 ext. 1 / dariacoppock@planamedia.com
Kaylin Johnson/ 212 337 1406 ext 3/ kaylin.planamedia@gmail.com