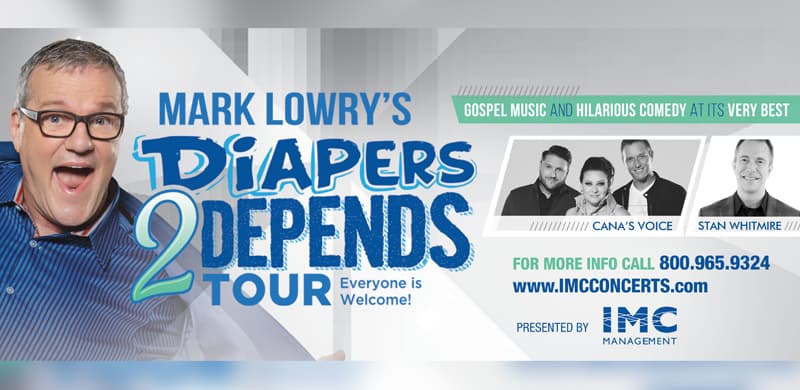 MARK LOWRY TEAMS WITH CANA'S VOICE TO PRESENT DIAPERS TO DEPENDS TOUR CO
Johnson City, TN – Those who know Mark Lowry best will attest that the comedic genius is a rather complex individual. As Kevin Williams, his long-time friend and the producer of Lowry's latest recording has stated, "Mark is funny, serious, simple, complex, in the moment and in the future, all at the same time." Mark would attribute this complexity to his ADHD diagnosis, but those who know him well simply attest that Mark just loves life and all the complexities that come with living life to the fullest and making each day count.
Over the years, Mark has shared the stage with many of the most elite singers and musicians to ever grace a concert stage. He was a member of the famed Gaither Vocal Band for over 20 years and has also teamed with the likes of The Martins, The Isaacs, Chonda Pierce and Michael W. Smith to create musical harmony that is loved by audiences of all ages. In the Spring of 2017, Lowry will once again team with three of music's elite as he partners with newly formed musical trio, Cana's Voice to present the "Diapers To Depends" Tour. "Yes, you read correctly," Lowry says smiling. "We are indeed calling this the Diapers To Depends Tour because our goal is to attract everyone. I thought about calling it 'from babies in walkers to Grannies in walkers', but we settled on Diapers To Depends," Lowry laughs.
This event indeed will, no doubt, attract listeners of all ages, as it will be a night the entire family will enjoy, regardless of stylistic preferences. Comprised of iconic Gospel singers, Jody McBrayer (formerly of Avalon), TaRanda Greene (formerly of The Greenes) and Doug Anderson (formerly of Signature Sound), Cana's Voice is quickly capturing the attention of music lovers from varying genres. In late summer, the trio released their very first recording, "This Changes Everything," comprised of 13 songs, selected by design to offer encouragement to those who may feel they are in a hopeless situation, living in a hopeless world. "Our desire is to use each opportunity we are given to help audiences and listeners understand the importance of pressing on through hard time and believing that God has a great plan," McBrayer states. "We look forward to the opportunity this Tour with Mark will offer us. Our desire is to use this platform to help change the lives of many people by sharing with them God's mercy and grace."
The Diapers To Depends Tour will take place in many cities nationwide throughout 2017. IMC Concerts will serve as Tour promoter and will be offering General Admission Seating, as well as Artist Circle Seating and a variety of Family Packages, in addition to VIP tickets, allowing concert attendees early admittance, preferred seating, a private exclusive question and answer session with the artists, and a souvenir autographed tour lanyard. In addition to Lowry and Cana's Voice, the Tour will also feature multi-talented pianist, Stan Whitmire. "I am so excited to be on the road with my dear friends and incredible singers and the powerful voices of TaRanda, Jody and Doug. The icing on the cake is that we have the greatest pianist in Gospel music with us in Stan Whitmire. It truly is a night for the whole family to enjoy.
Complete information regarding all Diapers To Depends Tour dates is available online at www.imcconcerts.com.
##
Media Contact:
Deana Warren
Writer's Ink Publishing
writersink@att.net