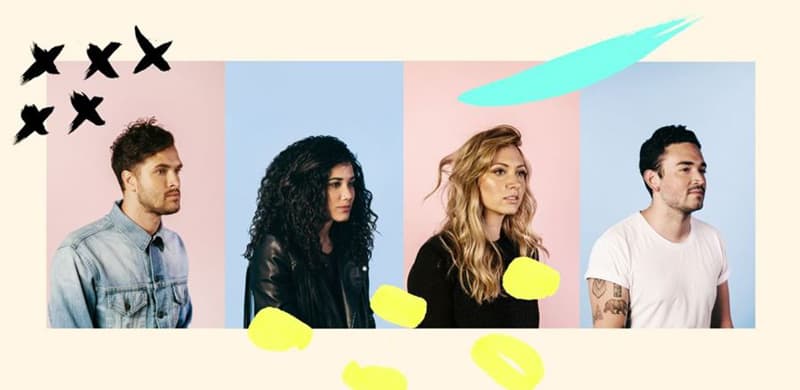 Nashville, Tenn. (Nov. 10, 2016) – Hillsong Young & Free have announced a free release of the video "Real Love" for a very special reason.
Instead of paying for the download, the band is asking people to donate to a World Vision program that provides aid to Syrian refugee children.
Young & Free's Laura Toggs said the idea to encourage real love for refugees came about after delays with the video when, "I became much more involved and aware of the current plight of the middle-east and I believe that maybe God had something else in mind all along."
"I am so grateful for God's timing and believe that this music video isn't just meant to be in vain, but rather its timing is perhaps God-ordained for us to rise-up beyond ourselves and to extend this 'REAL LOVE' across borders into circumstances that are unimaginable to us."
Toggs said, "It is difficult to reconcile how we were so lucky to be born into such blessing and prosperity while others are born into the grievance of war. What a time this is to extend REAL LOVE beyond ourselves to other young people who desperately need us to stand with them. THIS. IS. REAL. LOVE."
The Young & Free website features a link to a special World Vision Donation button beneath the video.
The funds raised will go directly towards aiding Syrian refugee children & young people in their education and schooling, as well as other vital necessities in partnership with World Vision USA.
"The refugee crisis can seem so enormous and complex," said Richard Stearns, president of World Vision U.S. "But God isn't asking us to solve it. He's simply asking us to love. Real love is what we do for people who are nothing like us. It's love that expects nothing in return. That's the kind of love Jesus showed us. Thank you, Hillsong Young & Free, for using your inspirational music to elevate the needs of unwanted and unloved refugees and rally support for them."
Download "Real Love" and donate to World Vision at http://hillsong.com/youngandfree/reallove/.
Young & Free's newest single "Falling Into You" was the No. 1 most added this week at Hot AC Radio debuting at No. 27. This marks two songs from the band featured currently on the National Audience Chart. Both tracks are found on Youth Revival, released earlier this year.
About Hillsong Young & Free:
Hillsong Young & Free is a youth movement born out of Hillsong Church in Sydney, Australia. In this thirty year story, they have seen generations of people serving, leading and pioneering movements. Hillsong Young & Free is comprised of a collective of young people who come together to make music for youth and young adults everywhere. Their first album We Are Young & Free (2013) and EP, This Is Living (2015), garnered a No. 1 spot on Billboard Top Christian / Gospel Albums Chart. With millions of social followers engaging in the social conversation, Hillsong Young & Free has scored two No. 1 radio singles and support from MTV, MTV Hits and mtvU among others. Hillsong Young & Free fills stadiums across the globe and continues to push their positive message in the musical context of EDM and pop influences. Their latest No. 1 release Youth Revival (2016) is available now.
About Hillsong Church:
In August 1983, Brian and Bobbie Houston founded the Hills Christian Life Centre in the Hills District of Sydney, Australia. It has grown from a congregation of 45 to what is said to be the largest local church in Australian history. It has now expanded to be a global church with local expressions in significant cities; with churches in Australia, London, New York, Los Angeles, Paris, Cape Town, Stockholm, Germany, Kiev, Amsterdam, Copenhagen and Phoenix. Each week, tens of thousands of people across the globe call Hillsong Church 'home' and the reach, impact and influence of this local congregation is seen across many nations.
Get Connected with Hillsong Young & Free:
www.hillsongyoungandfree.com
Snapchat // hillsongyandf
Twitter
Facebook
Instagram
YouTube
##
Media Contact:
Courtney Hyder & Velvet Kelm
the media collective
courtney@themcollective.com
velvet@themcollective.com
(615) 591-7989
www.themcollective.com