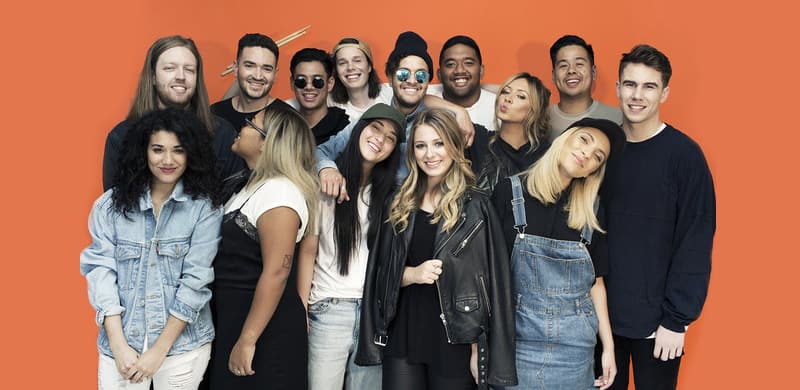 Photo Courtesy of Hillsong Church
Song found on GRAMMY® nominated Youth Revival
Nashville, Tenn. (Dec. 22, 2016) – GRAMMY® nominated Hillsong Young & Free's newest music video for their current radio single "Falling Into You" premiered exclusively with Billboard. Watch the video below.
"We've had the best year in twenty-16 seeing the world and meeting so many new people," Hillsong Young & Free's Laura Toggs shared exclusively with Billboard. "To celebrate, we're releasing a new music video for 'Falling Into You' that shows some of the highlights from our travels. This song is about letting go and choosing to enjoy Gods plan for your life. Each one of us could say that we've had to consciously choose to do this in the past year and although there can be elements of fear that holds us back – there's truly nothing like the thrill of living out Gods purposes. We have such a sense of joy and freedom when we do this song… so wherever you are… we hope you enjoy it! Love Laura & everyone from Y&F. Merry Christmas ?"
Releasing in February of 2016, the eclectic collection of songs found on Youth Revival articulate the deep desire of the human heart for something more. Youth Revival earned Hillsong Young & Free their first GRAMMY® Nomination. Making an impact at Christian radio, Youth Revival has garnered two Top 5 singles, as their newest "Falling Into You" quickly climbs the charts.
About Hillsong Young & Free:
GRAMMY® nominated Hillsong Young & Free is a youth movement born out of Hillsong Church in Sydney, Australia. In this thirty year story, they have seen generations of people serving, leading and pioneering movements. Young & Free is comprised of a collective of young people who come together to make music for youth and young adults everywhere. Their first album We Are Young & Free (2013) and EP, This Is Living (2015), garnered a No. 1 spot on Billboard Top Christian / Gospel Albums Chart. With millions of social followers engaging in the social conversation, Young & Free has scored two No. 1 radio singles and support from MTV, MTV Hits and mtvU among others. Young & Free fills stadiums across the globe and continues to push their positive message in the musical context of EDM and pop influences. Their latest No. 1 release Youth Revival (2016) is available now.
About Hillsong Church:
In August 1983, Brian and Bobbie Houston founded the Hills Christian Life Centre in the Hills District of Sydney, Australia. It has grown from a congregation of 45 to what is said to be the largest local church in Australian history. It has now expanded to be a global church with local expressions in significant cities; with churches in Australia, London, New York, Los Angeles, Paris, Cape Town, Stockholm, Germany, Kiev, Amsterdam, Copenhagen and Phoenix. Each week, tens of thousands of people across the globe call Hillsong Church 'home' and the reach, impact and influence of this local congregation is seen across many nations.
Get Connected with Hillsong Young & Free:
Website // www.hillsongyoungandfree.com
Snapchat // hillsongyandf
Twitter
Facebook
Instagram
YouTube
##
Media Contact:
Courtney Hyder & Velvet Kelm
the media collective
courtney@themcollective.com
velvet@themcollective.com
(615) 591-7989
www.themcollective.com