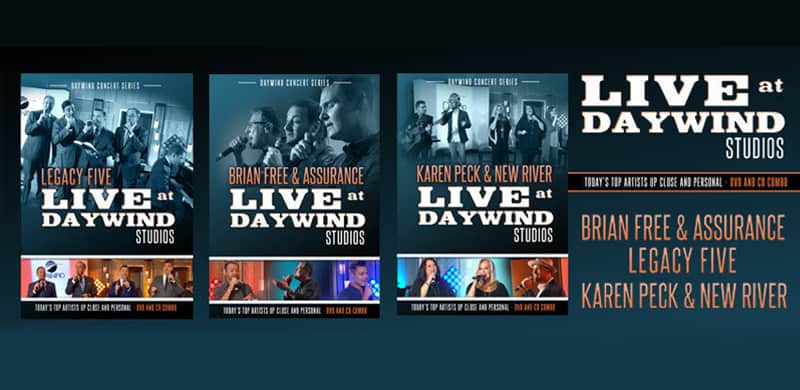 Hendersonville, TN (December 22nd, 2016) – Daywind Music Group announces the latest in the Daywind Concert series, with the release of new Live At Daywind Studios DVDs featuring Southern Gospel Artist of the Year, Karen Peck & New River, as well as Legacy Five and Brian Free & Assurance.
Filmed at the Daywind Studios in Hendersonville, TN the Live At Daywind Studios video series features some of the top artists in Christian music. Hosted by Gerald Wolfe, the series provides an up close and personal look at popular artists through powerful, yet intimate performances, insightful interviews and never before seen moments.
The DVD/CD combos are packed full of new, live recordings of hit songs and timeless classics, such as "Four Days Late" by Karen Peck & New River, "I Stand Redeemed" by Legacy Five and "Say Amen" by Brian Free & Assurance.
More DVDs in the Live At Daywind Studios series will be announced for 2017.
Live At Daywind Studios is available at Christian retail stores across the country and digitally at iTunes and other online outlets. Bulk purchasing for gift and ministry purposes is available by calling 1.800.635.9581.
Daywind Records is home to an award-winning roster of artists, including Legacy Five, Adam Crabb, Browders, The Hoppers, Jim Brady Trio, Greater Vision, Joseph Habedank, Karen Peck & New River, Second-Half Quartet, Bowling Family, Tribute, Nelons, Brian Free & Assurance, Blackwood Brothers Quartet and Wilburn & Wilburn. Daywind is distributed to retail through New Day Christian Distributors, Sony Red, and all major digital outlets, including iTunes.
For more information, visit www.daywindrecords.com
##
Media Contact:
Dani Phillips
publicity@daywind.com