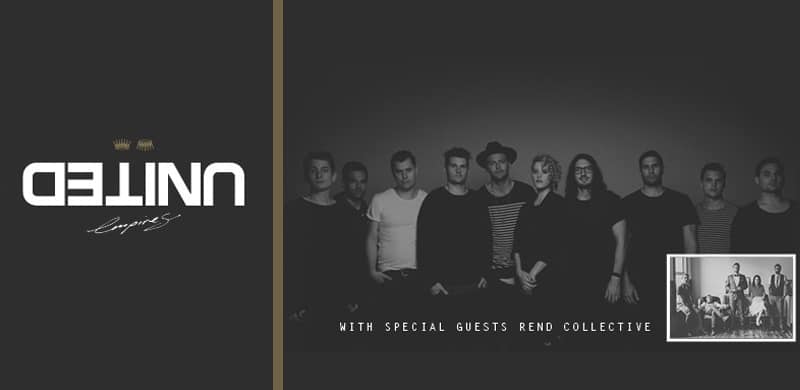 "Say The Word" from EMPIRES impacting radio now
Nashville, Tenn. (February 3, 2016) – After recent stops in India, Singapore and Indonesia, Billboard Music Award winners Hillsong UNITED will bring their highly acclaimed EMPIRES tour to the United States, featuring special guests Rend Collective. In their first touring return to North America since 2013, EMPIRES tour will kick off February 11 in Sunrise, Fla. and end with two dates in Honolulu, Hawaii. Due to sold-out shows, additional dates have already been added to the band's U.S. trek.
The Australian-based Hillsong UNITED has a long history of sold-out shows in the United States, including notable venues such as the famed Hollywood Bowl (Los Angeles), Staples Center (Los Angeles), Red Rocks (Denver), ShoWare Center (Seattle), Gwinnett Center (Atlanta) and BankUnited Center (Miami). Hillsong UNITED holds the record for largest attendance ever in the Sears Centre Arena (Chicago, IL), outdrawing concerts there by such legendary performers as Billy Joel, Elton John and the Eagles. Since 2006, Hillsong UNITED has toured six continents and 42 nations.
"We haven't really done our own thing in the USA since WelcomeZion 2013, so we are super excited to be bringing the EMPIRES tour to the states," shares Joel Houston of Hillsong UNITED. "We write songs to be sung with people – they are always for the people – so when we get to sing these songs with people on the road, it is the purpose of why we do what we do! We can't wait to worship with people singing all the new EMPIRES songs as well as everyone's favorites."
"Say The Word," the latest single from Hillsong UNITED's EMPIRES is currently impacting radio. The track picked up 30 adds in only two weeks. EMPIRES strongly debuted in Spring 2015 at No. 1 on Billboard's Christian Albums Chart and No. 5 on the Billboard Top 200. The album was met with appearances on The Today Show and Yahoo! along with critical acclaim from the likes of USA Today and The New York Times which remarked their talent as "a musical powerhouse."
For more information on the EMPIRES tour, visit hillsong.com/united/#tours.
EMPIRES 2016 Tour
February 11 – BB&T Center – Sunrise, FL
February 12 – CFE Arena (University of Central Florida) – Orlando, FL
February 13/14 – USF Sun Dome – Tampa, FL
February 15 – Smoothie King Center – New Orleans, LA
February 16 – FedEx Forum – Memphis, TN
February 18 – Cedar Park Center – Austin, TX
February 19 – American Airlines Center – Dallas, TX
February 20 – United Supermarkets Arena (Texas Tech University) – Lubbock, TX
February 22 – Gila River Arena – Phoenix, AZ
February 23 – Citizens Business Bank Arena – Ontario, CA
February 26/27 – Neal Blaisdell Arena – Honolulu, HI
About UNITED:
UNITED is a worship band that originally rose out of the youth ministry of Hillsong Church in Sydney, Australia. This progressive worship band is a global recording and touring entity sent out to share the ever-evolving worship music of Hillsong Church to an international audience through live performances and records. UNITED desires to see a generation across the earth awakened to real love, rising up with hearts as one and finding value in the broken, hurting and lost connecting with Jesus.
The Billboard Music Award winner's newest record EMPIRES debuted at No. 5 on the Billboard Top 200 to critical support from The New York Times, The Today Show, USA Today and Yahoo! Most recently, Hillsong UNITED was named the Top Christian Artist of 2015 by Billboard Magazine. Selling out venues across multiple continents, Hillsong UNITED have filled major U.S. venues including Staples Center (Los Angeles), Radio City Music Hall (New York City), Red Rocks Amphitheater (Denver) and more. It is estimated that over 30 million people sing their songs each week, among those, their platinum selling single "Oceans."
About Hillsong Church:
In August 1983, Brian and Bobbie Houston founded the Hills Christian Life Centre in the Hills District of Sydney, Australia. It has grown from a congregation of 45 to what is said to be the largest local church in Australian history. It has now expanded to be a global church with local expressions in significant cities; with churches in Australia, London, New York, Los Angeles, Paris, Cape Town, Stockholm, Germany, Kiev, Amsterdam and Copenhagen. Each week, tens of thousands of people across the globe call Hillsong Church 'home' and the reach, impact and influence of this local congregation is seen across many nations.
Get Connected with Hillsong UNITED:
Website
Hashtag // #EmpiresTour
Twitter
Facebook
Instagram
YouTube
##
Media Contact
Velvet Kelm & Courtney Hyder
the media collective
velvet@themcollective.com
courtney@themcollective.com
(615) 591-7989
www.themcollective.com