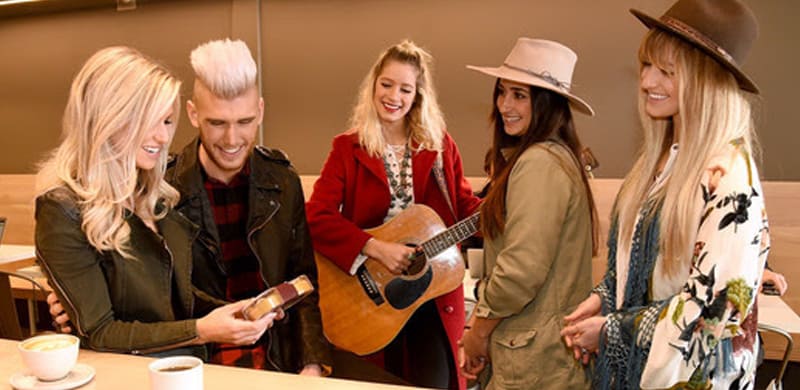 Photo Credit: Rick Diamond, Getty Images
Nashville, Tenn. (February 12, 2016) — To celebrate their first Valentine's Day as a married couple, Colton Dixon surprised his new wife Annie with an UBER Serenade and HERSHEY'S KISSES, delivered to their favorite Nashville coffee shop, Revelator Coffee.
Dixon was the first to order the UBER Serenade, which is a live, in-person performance of a love song from a Nashville artist delivered to any location in minutes. Each serenade experience comes with a heart-shaped box of KISSES DELUXE chocolates.
Country trio Sister C showed up to serenade the couple.
Colton and Annie wed in Nashville January 8, and PEOPLE Magazine exclusively covered the big day as well as their honeymoon, which became one of the popular website's most read stories of the week.
Dixon is prepping to head out on the Hits Deep Tour alongside tobyMac, Britt Nicole and more. For more info, visit: coltondixon.com.
About Colton Dixon
Colton Dixon quickly became a household name in 2012 when he made it to the top seven on Season 11 of Fox's hit show American Idol, and his career has been on the fast track ever since. Dixon's 2013 debut, A Messenger, set the record for biggest first-week sales by a new solo Christian act, becoming the No. 1 selling album by a new Christian artist and the No. 9 best-selling album of 2013 in the Christian genre overall. In just a few short years, Dixon has already played live for more than 1 million fans, performing at festivals like Winter Jam and touring with acts such as Third Day, TobyMac and Casting Crowns. Colton Dixon has also been named the latest Steinway artist, following in the footsteps of legendary artists such as Harry Connick, Jr. and Billy Joel. Dixon's sophomore effort ANCHOR includes the most played Hot AC single of 2014, "More Of You," which spent three weeks at No. 1, as well as "Through All of It," his fourth consecutive No. 1 at Hot AC Radio. In 2013, Dixon won a Dove Award for Best Rock/Contemporary Album Of The Year, along with two additional nominations. In 2015, ANCHOR was honored with the Dove Award for Rock/Contemporary Album of the Year. Dixon received back-to-back K-LOVE Fan Award nominations for Male Artist of the Year in 2014 and 2015. Dixon's dual EPs Calm and Storm are available now.
Get Connected with Colton Dixon
Website
Twitter
Facebook
Instagram
YouTube
##
Media Contact
Kirsten Grenier & Velvet Kelm
the media collective
kirsten@themcollective.com
velvet@themcollective.com
615.591.7989
www.themcollective.com