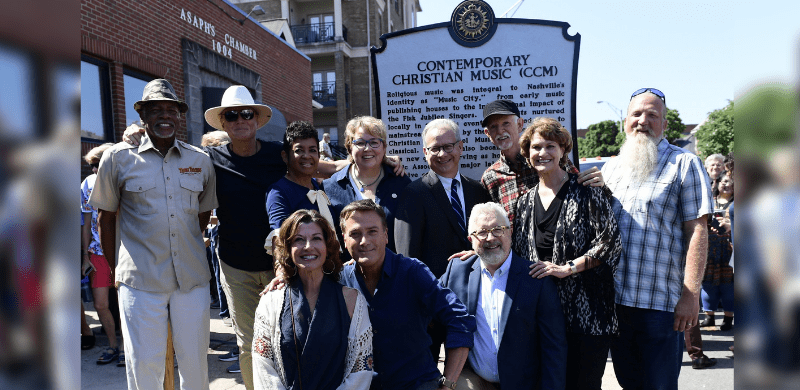 NASHVILLE, Tenn. (July 25, 2019) — Today, the Nashville Metropolitan Historical Commission, in association with the Nashville Metro Council, celebrated the installation of a historical marker at 1000 16th Avenue South with an unveiling ceremony, honoring decades of the music impact of Belmont Church, Koinonia Coffeehouse and the Contemporary Christian Music (CCM) genre on the city of Nashville. Additionally, a concert of celebration featuring CCM artists who performed at Koinonia during the 1970's, will be held on July 27 at the Koinonia Coffeehouse.
The historical marker unveiling ceremony today included Nashville's Mayor David Briley, Amy Grant and Michael W. Smith along with District 8 Councilwoman, Nancy VanReece, Gospel Music Association President, Jackie Patillo and Nashville Metro Historical Society Historian, Jessica Reeves. The 20-minute ceremony began at 10 a.m. on the corner of 16th Avenue South and Grand Avenue. This location is at the heart of what is known as Nashville's famous "Music Row." This event was free and open to the public.
"Gospel and Contemporary Christian Music have played a big, but sometimes unsung, role in Nashville's creative evolution and in our being known worldwide as Music City," said Nashville Mayor David Briley. He continues, "It's fitting that we honor the impact these musicians, singers, songwriters, producers, engineers and others have had on listeners around the world."
The Koinonia Celebration Concert will be held on Saturday, July 27 at 6:30 p.m. featuring artists and songs from the celebrated era including Dogwood, Fireworks and more at the Koinonia Coffeehouse (1000 16th Avenue South). The concert is open to the public on a first come basis until capacity.
On July 16, the Nashville Metropolitan Council included a reading of a resolution celebrating 50 years of the Gospel Music Association (GMA)'s Dove Awards, acknowledging the impact of the upcoming unveiling of the historical marker and thanking GMA for collaborating with three major CCM record companies to fund the historical marker.
"The Gospel Music Association is thankful for our colleagues at Curb/Word Entertainment, Capitol Christian Music Group, and Provident Music Group for their financial support for the historical marker and dedication to serving our community in this way," commented GMA President & Executive Director, Jackie Patillo. "We are also honored to receive the resolution from the Metro Council, on behalf of the CCM and Gospel industry based here, which honors the 50th year of the Dove Awards and we want to urge the community to consider attending the awards on October 15th at Lipscomb's Allen Arena."
The timing of this historical marker installation has been elevated as Music Row is now on the list of most endangered historical landmarks by The National Trust for Historic Preservation (announced 5/30/19). You can read more about it here.
Other Metro historical markers have been created to honor well known locations such as Ryman Auditorium, Holy Trinity Episcopal Church and Belmont Mansion (located just down 16th Ave South from Koinonia and Belmont Church) or markers are based on events such as the Battle of Nashville or the East Nashville Fire. Some markers honor its most famous leaders and creative people such as Revolutionary War General Thomas Overton, dancer Albertine Walker, and Poet Laureate Randall Jarrell. The new historical marker at 16th and Grand for Contemporary Christian Music, Belmont Church and Koinonia Coffeehouse combines historic sites, key events and highlights a few select creative individuals who contributed richly to the fabric of this brand of music in Music City.