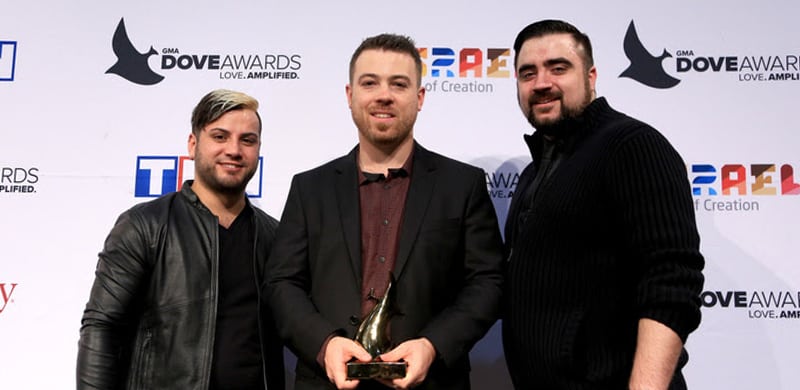 Pictured L-R: Jerricho Scroggins, Seth Mosley, Michael "X" O'Connor; Photo Credit: Anna Webber, Getty Images
Seth Mosley & team garners recent multi-format radio hits and GMA Dove Award win
Nashville, Tenn. (Oct. 26, 2016 ) – Full Circle Music, the GRAMMY® award winning team of songwriters and producers, have announced the return of their popular Music Makers Bootcamp. The exclusive 40-spot offering geared towards producers, songwriters and artists includes live training on hot topics like selling music online, mixing, writing songs that last and more. The return of Music Makers Bootcamp will take place on Jan. 26-28 at the legendary Sound Kitchen Studios in Franklin, Tenn. With the last experience selling out in only a few days, the panel of educators include Seth Mosley (GRAMMY® Winning Music Producer/Songwriter), Benji Cowart (Chart-Topping Songwriter), Matt Hammitt (Hit Artist and Songwriter), Sean Moffitt (Multi-Platinum Mix Engineer), Mike X. O'Connor (GRAMMY® Winning Music Producer) and Ben Calhoun (Songwriter, Citizen Way Frontman). For more information, click here.
Full Circle Music's week at radio includes a multi-market line-up with a No. 3 Mainstream Rock Single, a No. 9 Canadian Country Single, a No. 26 USA Country Single, the No. 1 Song on Christian NCA Radio Charts, the No. 1 Christian Rock Song and the No. 1 Christian AC Song.
With a whopping six nominations at this year's GMA Dove Awards including nods in top categories like "Producer of the Year," Seth Mosley earned a Dove Award for his work with Jon Foreman's The Wonderlands: Sunlight & Shadows. The group's Full Circle Music Show that delves into the "why" of the music business appeared on the Red Carpet, hosting conversations with the night's honorees. Former guests include notables like Michael W. Smith, Matt Hammitt, Tom Douglas (Lady Antebellum, Miranda Lambert and Tim McGraw), Tim Lauer (The show Nashville, Taylor Swift, Blake Shelton and The Civil Wars), Neal Avron (Sara Bareilles and Fall Out Boy) and more. The Full Circle Music Show is available via iTunes and online.
About Full Circle Music:
The GRAMMY® winning & Billboard Producer of the Year Seth Mosley stands as the mastermind behind some of the biggest hits in the CCM industry, helming No. 1 singles from for KING & COUNTRY ("Fix My Eyes"), Francesca Battistelli ("He Knows My Name"), Jeremy Camp ("He Knows") and more in one year alone. Altogether, Mosley's full-service production company, Full Circle Music, has contributed to over 20 No. 1 chart-topping songs and worked with artists, both signed and independent, including Skillet, Mat Kearney, TobyMac, Jon Foreman (Switchfoot), Newsboys and country acts like High Valley, Ricky Skaggs and more. The team writes and produces an average of 150 songs each year in their Franklin, Tenn.-based studio. Mosley and group unveiled the music production school Full Circle Music Academy and Songs for FCM Publishing with Dove Award winning Matt Hammitt as their first songwriter. Focusing on crafting music for the future, Mosley is the curator of the Full Circle Music Podcast which sits down with industry icons.
Get Connected With Full Circle Music
www.fullcirclemusic.org
www.thefullcircleacademy.com
Snapchat // fullcirclem
#MusicMakersBootcamp #FullCircleMusicShow
fullcirclemusic.org/podcast-media
Twitter
Facebook
Instagram
##
Media Contact:
Velvet Kelm, Courtney Hyder, Kirsten Grenier & Brooke Huppenthal
the media collective
velvet@themcollective.com
courtney@themcollective.com
kirsten@themcollective.com
brooke@themcollective.com
615-591-7989
www.themcollective.com