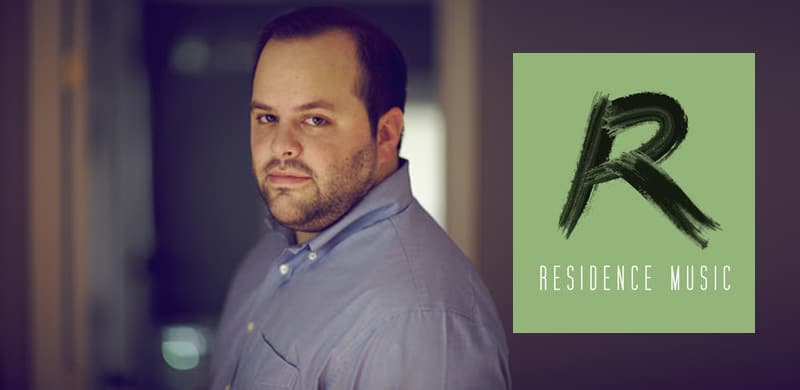 Pictured: Andrew Lambeth, Director of Artist Development for Residence Music
Industry Veteran Andrew Lambeth Named Director of Artist Development
Nashville, Tenn. (July 8, 2015) —- Steve Ford, general manager of Centricity Music, announced today the launch of the company's new label, Residence Music. The record company has named industry veteran, Andrew Lambeth, as Director of Artist Development, as he will oversee the A&R and marketing for the label's artists. Residence Music will be a general market label that is geared towards mainstream genres of music, with their first artist signing to be announced early August and the first project to be released October 2015. Caroline Distribution, a division of Universal Music, will handle all retail and online music distribution to the marketplace. Lambeth will report directly to Ford and can be reached at andrew@residencemusic.com.
"The idea for Residence Music started over a year ago in a leadership team meeting as we were discussing growth opportunities for Centricity," explains Ford. "As we examined the overall music industry, we noticed that there were a lot of people of faith making great music but it was not focused on the Christian marketplace. As we committed to move in this direction, the search began for the right person to carry out our vision. Andrew has a great passion for music and his love for artists seeps through every pour in his body. His knowledge, experience and drive is exactly what Residence Music needs."
"The final step was finding the right partner to help us develop these artists," continues Ford. "When we sat down with President Dominic Pandiscia and his team at Caroline Distribution, it was a simple choice. Their passion for building and breaking artists was the message we needed to hear and I look forward to seeing what opportunities and impact this partnership brings."
"We are excited for the launch of Residence Music and the partners we will be working with," adds Lambeth. "In a high-risk industry, the push to have a blockbuster can hurt the real growth of a talented artist. With Residence Music, our goal will be to partner with artists with a clear vision and to build a release over time rather than swinging for the fences. These artists make their music with a powerful purpose, and with that same purpose I know we can grow sustainable careers. I am grateful to the Centricity team for the opportunity to work on a special project like this."
For more information about Residence Music please visit online, www.residencemusic.com.
About Andrew Lambeth:
Andrew is a graduate of the University of Alabama and previously worked as an independent artist manager.
About Caroline Distribution:
Caroline was re-born as a global business in February of 2013 evolving from the successful EMI Label Services division under EMI. With Dominic Pandiscia as President, 2013 and 2014 proved to be the biggest market-share years in the 31 year history of the company with 2015 shaping up to surpass this achievement including a #1 Overall debut for Alabama Shakes (the first #1 in the 15 year history of ATO Records) and #1 Top 200 Album debut for All Time Low (the first #1 in the 22 year history of Hopeless Records). These chart successes are complimented by numerous successes across the Caroline label-service platform including Top 20 singles at Alternative Radio for Glass Animals and The Kooks, #1 Active Rock singles for Slash and Alter Bridge, Top 20 AAA single for Chrissie Hynde and many other successes. Additionally, Caroline's Sync & Branding division has delivered high-profile song placement with partners such as Coors, Love & Hip Hop and more.
About Centricity Music:
Centricity was founded in 2005 with a commitment to artist development and stylistic diversity. Based in Franklin TN, artists include Aaron Shust, Andrew Peterson, Carrollton, Jared Anderson, Jason Gray, Jordan Feliz, Lauren Daigle and Unspoken. The company's mission is to enable their artists to create life-changing experiences for the world, by providing label, management and publishing services.
##
Media Contact:
Janet Bozeman
615-472-8417
janet@bozemanmedia.com