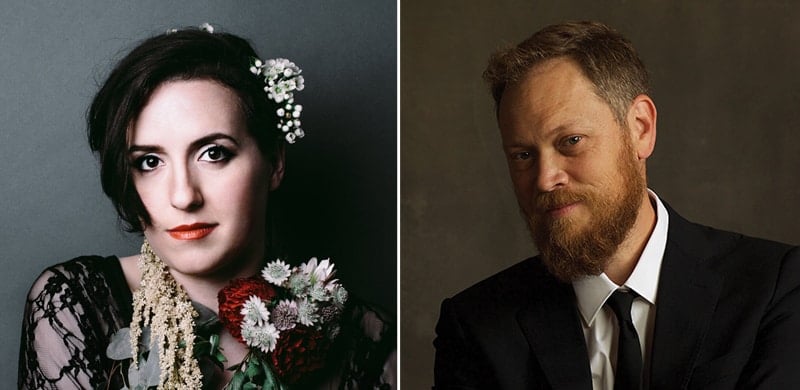 Assad's Pink Floyd Cover Featured On NBC's Timeless Fall Season Opener
Critically lauded singers, songwriters and authors Audrey Assad and Andrew Peterson launch "The Edge of Dawn Tour" Feb. 25 in Richardson, TX. The multi-state, multi-denominational church tour will run through late March and will feature new music and fan favorites from each of these artist's celebrated song repertoire.
"I can't wait to play music with a songwriter for whom I have so much respect," says Assad. "Resurrection is a story I need to learn afresh, and I think telling it through music with Andrew will be a beautiful way to enter in this year."
"I've been a fan of Audrey's music for a long time, so getting to share a band and a stage with her will be a huge honor," says Peterson. "The fact that we're doing this tour with a Resurrection theme makes it even better."
Assad, whose cover of Pink Floyd's "Wish You Were Here" was featured on the fall season opener of NBC's hit show Timeless at 41:45 into the episode, will play songs on this tour from her five-star acclaimed and No. 1 selling Adult Contemporary (CMTA / SoundScan) album, Inheritance, released last year on Fortunate Fall Records with Tone Tree Music distribution. The album, as well as the Inheritance Deluxe Edition released last fall, features a collection of hymns and original songs that both pay homage to her childhood heritage and to her Catholic faith and charismatic spirituality.
Co-producing Inheritance with Daniel James (Canon Blue, Joy Williams, Among Savages), Assad's current album projects a unique soundscape through a cinematic-styled approach featuring lush textures and wide, expansive rhythms that allow her voice to glide effortlessly over a diverse landscape of prayerful contemplation. Named "one of the best albums of 2016" and "an invaluable gift" by critics, Inheritance includes the original song "Even Unto Death," which was written after Assad heard of yet another martyrdom in the Middle East and has been lauded as a Top 20 song of 2016 by Worship Leader. The album also features "It Is Well With My Soul," a special dedication to honor Audrey's late grandmother, "Holy, Holy, Holy," "New Every Morning," "It Is Well With My Soul," "Ubi Caritas" and "Be Thou My Vision."
Peterson, who is one of Christian music's most prolific and thought provoking singer-songwriters, will play songs from his latest Centricity Music project, The Burning Edge of Dawn, which debuted at No. 2 on Billboard's Current Contemporary Christian Top Albums Chart and marks the highest chart debut of his career. Produced by Gabe Scott, Ben Shive and Joe Causey, the full-length album features joyful songs delivering the heart-rending lyrics that Peterson fans have always enjoyed. CCM Magazine praises the album's "powerful analogies of God and a Godward faith" while NewReleaseToday.com calls it "an artistic feat" and Phantom Tollbooth hails it as "supremely up-lifting."
In addition to the title track, The Burning Edge of Dawn features a song written for Peterson's wife, Jamie ("My One Safe Place"), and his daughter, Skye ("Be Kind To Yourself"), while "The Rain Keeps Falling" features singer-songwriter Ellie Holcomb. Two of the songs include background vocals from Caleb Chapman of the band Colony House.
The current "The Edge of Dawn Tour" itinerary follows:
Sat., Feb. 25, Woodcreek Church, Richardson, TX
Sun., Feb. 26, Redeemer Presbyterian, San Antonio, TX
Thurs., Mar. 2, Most Precious Blood Catholic Church, Corpus Christi, TX
Fri., Mar. 3, Prince of Peace Catholic Church, Houston, TX
Sun., Mar. 5, Sammamish Presbyterian Church, Kenmore, WA
Fri., Mar. 10, CNY Crossroads Inspiration Hall, Syracuse, NY
Sat., Mar. 11, Walnut Hill Community Church, Bethel, CT
Sun., Mar. 12, Manor Church, Lancaster, PA
Fri., Mar. 17, Morristown (Knoxville), TN
Sun., Mar. 26, Peachtree City, GA
* Tour dates subject to change.
For all the latest tour dates and more information regarding Audrey Assad and Andrew Peterson, go to www.audreyassad.com and www.andrew-peterson.com.
About Audrey Assad:
Lauded by the New York Times, multiple Dove Award nominee and iTunes Christian Breakthrough Album of the Year recipient (The House You're Building, 2010) Audrey Assad releases music she calls "soundtracks for prayer" on Fortunate Fall Records, which she co-owns with her husband, William Price III. In addition to her albums, Audrey speaks about art, faith, womanhood, justice and pornography addiction at Catholic and evangelical events such as Q Ideas, Focus Conferences and more. She has written songs for Matt Maher, Christy Nockels, Brett Younker, Sarah Hart, Meredith Andrews and others, and is featured on Chris Tomlin's RIAA certified Gold record, Glory in the Highest (2009). Having toured with Tenth Avenue North, Matt Maher, Jars of Clay and others, Audrey has further been featured at World Youth Day 2016 (Poland), Mass at St Patrick's Cathedral and during the Papal Event "World Meeting of Families." She also writes reflective and devotional entries for the likes of Christianity Today, the Magnificat and Blessed is She, and is the daughter of a Syrian refugee. Passionate about bringing awareness to the current refugee crisis, see the story of her family at http://wewelcomerefugees.com/tag/audrey-assad/.
For more information on Audrey Assad and Inheritance:
www.audreyassad.com
Facebook
Twitter
Instagram
YouTube
About Andrew Peterson:
A man of many talents with a successful recording and songwriting career, Andrew Peterson is also the award-winning author of The Wingfeather Saga series, host of a highly popular online creative community called the Rabbit Room (www.RabbitRoom.com), and has launched his film and TV production company, Shining Isle Productions. Peterson's latest studio album, The Burning Edge of Dawn, released October 2015 amidst strong critical reviews as Peterson was called "one of the foremost singer/songwriters around." His previous project, Light for the Lost Boy, garnered two 2013 Dove Award nominations and rave reviews hailing the project as "best album of the year." His album, Counting Stars, debuted at No. 1 on iTunes, and No. 6 on Billboard. His single, "Dancing in the Minefields," reached the Top 10 on the Christian AC chart, while the video for the song has received wellover 1,000,000 views online. In Dec. 2016, Peterson embarked on his 17th annual "Behold the Lamb of God Christmas Tour" that once again included sold-out venues and two nights at the historic Ryman auditorium.
For more information about Peterson and The Burning Edge of Dawn:
www.andrew-peterson.com
Facebook
Twitter
##
Media Contact:
Rick Hoganson
Hoganson Media Relations
615-459-9870
Hoganson@comcast.net