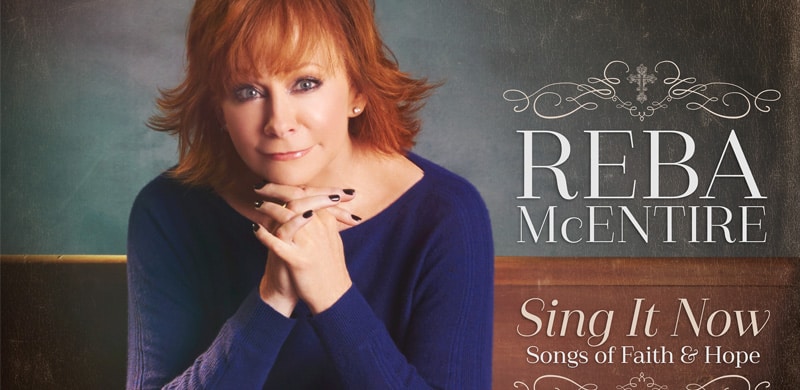 Reba McEntire has never been one to "rest on her laurels" (Associated Press) and continues to prove that her strong work ethic couples well with passion as she prepares to release SING IT NOW: SONGS OF FAITH & HOPE on February 3, 2017 jointly through Nash Icon Records and Capitol Christian Music Group. The double-disc project highlights traditional hymns of "faith" throughout the first 10 songs while more contemporary tracks of "hope" round out the back half.
The GMA had the privilege of asking Reba some personal questions as she prepares for the release of her album.
---
What is your favorite family meal (describe in detail and share a special memory if possible)?
I love pinto beans, cornbread, fried potatoes with ketchup and iced tea! Mama used to make a big pot of beans with cornbread and we'd have lots of fun around our dining room table after a great afternoon at the roping pen.
Tell us one thing you wish you knew when you first started out in music.
To take every day one day at a time and to stop and smell the roses. I rushed, ran and worked way too hard. God says to take each day to enjoy what he has given us. It's never too late to learn, which I have, but I sure did miss a lot.
Share an experience in life where you felt most nervous? How did you get through it?
I was always the most nervous performing in front of Mama and Daddy and my peers in the music business. I got through it by just taking a deep breath, getting out there and singing.
Why did you decide to record a Gospel album and why now?
I've always wanted to record a Gospel album but my friends prompting me was the reason now was the right time. Everything happens for a reason and timing is very important. Bill Carter and Tony Brown both kept saying I need to record an inspirational album. I'm so glad they encouraged me in that direction.
Do you have a favorite Gospel music artist or song that has impacted you in the past few years?
My little sister, Susie, has been singing gospel/Christian/country music for years! She has been an inspiration to me and thousands of others with her singing and her testimony. She touches my heart! I love her singing "So It Goes" and "Precious Lord." The Isaacs are also incredible with their family harmony. Pake, Susie and I sang tons of The Singing Rambo's songs when we were the Singing McEntires … love their songs and family harmony. I love Hillary Scott's "Thy Will," "Holy Spirit" by Francesca Battistelli and "He's Alive!" by Dolly Parton … So moving! And Carrie Underwood has really moved many hearts with "Jesus Take the Wheel."
Share a story behind the recording of one of these songs.
Pake, Susie and I would take turns singing lead and harmony on the Singing Rambo songs. I loved singing "God You Never Cried." Susie and I would sing "Will There Be Any Stars?" while Pake sang harmony with us. That last song, was Aunt Jeannie's favorite song and it always made her smile. Susie will start "Where No One Stands Alone" when we're cooking or getting ready for a big Thanksgiving meal. The rest of us will join in … Lift up a joyful noise!
---
Reba's creative and entrepreneurial ventures continue to establish her as a household name across music, television, film, theater and retail. The Country Music Hall of Fame and Grand Ole Opry member has won 15 American Music Awards, 13 ACM Awards, nine People's Choice Awards, seven CMA Awards and two Grammy Awards in addition to several prestigious leadership, humanitarian and milestone honors. As part of the longest-running Country act in The Colosseum's history, REBA, BROOKS & DUNN: Together In Vegas will return to Caesars in February 2017. She is also an acclaimed actress with 11 movie credits to her name, a prominent role on Broadway and starred in the six-season television sitcom Reba. Most recently debuting her Reba Beauty cosmetic line, she has separately enjoyed a decade-plus lifestyle brand partnership with Dillard's. Online education platform MasterClass invited Reba to offer her wisdom and knowledge as one of world's best creators in a series out now.
For tour dates and more, visit Reba.com.
##