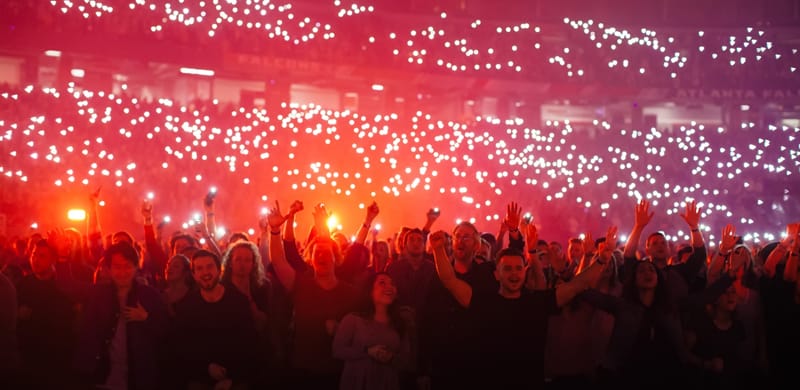 Photo Credit: Phil Sanders
Attendees Make History Together by sponsoring more than 7,000 children through Compassion International fulfilling every sponsorship in El Salvador, Rwanda, Tanzania and Indonesia
Atlanta, Ga. (Jan. 6, 2017) — More than 50,000 18-25 year olds from 90 countries and all 50 states packed the Atlanta Georgia Dome for Passion 2017, an annual conference bringing young adults from around the globe together to proclaim the name of God, with daily sessions featuring renowned speakers and artists. Returning to The Georgia Dome for the first time in four years, the three-day conference kicked off Monday, Jan. 2 and concluded Wednesday, Jan. 4, marking one of the final events held at the arena before its planned demolition this year.
Spearheaded by Passion Founders Louie and Shelley Giglio, attendees heard from Christine Caine, Beth Moore, John Piper, Levi Lusko, Francis Chan and Katherine and Jay Wolf while joining in worship led by Passion Band (helmed by Kristian Stanfill, Brett Younker and Melodie Malone), Chris Tomlin, Crowder, Matt Redman, Christy Nockels and Hillsong UNITED. To the surprise of all guests, multi-platinum selling Carrie Underwood joined GRAMMY® nominated Crowder on stage Monday night and performed her No. 1 hit single "Something In The Water" to an enthusiastic crowd.
Surrounding the worship at Passion is an emphasis on giving back, and the conference has raised more than $17 million for various philanthropic efforts over the years. This year, attendees participated in an endeavor to Make History Together. Students in attendance united in sponsoring more than 7,000 children through Compassion International, fulfilling all sponsorships in the countries of El Salvador, Rwanda, Tanzania and Indonesia as well as hundreds in Bolivia.
Students have also continued to fight modern-day slavery through support of The END IT Movement along with gathering tens of thousands of new towels and socks for local Atlanta homeless shelters. Working as the heartbeat behind the worshipful event, 2,500 individuals have volunteered their time as the conference's Door Holders, opening a way for attendees to see and experience Jesus.
An early copy of The Jesus Bible (Passion Publishing, Zondervan) was given to each Passion-goer. The Jesus Bible, released Jan. 3, is filled with 66 book introductions, over 1,000 articles and seven compelling essays by Giglio who served as the general editor, alongside Max Lucado, John Piper, Ravi Zacharias and Randy Alcorn, helping readers follow the thread of Jesus from cover to cover. To learn more and to access a 365-day reading plan featuring devotionals from The Jesus Bible, visit TheJesusBible.com.
For the first time, Passion opened up the night sessions for Passion Alumni and adults over the age of 25, celebrating what God has done in the lives of people during 20 years of Passion.
Passion's 2018 conference will be held in Atlanta's Philips Arena.
Passion Conferences has been uniting college students around the world for the past 20 years, hosting over 50 events in more than 16 countries. For more information about Passion Conferences, visit 268generation.com or follow @passion268 on Instagram, Twitter and Facebook.
About Passion Conferences
Led by a stirring in the heart of Atlanta-based pastor Louie Giglio, Passion was birthed in 1997 to see the more than 20 million college students across the globe awaken to the reality of an omnipotent and glorious Creator. Since then, millions of students from numerous countries have joined the Passion movement, united across ministry and denominational lines, to seek the face of God in worship and prayer at 10 conferences, four world tours, and multiple one-day and regional events. Passion's core Bible verse, Isaiah 26:8 states, "Yes, LORD, walking in the way of your truth, we wait for you; your name and renown are the desire of our souls." The Passion team is led by Louie and Shelley Giglio and operates under the direction of a board that is committed to spreading the fame of Jesus Christ to college students everywhere.
Get Connected With Passion
Twitter
Facebook
Instagram
##
Media Contact
the media collective
Velvet Kelm, Courtney Hyder, Kirsten Grenier & Brooke Huppenthal
velvet@themcollective.com
courtney@themcollective.com
kirsten@themcollective.com
brooke@themcollective.com
615.591.7989
www.themcollective.com