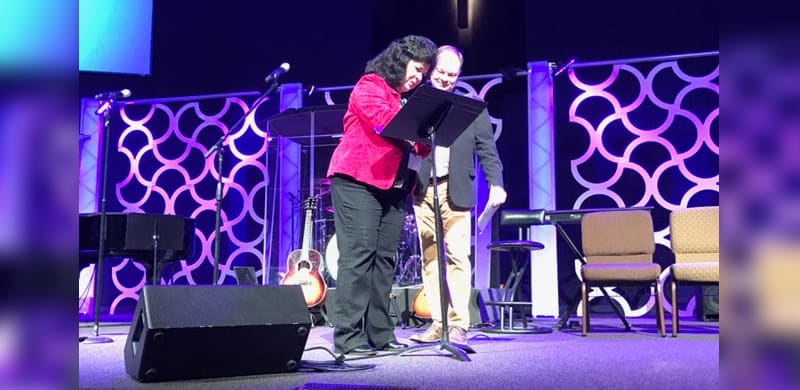 Hendersonville, TN (January 6th, 2017) – Daywind Music Publishing has added songwriter Janice Crow to its ever-growing family of award-winning talent.
A regular attendee of Sue Smith's Write About Jesus conference, Janice Crow burst onto the scene approximately six years ago when she won the writing competition that led to a variety of open doors within the songwriting community. Those opportunities included song pitches to prominent music publishers, as well as co-writes with some of the leading writers in the genre. A writing session with Lee Black and Sue Smith led to the creation of a choral anthem entitled "The Name," as well as the song "Amazing God," that would go unrecorded for several years. In 2015, the song found a home with Triumphant Quartet, who took it to #1 on the Singing News Chart, and was awarded Song of the Year by the Singing News Fan Awards. With her increasing momentum, Janice was a natural fit into the Daywind roster of exclusive staff writers. To bring the story full circle, she signed her contract with Daywind Music Publishing during Write About Jesus, exactly six years after she won the songwriting contest.
"Janice Crow has a natural talent for writing a unique idea set to a commercial tune, and her persistence in developing that talent into a craft is most impressive," shares Rick Shelton, VP of Daywind Publishing. "We are so excited to commit our service to Janice and her songs as she joins our publishing family."
In addition to Janice Crow, Daywind Music Publishing has signed songwriting agreements with a number of talented writers this year, including Lee Black, Tim Lovelace, Devin McGlamery and Brandon Sharp. Award-winning writers Dianne Wilkinson, Sue C. Smith, John Rowsey and Belinda Smith have all extended their relationship with DMP.
Daywind Music Publishing services an impressive roster of acclaimed songwriters including Lee Black, Matthew Browder, Jason Clark, Jason Cox, Janice Crow, Aaron and Amanda Crabb, Adam Crabb, Gerald Crabb, Chris Cron, Ricky Free, Marty Funderburk, Karen Peck Gooch, Joseph Habedank, Tim Lovelace, Devin McGlamery, Kyla Rowland, John Darin Rowsey, Brandon Sharp, Belinda Smith, Sue C. Smith, Aaron Wilburn and Dianne Wilkinson.
For more information, visit facebook.com/daywindpublishing or info@daywindpublishing.com.
##
Media Contact:
Dani Phillips
publicity@daywind.com