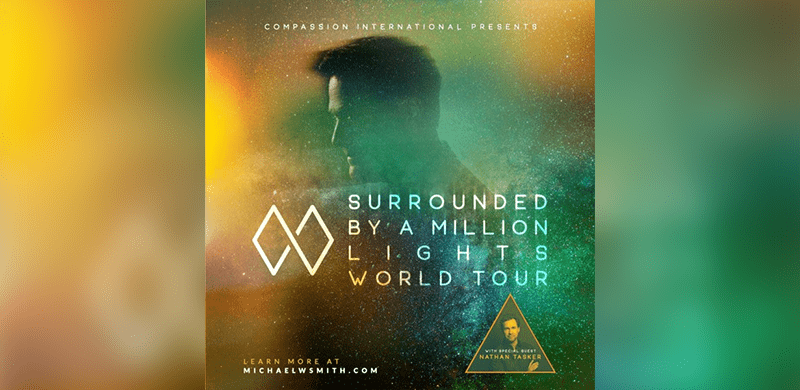 Tour Presented By Compassion International Launches March 8,
Features Special Guest Nathan Tasker
Prolific Artist Releases Studio Album A Million Lights Feb. 16,
Live Worship Album Surrounded Feb. 23
Billboard Premieres "Revolution" From A Million Lights Today
Multi-Platinum, three-time Grammy® Award winning artist, best-selling author and acclaimed actor Michael W. Smith announces the first leg of his "Surrounded By A Million Lights World Tour." Presented by Compassion International and featuring special guest Nathan Tasker, the tour launches March 8 in Rochester, MN and traverses the Eastern half of the US into 18-plus cities through mid-May before wrapping up May 5 in Lancaster, PA.
While on tour, Michael will perform fan favorites from his extensive repertoire along with "A Million Lights," "Surrounded (Fight My Battles)" and more new music from two, all new full-length albums releasing back-to-back in February from Rocketown Records and The Fuel Music: both his USA Today and Yahoo! Music-acclaimed studio album A Million Lights (Feb. 16) and the live worship album Surrounded (Feb. 23).
Along with Michael's announcement of the tour today, Billboard Magazine simultaneously highlights the upcoming events while offering its approximately 42 million unique monthly online readers a first listen to "Revolution" from the album A Million Lights at https://www.billboard.com/articles/columns/pop/8095810/michael-w-smith-new-song-revolution-spring-tour-dates.
"'Revolution' was the first song I landed on for the new album. It's a bit of a throwback thought but no less true — that we need a love revolution," Michael tells Billboard. "We need to listen more and talk less. We need to understand more and judge less. We need to love more, and we certainly need to love better. I guess that will always be the case, but it's sure true for today!"
Tickets for the "Surrounded By A Million Lights World Tour" go on sale Jan. 31 in most markets along with special VIP packages featuring early entry (for general admission shows) or premium seating (for reserved shows) and a Q&A session with Michael.
In many ways, Michael is a statesman, at the fulcrum of Christian music in pivotal moments. It is said that the heart of a lion never goes away, and Michael isn't content staying with the equilibrium. At a loss for what his voice should be toward the end of 2016, this prolific artist comes roaring back with A Million Lights and Surrounded albums in a countercultural response to the divisive national sentiment of 2017 and the mean-spirited banter on social media.
"Until the world ends, music is the most powerful language there is," says Michael. "It can transform your life on every level, not just the spiritual. It can help people reconnect with why they're here."
For all the latest Michael W. Smith tour dates and more news, go to www.michaelwsmith.com
Michael W. Smith, "Surrounded By A Million Lights World Tour" dates/cities follow:
March 8 – Rochester, MN
March 9 – Fargo, ND
March 10 – Aberdeen, SD
March 11 – Bismarck, ND
March 15 – Bloomington, MN
March 16 – Davenport, IA
March 17 – Kearney, NE
March 18 – Quincy, IL
March 23 – Daytona Beach, FL
March 24 – College Dale, TN
March 25 – Destin, FL
April 6 – Port St. Lucie, FL
April 26 – Blakely, PA
April 27 – Elkhart, IN
April 28 – Hales Corner, WI
April 29 – Detroit, MI
May 4 – Anderson, IN
May 5 – Lancaster, PA
* All dates are subject to change without notice, and additional dates may be added.
##