Michael W. Smith Leads "Surrounded (Fight My Battles)" On Good Morning America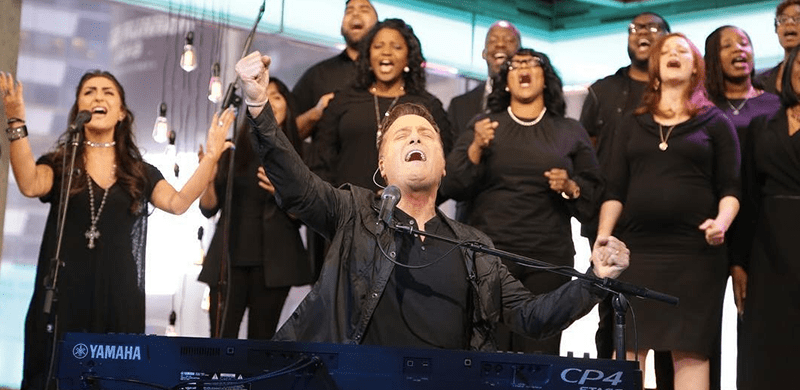 Performs For Parade Live-Streamed Special, Sirius XM;
Completes Interviews With FOX News
Features History-Making A Million Lights, Surrounded Albums On
"Surrounded By A Million Lights World Tour"
Multi-Platinum, three-time Grammy® Award winning artist, best-selling author and acclaimed actor Michael W. Smith performed "Surrounded (Fight My Battles)" on ABC-TV's Good Morning America today (March 13). Michael led the song live during the broadcast and taped the song "A Million Lights" from his 5-star-acclaimed hit albums Surrounded and A Million Lights respectively. The albums were released last month from Rocketown Records and The Fuel Music and are available now through iTunes, Amazon.com, Spotify, Apple Music, LifeWay Christian Stores, Google Play and more at https://mws.lnk.to/Surrounded and https://mws.lnk.to/AMillionLights.
Introduced by host Michael Strahan and joined by the Times Square Church choir, Smith's live broadcast appearance is available to watch now on Michael's Facebook. Smith also completed a Facebook Live interview for Good Morning America with ABC News Correspondent Eva Pilgrim.
Smith further completed interviews and performances in New York City with SiriusXM The Message and for the Parade live-streamed Backstory Presents: Michael W. Smith live from The Cutting Room NYC event. Additionally, Michael completed interviews with FOX News Radio and with FOX News that went out to 170-plus FOX television stations.
The media appearances were sparked by the success of Michael's 5-star-acclaimed new albums that have become his 30th and 31st Top 10 hits on Billboard's Top Christian Albums chart, more than any other solo artist in history.
Released Feb. 16, Michael's USA Today, Billboard, Yahoo! Music, CCM Magazine and NewReleaseToday-acclaimed studio album, A Million Lights, includes the lead single/video and title track along with "Love Always Wins," "Crashing Waves," "Revolution" and "Footsteps," while his live worship album Surrounded (released Feb. 23) features not only the declarative "Surrounded (Fight My Battles)," but "Light To You," "Build My Life" and more songs that Parade calls a "masterful blend of uplifting messaging, brilliant song writing."
Following this week's media appearances, Michael's "Surrounded By A Million Lights World Tour," which has already packed venues in the Midwest, continues in Minneapolis/St. Paul (Bloomington, MN) Thursday, March 15. Sharing a musical tribute to Rev. Billy Graham, along with the new music and fan favorites from his extensive repertoire on the road, Michael's full-production tour is being presented by Compassion International and features special guest Nathan Tasker. This spring leg of the tour will traverse the Eastern half of the US into 19 cities before wrapping up May 11 in Houston, TX.
Michael also works into his schedule his 10-day "Israel Tour 2018" beginning April 10. For all his latest tour detail, go to http://michaelwsmith.com/tour/.
In many ways, Michael is a statesman, at the fulcrum of Christian music in pivotal moments. It is said that the heart of a lion never goes away, and Michael isn't content staying with the equilibrium. At a loss for what his voice should be toward the end of 2016, this prolific artist comes roaring back with A Million Lights and Surrounded.
"Until the world ends, music is the most powerful language there is," says Michael. "It can transform your life on every level, not just the spiritual. It can help people reconnect with why they're here."
For all the latest Michael W. Smith tour dates and more news, go to www.michaelwsmith.com.
##