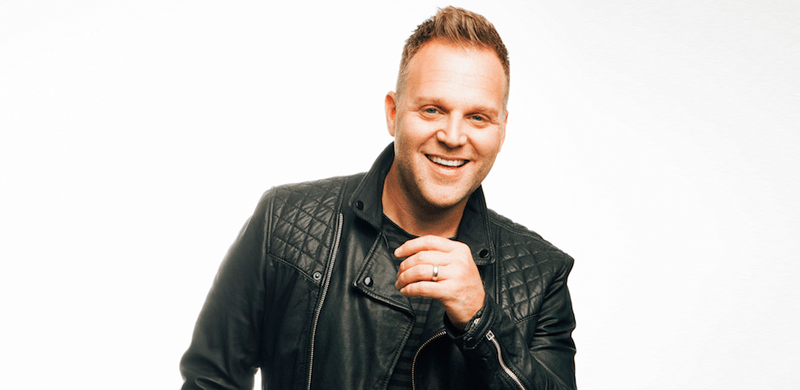 Nationwide Dates To Feature Special Guest Jordan Feliz
NASHVILLE, Tenn.—Hit singer/songwriter and GRAMMY®-nominated fan favorite Matthew West is set to embark on his headlining ALL IN Tour this fall. Visiting over 30 cities nationwide, the tour will feature special guest Dove Award-winner Jordan Feliz and will introduce singer/songwriter Leanna Crawford.
"I absolutely love writing songs, and I love watching those songs come to life in the recording studio," West says. "But it's getting on the bus, hopping on stage in city after city and carrying that music to a live audience night after night that completes the creative circle. That's why I do this tour or any other—in hopes that people who are hurting will find a much-needed musical reminder that God loves changing lives. We're going 'ALL IN' with that message this fall and I can't wait!"
The tour will kick-off September 21 in Houston, hitting Des Moines, Iowa; Lincoln, Nebraska; San Antonio, Texas; and Lakeland, Florida, among numerous markets, before concluding in late November.
"We are working hard to make this tour a special one," West adds. "From the time folks walk in the door to the time they leave, I want fans to be immersed in and experience ALL IN."
In addition to West's ALL IN experience, fans will hear some of his much-anticipated new music, including collaborations with his special guests.
"I'm also excited to tour with my friend Jordan Feliz," West continues. "He and I wrote a song together for my new record and a friendship was forged. In addition, I've discovered an amazingly talented newcomer, Leanna Crawford. She's going to join me onstage each night and will no doubt blow people away."
Tickets for the ALL IN Fall Tour go on sale Tuesday, June 13. For a complete list of cities and dates, visit matthewwest.com.
ABOUT MATTHEW WEST
Matthew West is a four-time GRAMMY® nominee, a multiple ASCAP Christian Music Songwriter/Artist of the Year winner and Dove Award recipient. He has garnered an American Music Award (2013), a Billboard Music Award (Top Christian Artist, 2014), a K-LOVE Fan Award (2016), and was named Billboard's Hot Christian Songwriter of the Year in 2016. West also received a Primetime Emmy® Award nomination for Original Music & Lyrics for "The Heart of Christmas," from the film of the same name. In addition to his own recording career, he has co-hosted the K-LOVE Fan Awards three times and has more than 130 songwriting credits to his name, including cuts by Rascal Flatts, Scotty McCreery, Casting Crowns, Michael W. Smith, Amy Grant, and Mandisa, among others. Selling more than 1.6 million albums to date (TEA), West's discography includes the acclaimed releases Live Forever (2015); GRAMMY®-nominated Into The Light (2012); The Story of Your Life (2010); Something to Say (2008); History (2005); and Happy (2003).
Well known for communicating stories through song, West has received thousands of stories from around the world. His latest studio album, Live Forever, continues that storytelling theme and debuted at #1 on the Billboard Christian Sales Chart. He has garnered numerous #1 hits, most recently with "Grace Wins," and achieved a record-setting #1 for 17 consecutive weeks at radio with "Hello, My Name Is," as well as a 15-week chart-topper with "The Motions."
Adding author to his list of accolades, West has written five books to date: Give This Christmas Away, The Story Of Your Life, Forgiveness, Today Is Day One, and his newest title, Hello My Name Is. He is also passionate about providing hope and healing through the power of prayer and story, so along with his father, Pastor Joe West, he founded popwe, a non-profit ministry helping others craft, share, and live a more meaningful life. Visit popwe.org for more information.
For further information on Matthew West, visit matthewwest.com. Follow West on Facebook, Twitter, Instagram and YouTube.
ABOUT JORDAN FELIZ
2016 proved to be a breakout year for singer/songwriter Jordan Feliz. Named the Gospel Music Association's New Artist of the Year, he was also nominated for Dove Awards for Song of the Year and Pop/Contemporary Recorded Song of the Year for "The River." The multi-week hit was further nominated for Breakout Single of the Year at the 2016 K-LOVE Fan Awards. Feliz released his first full-length album, The River, last year and it debuted at #4 on Billboard's Christian Albums chart. The project's lead single, "Never Too Far Gone," became his second #1. Feliz's mega-hit "The River" released in 2015 and was the first single from his debut Centricity project, Beloved. The song remained at #1 for 10 weeks on Billboard's National Christian Audience Chart and seven weeks on the CHR/Hot AC Chart. Feliz hails from Central California and began his professional music career as the frontman for a mainstream rock band before becoming a solo Christian artist, moving to Nashville and signing his first label deal with Centricity Music in 2015. For further information visit jordanfeliz.com. Follow Feliz on Facebook and Twitter.
##