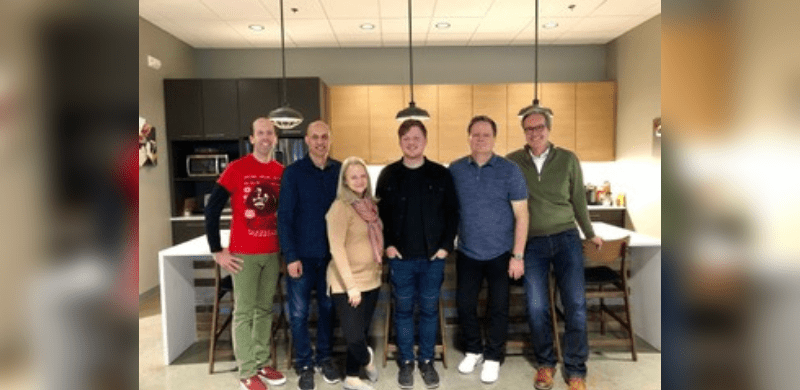 Indie Label Reflects on Exceptional year
NASHVILLE, TN. December 17, 2018 Wrapping up a record-breaking year, Centricity Music has added to its acclaimed roster, signing singer-songwriter Chris Renzema to recording and publishing deals.
Hailing from Grand Rapids, Michigan, before moving to Nashville in 2015, Renzema showcases dynamic folk-rock musicianship, paired with storytelling, lyrical heart. His self-produced indie albums have brought worship songs to churches across the country and made a strong impact on digital listeners. Renzema, 23, is now working on new music to be released next year.
"Our entire team connected immediately with Chris's voice and songwriting, and his personality felt like a natural fit for our family of artists and staff," Centricity A&R Director Matt Ewald said. "We also saw the kind of connection he's already made with listeners and knew we wanted to be part of helping that develop further."
The addition of Renzema ties a bow on an outstanding 2018 for indie label Centricity, which saw a range of highlights:
Album &Lauren Daigle Song Achievements: Centricity celebrated with Lauren Daigle on her 2015 album How Can It Be attaining Platinum status, followed by the massive debut of her sophomore album Look Up Child, which premiered at No. 3 on Billboard's all-genre chart and No. 1 on the Christian chart. Her single "You Say" has made an impression across genres and still holds the No.1 radio spot after 20 + weeks.
Jordan Feliz also saw a No. 1 Billboard debut with his album Future claiming the top spot on the Christian chart, and Andrew Peterson's critically acclaimed Resurrection Letters: Volume 1 made a Top 5 premiere on Billboard's Americana chart.
Carrollton reached global audiences, with their single "Made For This" landing promotional spots for the Winter Olympics, Fox Sports, Jeep, and more.
New Artists: Centricity grew as a label, with the addition of new artists Caitie Hurst and PEABOD, who released debut albums How Could I Be Silent and Healthy Snacks, respectively. Award-winning artist Plumb also joined the Centricity team with her latest project Beautifully Broken.
All About The Music: The year held new songs from every Centricity artist, including For All Seasons' Clarity, Unspoken's Just Give Me Jesus Jonny Diaz's Sweetness And Sorrow, Jason Gray's The Kipper Gray Sessions, and Carrollton's Made For This, plus Apollo LTD's breakout single "Gold" and standout singles from North Point InsideOut and Neon Feather.
The Mission: Reflecting on the year's accolades of an American Music Award, chart-topping radio singles, sold-out tours, and more, Centricity remains rooted in its foundational purpose: Enabling artists to create life-changing experiences for the world. Each song and performance, every project and story was considered with that mission in mind. The Centricity team feels constantly honored to be part of this ministry and to witness the Gospel at work through music.
##