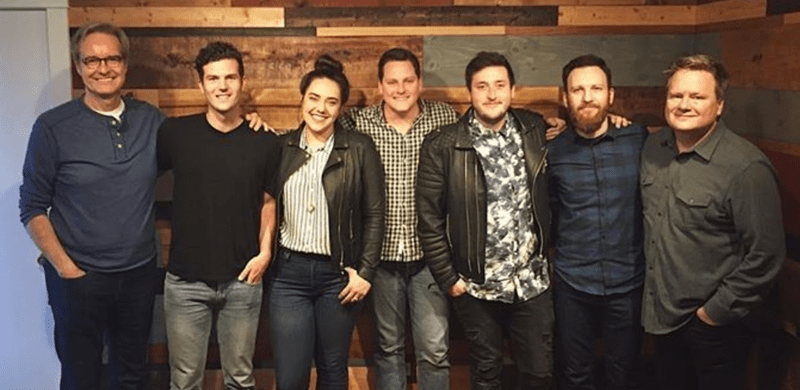 Pictured L-R: Centricity Senior Vice President of A&R, John Mays; Jeff Luckey, Emily Hamilton, Randy Charlson, Johnny Hamilton, For All Seasons; Centricity Director of A&R, Matt Ewald; Centricity General Manager Steve Ford
West Coast Worship Band Releasing EP Early 2018
Nashville, Tenn. (March 23, 2017) Centricity Music has welcomed new talent to its artist roster, with worship band, For All Seasons, signing publishing and record deals with the label. Hailing from Southern California, the band comes to Centricity after 10 years of making music together, impacting listeners as worship leaders and songwriters. Band members include Emily Hamilton, Johnny Hamilton, Randy Charlson, and Jeff Luckey.
For All Seasons first came together at Biola University in 2007. They led worship at Hume Lake Christian Camps for several years, before feeling called to spread their music further. In 2014, they began touring and recording original songs, with their self-titled album debuting at No. 1 on iTunes Christian & Gospel chart. Even as the band's success and fan following have grown, Hamilton says the group stays rooted in its original mission of spreading the Gospel through music. They feel confident this partnership with Centricity aligns with that spirit.
"Our goal has always been to create music that teaches people more about what it means to worship God, and more about who He is," Hamilton says. "We want to create space musically and lyrically in each project we release for people to talk with God honestly, as well as align their hearts with what is really true. We are stoked to know that Centricity sees this passion of ours and wants to propel it forward."
The band attended Centricity's indie retreat last spring, where the label hosts independent artists for a week of sharing music and building relationships. There, label members not only heard the musical talent of For All Seasons, but got to know the band members and how they would fit into the Centricity family. Centricity Senior VP of A&R, John Mays, notes how the growth of this connection has resulted in a meaningful working partnership.
"One of the huge blessings of getting to be a part of Centricity is getting to work with people we love," Mays says. "When the people we love also make amazing music, we feel especially blessed. For All Seasons was an immediate check in both those categories. The band has proven to be the kind of people we love to support."
For All Seasons is currently writing and recording music for their upcoming EP, which will be released in early 2018. For more information about the band visit online at www.forallseasonsmusic.com, www.facebook.com/FASeasons, www.twitter.com/faseasons, www.instagram.com/faseasons.
About Centricity Music
Centricity was founded in 2005 with a commitment to artist development and stylistic diversity. Based in Franklin Tennessee, artists include Aaron Shust, Andrew Peterson, Carrollton, Grayson |Reed, Jason Gray, JJ Weeks Band, Jonny Diaz, Jordan Feliz, Lauren Daigle and Unspoken. The company's mission is to enable their artists to create life-changing experiences for the world. Providing label, management and publishing services, Centricity is a family owned organization and they like it that way. For more information on Centricity Music: www.centricitymusic.com.
##