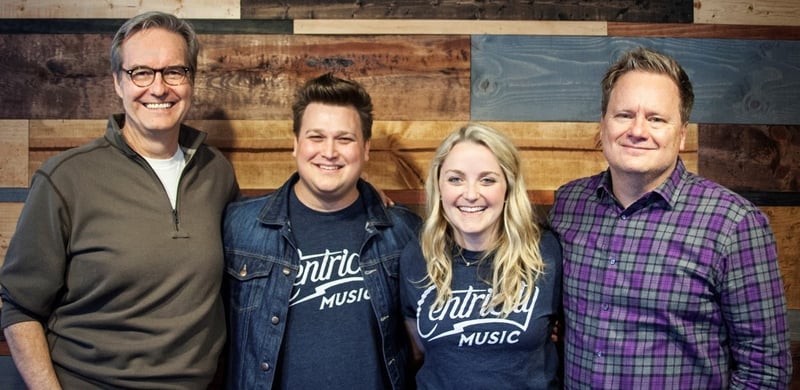 Pictured Left to Right: John Mays, Vice President of A&R, Centricity Music; Mike Grayson; Molly Reed; Steve Ford, General Manager, Centricity Music
Mike Grayson and Molly Reed Will Release New Project in 2016
Nashville, TN (May 2, 2016) —- Centricity Music has announced a new artist signing with Grayson|Reed joining the label. The husband and wife duo is comprised of Mike Grayson, former founding member and lead singer for Mikeschair, and Molly Reed Grayson, who is a well-known hit songwriter and former member of City Harbor. The duo is currently in the studio recording their new project that is scheduled to release September 30, 2016.
"Our entire team had a great connection with Mike and Molly from the first visit. We knew immediately that they were great fits for us from a heart level, and our excitement only grew as their profound musical gifting became more and more evident," explains John Mays, Vice President of A&R, Centricity Music. "These are the kind of people we love to partner with, and we're grateful that we have an opportunity to share them and their music with the world."
"We are beyond excited to be starting this new journey with the incredible teams at Centricity Music and Eaglemont Entertainment," adds Grayson|Reed. "We've loved the music that Centricity has been putting out for a long time, along with their heart and vision for the artists, so it's a great honor to get to work with such a talented label."
Grayson and Reed both bring impressive credentials to the new duo, as they began their separate careers at Nashville's Belmont University. Mikeschair originated at the college and between 2006 – 2014 the band received 12 Dove Awards nominations, released three national albums and five EP's, and their single, "Let The Waters Rise" peaked at No. 8 On Billboard's Hot Christian Songs Chart. In 2011, Reed joined City Harbor and the duo's debut national album released to critical acclaim and had two Billboard charting singles. After City Harbor disbanded, Reed turned her attention to songwriting and has written songs for such high-profile artists as Francesca Battistelli, Colton Dixon, Amy Grant, Point of Grace, Ginny Owens and Danny Gokey.
About Centricity Music
Centricity was founded in 2005 with a commitment to artist development and stylistic diversity. Based in Franklin TN, artists include Aaron Shust, Andrew Peterson, Carrollton, Grayson|Reed, Jared Anderson, Jason Gray, JJ Weeks Band, Jonny Diaz, Jordan Feliz, Lauren Daigle and Unspoken. The company's mission is to enable their artists to create life-changing experiences for the world. Providing label, management and publishing services, Centricity is a family owned organization and they like it that way. For more information on Centricity Music, please visit: www.centricitymusic.com.
##
Media Contact:
Janet Bozeman
615-472-8417
janet@bozemanmedia.com