Lauren Daigle Nominated For Second American Music Award; "Almost Human" on Blade Runner 2049 Soundtrack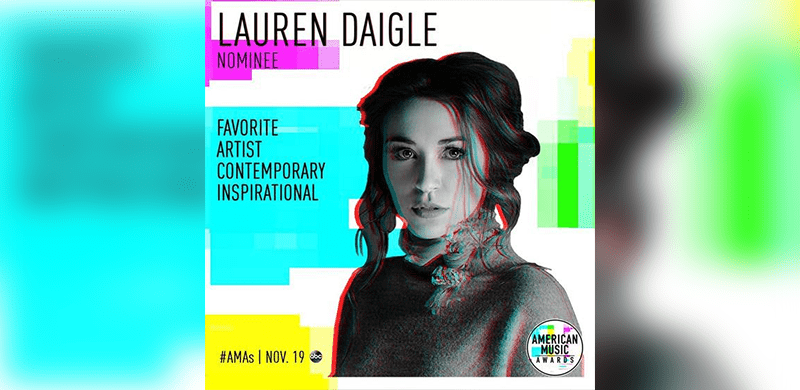 NASHVILLE, TN. – Centricity Music is proud to announce that award-winning artist Lauren Daigle was nominated for an American Music Award. Nominated for Favorite Contemporary Inspirational Artist, this marks the second consecutive year Daigle has been recognized in the category. The 2017 American Music Awards will be broadcast live from the Microsoft Theater in Los Angeles on Sunday, November 19th and air on ABC. The AMAs are a fan-voted award show with winners determined by votes cast online as well as via Twitter. Voting is now open and more information can be found on the AMA site.
Earlier this month Daigle earned her first writing and performance credit for a major motion picture with her song "Almost Human." Featured on the Blade Runner 2049 soundtrack, which was composed by Hans Zimmer (The Lion King, The Dark Knight) and Benjamin Wallfisch (Hidden Figures), "Almost Human" was co-written by Daigle and a writing team in LA. Blade Runner 2049 is currently the No. 1 global soundtrack.
Adding to her growing collection, Daigle was honored last week with her seventh GMA Dove Award for Best Rock/Contemporary Recorded Song of the Year for "Hard Love," her collaboration with NEEDTOBREATHE. Daigle's previous wins have lauded her as Artist of the Year, Song of the Year, New Artist of the Year, Songwriter of the Year and more.
These recent achievements reflect Daigle's growing impact in and beyond the contemporary Christian genre. When asked about her music's reach outside of the church, Daigle responded that she's eager spread the Gospel further.
"Let's go into the dark places. Let's go into the church and let the church permeate into the world. That's what we're about. Let's permeate into the world and show the hopeless that there is hope, show the lost that they can be found, show people who are desperate that there is joy. And so those are the things I want to go and tell the world. So if He's letting the songs go beyond the church, well to Him be the glory."
For more information about Lauren Daigle, please visit her website along with her Facebook, Twitter, and Instagram pages.
##