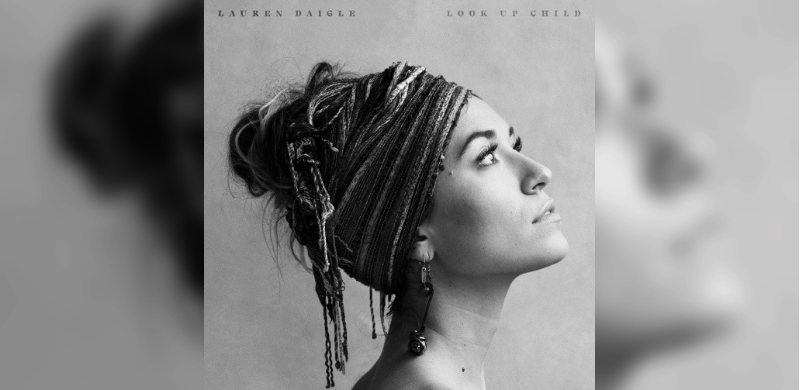 LAUREN DAIGLE'S NEW ALBUM LOOK UP CHILD
DEBUTS AT #3 ON THE BILLBOARD TOP 200 ALL-GENRE ALBUM CHART
PREMIERES 'MAKING OF' VIDEO
Lauren Daigle's new album Look Up Child debuted this past week at #3 on the Billboard Top 200 Album Chart, behind only Eminem and Paul McCartney, setting personal and industry chart highs for the Grammy nominated, platinum selling vocalist. The story was different on the digital charts though, as Look Up Child debuted at No. 1 on the iTunes digital sales chart. A new making of video from Lauren's time in the studio is now available here: https://youtu.be/4Rwie0iDLXc
In a week of firsts for her genre, Lauren teamed up with music streaming services such as Amazon, Apple Music and Spotify, to promote Look Up Child with billboards in Times Square and Nashville and even a special Second Line parade in her hometown of New Orleans.
Lauren, who also received a nomination for an American Music Award this past week, has also seen her first single debut on the Billboard Hot 100 chart at #53, No. 5 on Billboard's all-genre Digital Song Sales List, and No. 2 on the all genre iTunes Chart. The official video has received over 20 million views in the first few weeks of its release and continues to climb the Billboard charts.
"Music can exist for a moment, and then have the power to live legacies long," shares Lauren. "I'm so grateful for the opportunity to passionately throw myself into what I love – my music," she adds. "This outpouring of support overwhelms me. Thank you to everyone for listening to, and connecting with, Look Up Child. Cheers to a fun future of music making and seeing you all on tour!"
With Look Up Child, Lauren sought to capture the youthful whimsy of childhood and encourage others to maintain that childlike wonder and not lose passion for what they love. Produced by Paul Mabury and Jason Ingram, the ambitions 13-track album is a heartfelt expression of Lauren's journey to self-discovery. "This Girl" brings details a trying period of her life and offers an assurance that you can never lose who you are. Another track, "Rescue," offers up hope, stretching from sparse piano into a choir-backed refrain of "I will rescue you." Meanwhile, the soulful "Still Rolling Stones" shares a battle cry to overcome the obstacles that life presents and 'rise up.'
Lauren will embark on her first headlining theatre tour in support of Look Up Child on September 27th. Presented by Food for the Hungry, the tour will kick off in Cincinnati and will make 40 stops throughout the US, including 17 sold out dates, before wrapping with two Nashville performances at the historic Ryman Auditorium in March 2019. A list of tour dates and tickets are available here: https://laurendaigle.com/tour/
---
Lauren Daigle is a two-time Billboard Music Award winner, a two-time Grammy nominee and an American Music Award winner. With a voice that is both smoky and sweet, Daigle has forged a unique sound that is reminiscent of the soulful, heart-in-throat vulnerability of Adele mixed with the raw power of Amy Winehouse. Her ability to connect with her audience has captured critical acclaim and recognition as the fastest-selling new artist for her genre of the last decade. Her debut album, How Can It Be, was certified platinum by the RIAA and produced three certified Gold singles.
Connect with Lauren: Website // Facebook // Instagram // Twitter // Youtube
##