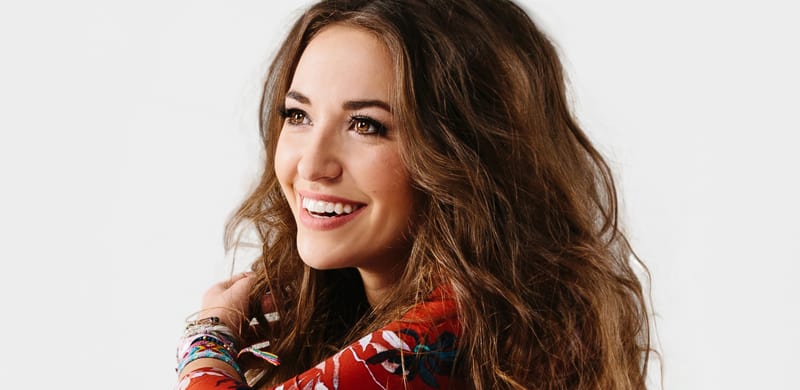 Photo Credit: Ashley Mae Wright
GRAMMY NOMINATED AND BILLBOARD AWARD-WINNING ARTIST TO RELEASE BEHOLD NATIONWIDE ON OCTOBER 21; KICKS OFF HEADLINE "A NIGHT WITH LAUREN DAIGLE" TOUR FROM OCTOBER 12-29
Nashville, Tenn. (August 30, 2016)—Grammy nominated and Billboard Award winning singer/songwriter LAUREN DAIGLE's debut album, HOW CAN IT BE, has officially reached Gold Record status. HOW CAN IT BE has dominated the charts since its release, as the album logged in more than five weeks at #1 on Billboard's Top Christian Albums chart, and premiered in the Top 30 on the Billboard 200. HOW CAN IT BE also reached #1 on the iTunes Christian Gospel Top Albums Chart with more than 397,800 album sales, 940,600 track sales and over 115 million streams, positioning her as the fastest-selling new artist in Contemporary Christian music in the past decade.
Daigle is honored to accept the Gold Record status, saying, "When I first received the news that HOW CAN IT BE went Gold, I was sitting in the studio in Nashville recording my upcoming Christmas record. I looked around the room and saw the faces of those who impacted my journey and carried me on their shoulders throughout the process. I'm incredibly honored to see what comes of simplicity, purity, authenticity, and truth. I know the people around me helped in the fight to keep those things on the forefront of every song we penned and every melody that is sung. Thank you to everyone who bought, shared, supported, and championed this record. Your outpouring is paramount in these achievements. To God be the highest glory and may His name resound with love in the hearts of all humankind!"
Each single from this album, "How Can It Be," "First" and "Trust in You" reached #1 on the iTunes Christian Songs Chart and #1 on the Christian Digital Tracks Chart, with "First" and "Trust in You" also reaching #1 on the NCA radio chart. In addition, "Trust in You" earned Daigle her first No. 1 single spot on Billboard's Hot Christian Songs chart in March 2016.
The news of this accomplishment comes on the heels of the announcement of Daigle releasing her first-ever Christmas album titled BEHOLD, on October 21 via Centricity Music. Produced by Paul Mabury and Jason Ingram, the album features soft jazz renditions of Christmas favorites. BEHOLD includes such classics as "Have Yourself A Merry Little Christmas," "Silent Night," "O Come All Ye Faithful," "What Child Is This," "O Holy Night," and more. Pre-orders for the album begin on September 26.
Daigle will also embark on her first headline tour this fall titled "A NIGHT WITH LAUREN DAIGLE," with special guest Chris McClarney, in support of HOW CAN IT BE: DELUXE EDITION. The nearly sold-out tour, sponsored by CURE International, is scheduled from October 12-29, beginning in Memphis, Tennessee.
Daigle has had a whirlwind year — with an appearance on NBC's TODAY show, her first GRAMMY® nomination for "Best Contemporary Christian Music Album" at the 58th GRAMMY® Awards, and took home the 2016 Billboard Music Award for "Top Christian Album." She has won three Dove Awards (nominated for ten) –"New Artist of the Year," "Song of the Year" ("How Can It Be") and "Pop Contemporary Album of the Year," and was awarded this year's K-LOVE Fan Awards for "Artist of the Year" and "Female Artist of the Year"; in addition to the 2015 K-LOVE Fan Award for "Worship Song of the Year" ("How Can It Be").
Check out the following Lauren Daigle links for more information:
Music Video – "Trust In You"
Music Video – "How Can It Be"
laurendaigle.com
Twitter
Facebook
Instagram
##
Media Contacts:
Lesley Burbridge
310-854-8170
lburbridge@rogersandcowan.com
Tracy Cole
615-568-2988
tcole@rogersandcowan.com
Sandy Friedman
310-854-8109
sfriedman@rogersandcowan.com
Lori Lousararian
310-854-8104
LLousararian@rogersandcowan.com