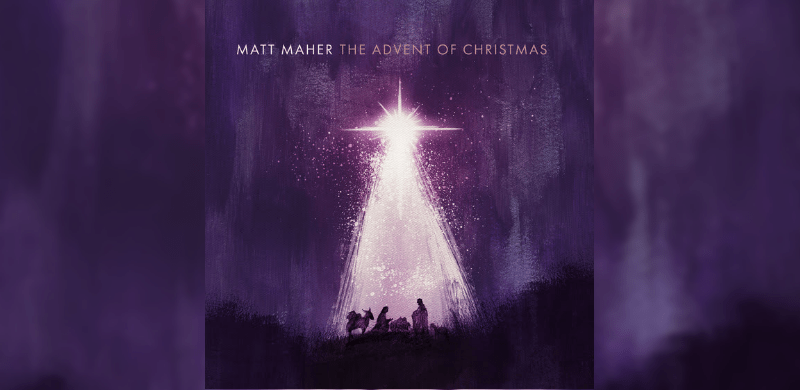 Album Includes Originals And Traditional Favorites,
All Devoted To The Four Weeks Leading Up To Christmas;
Maher Will Also Debut His First Children's Book
Of The Same Name The Same Day
Nashville, TN – Multi award-winning artist and songwriter Matt Maher will release his holiday album, The Advent of Christmas (Essential Records/Provident Label Group) on October 19. A children's book of the same name will also release the same day with Wellspring Publishing, a division of Beacon Publishing.
The Advent of Christmas is Maher's first holiday album in his ten-year recording career. With this 13-song collection, encompassing both originals and traditional favorites, it is his hope that they will help the listener prepare for and better appreciate the four weeks of Advent leading up to Christmas day.
"From the very beginning and through the history of Christianity, the season of Advent has been a way of remembering (more fully) the mystery of God becoming human," Maher shares. "Long before the Macy's Day Parade, red Starbucks cups and The Elf on a Shelf, Christians marked the passage of time in the four weeks before Christmas by remembering and embracing the sense of anticipation around the arrival of the promised Messiah; to prepare for the coming of Jesus. When you have relatives and friends coming for the holidays, you try to take time to get ready. The whole point is to prepare. I wanted to have a collection of songs – some that are familiar and many that are new – that prepare us for the four weeks of Advent and how each week is devoted to the concepts of hope, peace, joy and love."
Maher will also release his first children's book, The Advent of Christmas, on October 19. The picture book, targeted for children and their families, shares of the spiritual meaning of Advent and teaches the meaning of each advent candle. The book also explores much more than presents and Santa; children will learn the story of the birth of Jesus and why Christmas truly is 'the most wonderful time of the year.'
---
The Advent Of Christmas track listing:
Gabriel's Message
He Shall Reign Forevermore
Born On That DayJingle Bells
The First Noel
Hope For Everyone
Glory (Let There Be Peace)
O Come Emmanuel
Always Carry You (feat. Amy Grant)
Love Came Down To Bethlehem
Hark The Herald
Merry Little Christmas
When I Think Of Christmas
---
TOUR:
Maher will headline the annual Bible Tour, which kicks off September 20 and runs through October 21. He will be joined by Natalie Grant, Andrew Peterson and more. Matt Maher wrapped up a sold-out multi-show tour "The Echoes of Worship" with Cory Asbury and 48 Live Productions last month and he will share the stage with Asbury again later this fall for five more shows in partnership with The Joy FM Florida (Radio Training Network) and Food for the Hungry. Maher will then hit the road with label mate Zach Williams for several dates in late October and into early November, and will participate in the Roadshow Christmas tour, which will kick off November 29 and run through December 16. Visit his tour page for the latest information.
---
ABOUT MATT MAHER:
Since his 2008 major label debut, Matt Maher has become a staple in the artistic and songwriting community. A nine time-GRAMMY nominee and three time-GMA Dove Award winner, he has garnered multiple radio successes, writing and recording songs such as his Top 5 CCLI song "Lord, I Need You" and the chart-topping radio single "Because He Lives (Amen)." Along with other hits such as "Hold Us Together," "Christ Is Risen," "All The People Said Amen," and "Your Grace Is Enough," Maher has written / co-written five No. 1 radio singles. Penning numerous songs recorded by Chris Tomlin, Crowder, Third Day, Jeremy Camp, Matt Redman, Hillsong, Casting Crowns, Meredith Andrews, Jesus Culture, Jars of Clay, and Passion, he's had multiple titles on the CCLI chart's Top 500 list. With career album sales of more than 550,000 units to date, Maher was awarded his first RIAA Gold certification for his popular single "Lord, I Need You" in 2015. He's released nine studio albums, his latest titled Echoes, which released fall 2017.
Matt Maher achieved a career highlight in 2013 when he performed for Pope Francis and a crowd of three million people for World Youth Day in Rio de Janeiro. Two years later he performed again for the Pope in downtown Philadelphia as part of the World Meeting of Families, appearing along with The Fray, Aretha Franklin, Juanes, Jim Gaffigan and Mark Wahlberg, among others. Maher also recently joined the elite group of musicians and artists as an official Steinway Artist.
Since 2006, Matt Maher has been on the road headlining his own tours and performing at major Catholic events, such as World Youth Day in Rio de Janeiro and the World Meeting of Families in Philadelphia with Pope Francis in attendance. Maher has also participated in the industry's biggest tours and festivals, such as the Worship Night In America with Chris Tomlin, the Rock & Worship Roadshow, and Tobymac's Hits Deep Tour. Maher has also toured with such artists as Chris Tomlin, Michael W. Smith, Jars of Clay, Jars of Clay, Mercy Me, Third Day and Casting Crowns, and is preparing for his own headlining tour through the fall and during the Christmas season.
For more information, visit MattMaherMusic.com and his socials: Facebook, Instagram, Twitter, Youtube
##