NEWS: Rend Collective Has U.K.'s Highest Christian Debut In Almost 20 Years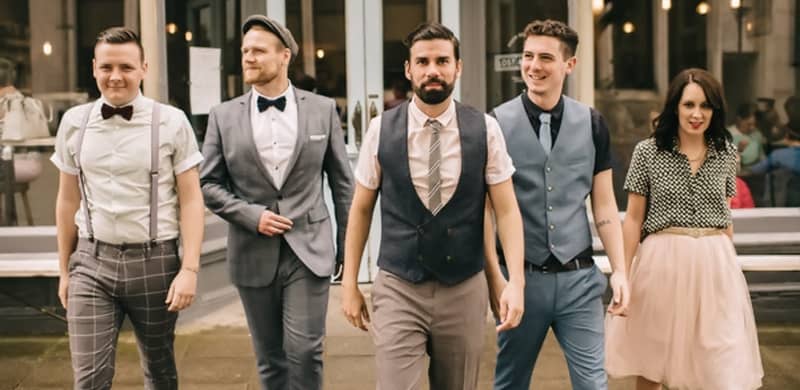 Rend Collective's As Family We Go Makes Highest Chart Debut For A Christian Album In The U.K. In Nearly 20 Years
As Family We Go sees overwhelming international response, landing in iTunes Top 10 in seven countries
Project hits Top 10 on Digital Albums Chart in both the U.S. and the U.K.
Nashville, Tenn. (September 1, 2015) — Rend Collective's fifth studio album, As Family We Go, debuted last week at No. 19 on the U.K. Albums Chart and No. 9 on U.K.'s Digital Albums Chart, making it the highest debut for a Christian album in the U.K. in almost 20 years and the highest ever Christian album debut on the U.K. Digital Albums Chart.
In addition to these significant achievements, Rend Collective is proving to be a strong force internationally, hitting the top 10 albums on iTunes in seven countries including the U.S., U.K. and Canada. The group also landed the No. 1 spot on every iTunes Christian Albums Chart including the U.S., U.K., Canada, Australia, New Zealand and South Africa. Rend Collective continues to gain a growing international fan base through touring, including recent visits to Brazil, Hungary, Switzerland, Hong Kong and Canada.
In the U.S., As Family We Go hit the top 10 on Billboard's Digital Albums Chart and the top 23 on Billboard's Top Albums Chart.
As Family We Go continues to receive overwhelming support from critics and media outlets including FOX News, Billboard, Relevant Magazine and more. To see what the buzz is all about, purchase the album here.
Last month, Rend Collective led worship alongside Chris Tomlin and others at sold out Worship Night In America events at NYC's Madison Square Garden, Denver's Red Rocks Amphitheater and Sacramento's Sleep Train Arena. The group will re-join Tomlin on the second leg of his "Love Ran Red Tour" this October, and they are also gearing up for two headlining tours in 2016.
For additional tour information, visit: http://rendcollective.com/tour.
As Family We Go (Deluxe Edition)
1. Celebrate
2. Free As A Bird
3. You Will Never Run
4. Every Giant Will Fall
5. One And Only
6. Joy Of The Lord
7. Never Walk Alone
8. Your Royal Blood
9. Just A Glimpse
10. Coming Home
11. The Artist
12. Ireland's Call
13. You Will Never Run (Neon Feather Remix)
14. One And Only (Urban Rescue Remix)
15. Never Weigh Me Down
16. Every Giant Will Fall (Ukelele Version)
About Rend Collective
Hailing from a small town off the coast of Northern Ireland, Rend Collective (Gareth Gilkeson, Chris Llewellyn, Ali Gilkeson, Patrick Thompson and Stephen Mitchell) wants to be known as a celebration band, worshiping for God's Glory and fame. Since the release of their first album, Organic Family Hymnal, the group's authentic and energetic style of worship has attracted an international audience, with career sales of more than 300,000 albums. The group saw early success as their first ever single "Build Your Kingdom Here," peaked at No. 12 on the National Christian Audience Chart. Their 2014 release The Art of Celebration, charted at No. 1 on the Billboard Christian Albums Chart within the first week of its release. Known for their electric lively worship, the band has been a part of several major tours with top artists such as Chris Tomlin, MercyMe, Kari Jobe, Lecrae and more. Rend Collective is currently preparing to embark on two headlining tours in 2016. The group's anticipated new album, As Family We Go, is available now.
Get Connected With Rend Collective
Website
Facebook
Twitter
Instagram
Spotify
Apple Music
Google Play
##
Media Contact:
Kirsten Grenier & Velvet Kelm
The media collective
kirsten@themcollective.com
velvet@themcollective.com
615.591.7989
www.themcollective.com