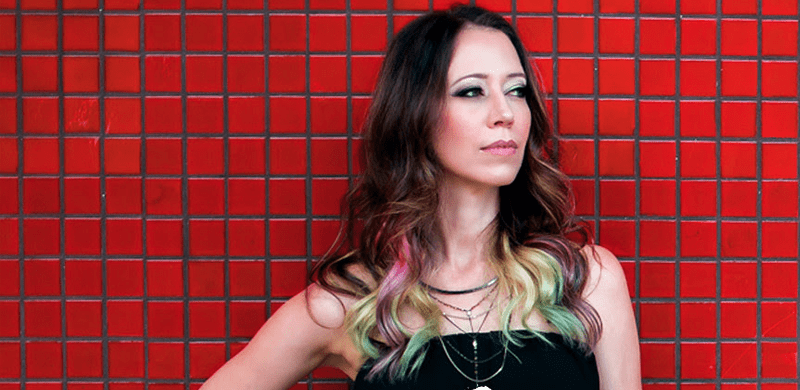 Hendersonville, TN (March 17th, 2017) – GMA Dove Award-nominated powerhouse female vocalist Kerrie Roberts, known for her hit CCM pop songs "No Matter What," "Outcast," "Rescue Me (How the Story Ends)," and "What Are You Afraid Of," is releasing her first ever full-length worship album, Boundless, March 17, 2017 on Vital Records. The album is distributed by New Day Christian Distributors and produced by Chris Cron.
As a pastor's daughter, Kerrie's heart as a worshipper has been heard throughout her albums as her powerful songs "Beautiful to Me," "Savior to Me (Sing Glory)", "In Your Sight," and "Seek Your Face" have all been vertical offerings of praise and worship. Encountering her music, Kerrie is a uniquely gifted singer/songwriter with a big voice, which is memorable and dynamic, yet intimate. Kerrie is uniquely emotive and soulful.
Entering into her songs, listeners can't help but be moved to hear how God has healed her heart and gain insights into God's character while listening to how she words her prayers of thankfulness and praise as catchy and instantly sing-able melodies, imagining what it might be like to hear David sing his Psalms to God.
A few life changes led to Kerrie recording this album, which is rooted in her getting married, having a baby girl and moving back home to Florida to be near her family, along with finding joy in growing and cooking food which has become one of her passions. "I'm making the time to worship God now more than ever in my life," Roberts shared. "Daily I'm taking time to focus on worship for worship's sake and not asking Him for anything but wanting to build my relationship with God and wanting more of Him by spending time with Him. It was time in my spiritual journey and in life to make a worship album."
In the song "Rooted," Kerrie's desire to be "rooted in You God" is beautifully captured in the prayerful confession: "You plant me in the meadows where my desert heart can bloom. You break the fields of fallow ground and my spirit begins to grow in You," The chorus, "I will ever be rooted in You God, ever by rooted in You Lord, ever be rooted in You," is in many ways the thesis statement of this album which is about being rooted in God's love and learning to live out the "unforced rhythms of grace" as expressed in Matthew 11:29, one of Kerrie's life verses. Her other life verse is "Commit your works to the Lord, and your thoughts will be established" (Proverbs 16:3).
Finding rhythms of grace in her life as a new mom led to her writing the title track "Boundless." All the songs came to life in different ways and the inspiration for "Boundless" happened while Kerrie was sitting up late with her baby in a state of total exhaustion and she believes it was divinely inspired. "There's no shore to the ocean of your love. No ceiling or floor to the power of your blood. You are boundless," sings the chorus. "The message of the song is that He is endless, limitless, and measureless. There is no mountain, no words, no darkness, doubt or disease that is greater than Him," shared Roberts.
"Life in the Name" starts the album off by introducing another one of the main themes of the idea of being home. Roberts said that "the current effect of being home was an overwhelming theme in my writing. It's where I am, have longed to be and am so thankful to have my feet walking where my roots are so deeply grown." The modern hymn-like "Where My Heart Belongs" revisits that theme of being home by proclaiming "This Solid Rock, this is my home, my soul will sing and through it all, You are where my heart belongs."
The songs on Boundless reflect the redemptive seeds planted during her formative years and into her young adulthood. Thematically, this worshipful album explores a thoughtful side of faith, hope and love and the acknowledgment that an authentic life of faith isn't void of suffering; there is purpose amidst pain, God's promise that a breakthrough is coming, and the motivating power of God's love.
That type of profound promise can found in "By Your Grace" with reminders that "Only by Your grace, You break every chain. By Your grace, by Your love, it's only by Your power we overcome." About the song Roberts shares, "It is an invitation to experience God's presence, a reminder of His living word, relentless love and new mercies every day. Let every worry, every fear, everything we battle disappear, By His grace we overcome!"
In writing for this album, Kerrie ending up searching out honest ways to engage with God in daily life, and learning to be more rooted in Him. This search has yielded an album containing ten lyrically rich tracks bearing fresh melodies and soothing instrumentation. Kerrie invites listeners to embrace not only the destinations we reach with God, but the crucial moments along the way. What does it look like to worship in the process of growth, love and transition? Boundless is a whole-hearted response to this question and the journey it beckons.
About Kerrie Roberts
GMA Dove Award nominated powerhouse female vocalist Kerrie Roberts is best known for her hit CCM pop songs "No Matter What," "Outcast," and "What Are You Afraid Of." She is a uniquely gifted singer/songwriter with a big voice which is memorable and dynamic yet intimate. She is a uniquely emotive and soulful vocalist. In her songs she addresses themes of empowerment, strength, encouragement and joy delivered on waves of vibrant and contagious music ranging from high-energy pop to signature ballads beautifully expressed through tender, undeniable vocal performances. Her songs are inspiring and great reminders to have faith and to allow God to use you, no matter what. Kerrie pours her heart out in every single song and demonstrates how she is living out Matthew 11:29: "Learn the unforced rhythms of grace," by singing what God wants her to sing, letting God speak to her and by using her gifts for His glory.
About Boundless, Roberts shares: "I want listeners to have those moments of complete focus, and peace and love and joy whenever you are experiencing the presence of God. We know that lives are changed, hearts are changed, and our bodies are changed by His presence. That would be the definition of success for me for this album, if people experience His presence and have their lives changed with a bit of a taste of Heaven."
For all the latest information on Kerrie Roberts and Boundless, go to www.kerrieroberts.com, https://www.instagram.com/kerrieroberts, https://www.facebook.com/KerrieRobertsMusic and https://twitter.com/kerrie_roberts.
##