Yahoo! Music Premiere Streams Beatitudes Beginning Today; Multi-Artist Album Releases Tomorrow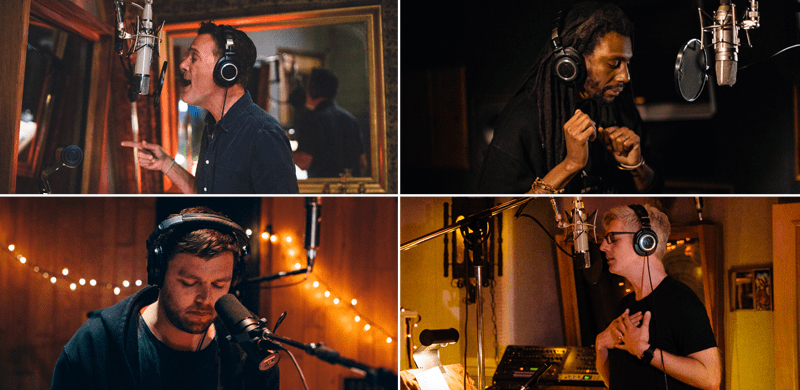 Multi-Artist, 18-Track Album Releases Tomorrow,
Preorder Features Instant Download Of Songs By
Amy Grant, Hillsong UNITED, Matt Maher, John Mark McMillan
Several Story-Behind-The-Song Videos Featured Now On Facebook
Artists recording Beatitudes in the studio pictured clockwise from top left: Michael W. Smith, Propaganda, Matt Maher, Hillsong UNITED
The multi-artist Beatitudes album premieres today as Yahoo! Music streams the recording HERE. The album, which showcases 18 new tracks (plus 2 bonus tracks) from multiple GRAMMY® and Dove Award-winning artists, leaders in their respective genres of Christian/Worship music, releases tomorrow (April 21) from Stugiology Music with management, marketing and distribution through The Fuel Music.
The Beatitudes album is part of The Beatitudes Project (www.thebeatitudesproject.com, #TheBeatitudesProject), which is also a book, Words From The Hill (An Invitation to the Unexpected) available now from NavPress, and a documentary film, View From the Hill, currently in production. The project is the culmination of GRAMMY®-nominated, Dove Award-winning musician, producer and author Stu Garrard's 15-year excavation of these "blessings at the bottom of life."
The project reveals a wide world of connected stories: real people from all faiths and walks of life who embody mercy, poverty, meekness, the hungry and thirsty, the peacemakers, the mourners, and the pure in heart—as seen, heard and experienced through a 21st century lens.
Four songs from Beatitudes are available for immediate download with each preorder of the album from iTunes®, including "Morning Light" featuring Amy Grant, "The View from Here" featuring Hillsong UNITED, "Oh Mercy" featuring Matt Maher with additional vocals by Audrey Assad, and "Heaven Is Around Us" featuring John Mark McMillan.
Video stories behind these four songs are highlighted on Stu Garrard's Facebook page at https://www.facebook.com/stugworld, along with video stories of the songs featuring Michael W. Smith ("Carry On"), Martin Smith ("Holy Troublemakers") and Propaganda ("Make A Little Trouble").
In addition to the artists aforementioned, featured on the Beatitudes album are All Sons & Daughters, Amanda Cook, The Brilliance, Anthony Skinner, Terrian Bass and Becky Harding. Collectively, these artists have sold more than 62 million records, won 11 Grammy, 90 Dove Awards and amassed dozens of hit songs and millions of followers on social media.
"The Beatitudes Project is meant to be a reset button in a world plagued with violence and division," says Garrard, who also authored Words From the Hill. "These upside-down Jesus announcements on a hillside by the Sea of Galilee in Matthew 5 where Jews, Greeks, Romans and people of all ethnicities were gathered are a reminder that there is another way."
About Stugiology Music:
Stugiology Music is a record label formed by Stu Garrard, who is perhaps best-known as the guitarist / songwriter for the RIAA Certified Gold-selling, GRAMMY®-nominated and Dove Award-winning British band Delirious?. He is also a founding member of One Sonic Society (although no longer with the band) and recorded and released his first solo project in 2013, Of Burdens, Birds, and Stars. When not touring with Michael W. Smith or adding his sonic paint to Casting Crowns, Chris Tomlin, Matt Redman, Meredith Andrews, All Sons & Daughters, Amy Grant and many others' recordings, Garrard is writing, recording, speaking, leading worship and working with JHS on a custom line of guitar pedals. He lives in Nashville with his wife Karen. For all the latest Stu Garrard news and tour information, go to www.stugworld.com.
About The Fuel Music:
Established in 2008, The Fuel Music & Management Co., LLC, is a leading artist management and artist solutions company that independently distributes music internationally. Based in Tennessee, the Fuel team brings nearly 70 years of combined music industry experience in record label operations, major label distribution and marketing, and artist management for artists ranging from upstart bands to GRAMMY® Award nominated, multi-platinum artists. More information on the company can be found at www.thefuelmusic.com.
About NavPress:
The NavPress mission is to advance the calling of The Navigators by bringing biblically rooted, culturally relevant, and highly practical products to people who want to know and love Christ more deeply. Through The Message Bible and other insightful resources, NavPress seeks to bring positive spiritual movement to peoples' lives. In January 2014, NavPress entered into an alliance with Tyndale House Publishers to strengthen and better position NavPress and its rich content for the future. NavPress provides books and other content that bring spiritual impact, life transformation, and help lead in the mission of making disciples. A NavPress resource published in alliance with Tyndale House Publishers, Inc., NAVPRESS and the NAVPRESS logo are registered trademarks of NavPress, The Navigators, Colorado Springs, CO.
##