John Hagee Ministries Brings Annual 'Righteous Revolution' to Branson Next Month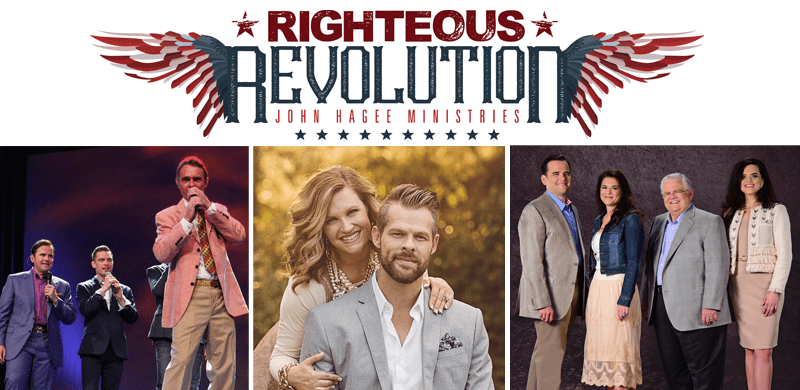 Pictured L-R: Canton Junction, Aaron & Amanda Crabb, The Hagees
Rally To Feature Canton Junction, Aaron & Amanda Crabb and The Hagees
NASHVILLE, Tenn.—"Righteous Revolution," the popular annual gospel rally presented by John Hagee Ministries, is set to return to Branson, Missouri, next month for two days of dynamic preaching and inspirational music.
Kicking off Thursday, April 27 at the Branson Convention Center with Pastor Matt Hagee, the rally will also be highlighted by a message from Diana Hagee, culminating with a sermon from best-selling author and renowned pastor John Hagee. In addition, concerts and worship sets will be held throughout the event from such leading names as Dove Award-winning quartet Canton Junction; acclaimed husband/wife duo Aaron & Amanda Crabb; Southern Gospel family favorites The Hagees; the Cornerstone Church Choir; and GRAMMY®-nominated special guest Gordon Mote.
"Now is the time for a 'Righteous Revolution' to sweep our nation, and we look forward to gathering with our friends and family from around America to rally this cause," said Pastor John Hagee. "Everyone is invited to join us for these two important days, as we are inspired by the Word, worship together and pray for revival in this great land."
"We're excited to be in America's heartland once again for the 'Righteous Revolution' rally," said Canton Junction founding member and pastor Matt Hagee. "Spending this time with fellow believers from every corner of the country is so dear to me, and I believe God has a special anointing in store for this event."
Tickets for the two-day "Righteous Revolution" are available now for $25 per person and can be purchased by calling 1-800-854-9899 or visiting jhm.org. Discounts for groups of 10 or more are available.
John Hagee is founder and senior pastor of Cornerstone Church in San Antonio, Texas, a non-denominational evangelical church with more than 22,000 active members. He also founded John Hagee Ministries, which broadcasts the Gospel on radio and television throughout America and the world, and is the founder of Christians United for Israel, which has grown to become the largest Christian pro-Israel organization in the United States—with over 3.2 million members. One of the leading Christian grassroots movements in the world, Christians United for Israel provides a national platform through which every pro-Israel church, parachurch organization, ministry or individual in America can speak and act with one voice in support of Israel in matters related to biblical issues. John Hagee has authored 39 books, seven of which were on the New York Times best-sellers list, including the 2013 blockbuster Four Blood Moons.
For further information, visit jhm.org or turningpointpr.com. Follow John Hagee Ministries on Facebook, and Twitter and Instagram @HageeMinistries.
##