Bethel Music Announces Starlight, Their First Full-Length Album Recorded Live On Tour, To Debut April 7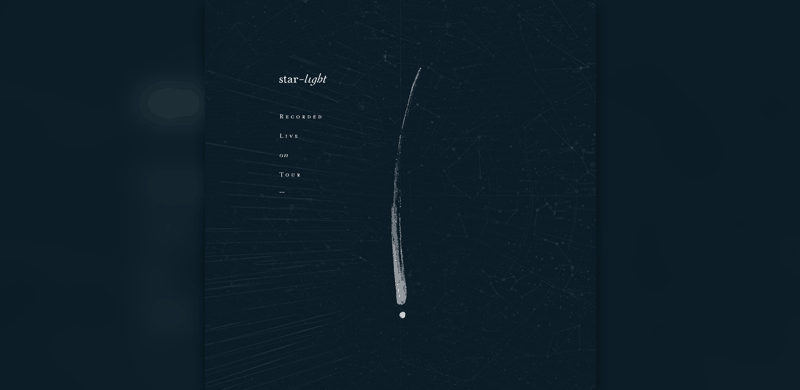 Songs recorded live from the "Worship Nights Tour"
Featuring GRAMMY® winning guest worship leader and songwriter Francesca Battistelli
Nashville, Tenn. (March 22, 2017) – Dove Award winning Bethel Music announces their highly anticipated album Starlight, debuting on April 7. Bethel Music's first full-length album recorded live on tour, including performances from each of the cities on the "Worship Nights Tour," features songs on the album led by Bethel Music's Jenn Johnson, Steffany Gretzinger, Amanda Cook, Kristene DiMarco, Kalley Heiligenthal, Melissa Helser and Hannah McClure along with GRAMMY® award winning guest worship leader and songwriter Francesca Battistelli. Starlight follows in the footsteps of Bethel Music's acclaimed live record You Make Me Brave (2014), topping Billboard's Christian Albums and Digital Albums charts while hitting No. 10 on the Billboard 200.
Now available for pre-order, Starlight is anchored in the message that our lives, our world, and all eternity are held together in Jesus. Instant grat tracks accompanying the pre-order include the title track "Starlight" by Amanda Cook, "Take Courage" by Kristene DiMarco and "King of My Heart" by Steffany Gretzinger.
For more information on the album, visit www.bethelmusic.com.
Starlight Tracklisting
1. Starlight
2. There's No Other Name
3. Extravagant
4. Breathe
5. Take Courage
6. King of My Heart
7. God I Look to You
8. The War Is Over
9. I See the Light
10. Catch the Wind
11. Old for New
12. For the One
13. You Came
14. Extravagant (Acoustic Bonus Track)
About Bethel Music
Bethel Music is a worship ministry that formed as an organic extension of Bethel Church in Redding, CA. Over the last seven years, Bethel Music has grown from being a local church music ministry to becoming a global outreach featuring a cadre of songwriters and worship leaders, with both online and on-campus worship schools. The Bethel Music Artist Collective includes Brian and Jenn Johnson, Jeremy Riddle, Steffany Gretzinger, Amanda Cook, Jonathan David and Melissa Helser, Leeland, Hunter Thompson, Paul and Hannah McClure, Kalley Heiligenthal, Josh Baldwin, Cory Asbury and Kristene DiMarco. Together these artists have six acclaimed albums that all went to the top of Billboard's Top Christian Albums chart, in addition to four GMA Dove Awards and a GMA Covenant Award. Bethel Music's multi-artist double-disc live recording Have It All (2016) hit No. 1 on the overall iTunes Albums chart and No. 6 on Billboard's Top Albums chart, becoming Bethel Music's highest retail debut on the charts ever. Starlight, Bethel Music's first full-length album recorded live on tour, is available April 7.
The heart of Bethel Music is to be a steward of the worship being created and released at Bethel Church, making it a resource available to the world. In addition to thousands of people that attend Bethel's weekly worship services, another 350,000 plus people subscribe to the online stream of the services at www.ibethel.tv. WorshipU, Bethel Church's online school of worship, features ongoing training programs underneath seasoned instructors, with tracks including worship leader, songwriter, sound engineer, team essentials, producing a song and worship fundamentals, available at www.worshipu.com. More about Bethel Music can be found at www.bethelmusic.com.
Get Connected With Bethel Music
www.bethelmusic.com
Facebook
Twitter
Instagram
YouTube
##