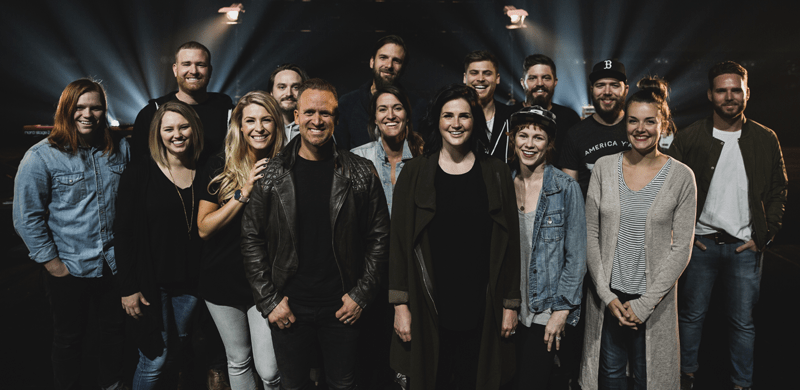 Second Leg Of U.S. Headlining Dates Added
Nashville, Tenn. (April 21, 2017) – Called a "must have" by critics, Dove Award winning Bethel Music recently released album Starlight, the band's first full-length album recorded live on tour, has earned the No. 1 spot on Billboard's Top Christian Albums Chart. The acclaimed collective will begin the first trek of their "Worship Nights USA" Tour on April 18, with a second set of U.S. dates recently unveiled for the summer amidst worship nights throughout Europe. For the latest tour information, click here.
Featuring performances from the "Worship Nights Tour," the album spotlights an all-female worship team including Bethel Music collective artists Jenn Johnson, Steffany Gretzinger, Amanda Cook, Kristene DiMarco, Kalley Heiligenthal, Melissa Helser and Hannah McClure along with GRAMMY® award winning guest worship leader and songwriter Francesca Battistelli. Starlight follows in the footsteps of Bethel Music's acclaimed live record You Make Me Brave (2014), topping Billboard's Christian Albums and Digital Albums charts while hitting No. 10 on the Billboard 200.
Read what critics have to say about Starlight:
---
"… this is an important album and is full of tracks that you and your congregation will fall in love with." – Worship Musician
"Starlight is best described as a stellar worship offering with an empowering theme of the Lord's Kingship reigning in our hearts in song after song. The standout songs each feature an engaging and emotive musical style while phrasing biblical truth in a creative, corporate and also personal way, making it my top worship album of the year." – NewReleaseToday
"Starlight boasts contemplative melodies and anthemic lyrics, producing a worship experience that brings peace to the soul while fueling the dissatisfaction that points the soul to the eternal, Almighty God, who created, sustains, and passionately pursues us." – ChurchMag
"The latest collaborative release from Bethel Music shines brightly for several reasons, not the least of which is that it features an all-female line-up of worship leaders on a live recording filled with vertical songs that point to God's presence, love and faithfulness." – CCM Magazine
"Musically, the use of strings and synthesizer-flourishes really stand out, and created a paradox of intimacy and vastness in the majority of the songs. Lyrically, there is a deep focus on the name and worthiness of Jesus, which is right where the focus should be. All told, we have a more-than-worthy addition to the Bethel Music canon and a few new songs with which to praise our very Holy God." – Jesus Freak Hideout
"Starlight has a strong message and I think it stays true to it. I loved each song individually. I put this album on repeat while I worked and found myself pausing to worship through the day to different songs. As a whole this album has a great flow. It is a must have album for contemporary worship lovers." – Hollywood Jesus
"Starlight's thoughtful lyrics will inspire gratitude long after the music ends. Bethel Music's stirring melodies draw listeners into the marvelous strength of God and invite them to consider Him as both powerful and personal, loyal and loving." – Today's Christian Entertainment
---
In addition, this Sept. 21-23 Bethel Music will host the annual Heaven Come Conference located in Los Angeles, CA. For more information on Bethel Music events and touring, visit bethelmusic.com/events.

Starlight Tracklisting
1. Starlight
2. There's No Other Name
3. Extravagant
4. Breathe
5. Take Courage
6. King of My Heart
7. God I Look to You
8. The War Is Over
9. I See the Light
10. Catch the Wind
11. Old for New
12. For the One
13. You Came
14. Extravagant (Acoustic Bonus Track)
About Bethel Music
Bethel Music is a worship ministry that formed as an organic extension of Bethel Church in Redding, CA. Over the last seven years, Bethel Music has grown from being a local church music ministry to becoming a global outreach featuring a cadre of songwriters and worship leaders, with both online and on-campus worship schools. The Bethel Music Artist Collective includes Brian and Jenn Johnson, Jeremy Riddle, Steffany Gretzinger, Amanda Cook, Jonathan David and Melissa Helser, Leeland, Matt Stinton, Hunter Thompson, Paul and Hannah McClure, Kalley Heiligenthal, Josh Baldwin, Cory Asbury and Kristene DiMarco. Together these artists have six acclaimed albums that all went to the top of Billboard's Top Christian Albums chart, in addition to four GMA Dove Awards and a GMA Covenant Award. Bethel Music's multi-artist double-disc live recording Have It All (2016) hit No. 1 on the overall iTunes Albums chart and No. 6 on Billboard's Top Albums chart, becoming Bethel Music's highest retail debut on the charts ever. Starlight, Bethel Music's first full-length album recorded live on tour, is available now.
The heart of Bethel Music is to be a steward of the worship being created and released at Bethel Church, making it a resource available to the world. In addition to thousands of people that attend Bethel's weekly worship services, another 350,000 plus people subscribe to the online stream of the services at www.ibethel.tv. WorshipU, Bethel Church's online school of worship, features ongoing training programs underneath seasoned instructors, with tracks including worship leader, songwriter, sound engineer, team essentials, producing a song and worship fundamentals, available at www.worshipu.com. More about Bethel Music can be found at www.bethelmusic.com.
Get Connected With Bethel Music
Website // www.bethelmusic.com
Facebook // www.facebook.com/bethelmusic
Twitter // www.twitter.com/bethelmusic
Instagram // www.instagram.com/bethelmusic
YouTube // www.youtube.com/ibethelmusic
##