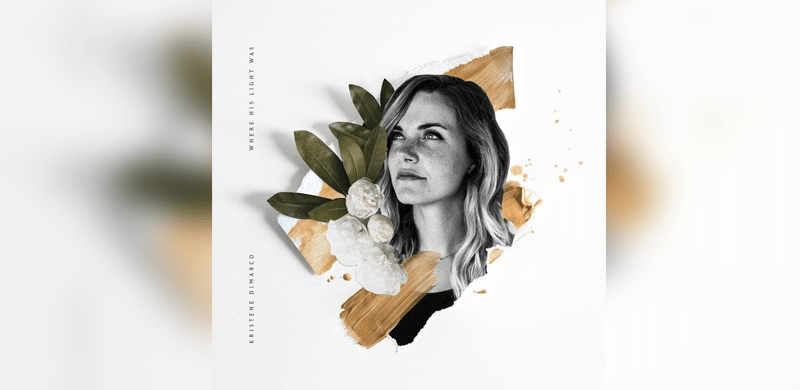 Release to coincide with Heaven Come Conference 2017 at Los Angeles' Microsoft Theater
Nashville, Tenn. (Aug. 11, 2017) – Kristene DiMarco will release her first collection of hope-filled new songs with Bethel Music on Sept. 22, aptly titled Where His Light Was. For DiMarco, the album stands as a beacon, representing life lessons and revelations uncovered across the last 10 years of her life. Penned into 11 songs, the album's axis is one of remembrance; exploring the way God illuminates our past and difficult seasons when we encounter His perspective and hear His voice.
With scripture inspirations ranging from 2 Chronicles, Romans and more, Where His Light Was holds songs about reflection and growth including the charging "Fear Not," the transformative "No Victim" and the profoundly uplifting "Take Courage" found on Bethel Music's chart-topping Starlight record.
"I want to use my whole life to develop new language for hope," explains DiMarco. "Where His Light Was comes from the perspective of when you're walking through a hard time, it feels dark, and you can't see where you're going, but God said go. If you keep moving forward you will reach your destination and realize you were never alone. Through the mystery and unanswered questions, He was with you the entire time. Don't give up. Keep going."
DiMarco will be a part of the Heaven Come Conference taking place at L.A.'s Microsoft Theater Sept. 21 through Sept. 23, appearing alongside Joel Houston (Hillsong UNITED), Brooke Ligertwood (Hillsong Worship) and other members of the Bethel Music family like Brian and Jenn Johnson, Amanda Cook, Jeremy Riddle among others. Speakers for the annual conference include Bill Johnson, Carl Lentz (Hillsong Church NYC), Danny Silk (Jesus Culture Sacramento) and more. For more information, visit BethelMusic.com.
Where His Light Was Tracklisting
1. Doxology
2. Where His Light Was
3. Fear Not
4. Take Courage (Radio Version)
5. Never Ever
6. No Victim
7. Your Love Stands Alone
8. Jesus Is Willing
9. This Good
10. Hope Is Alive
11. I Just Wanna Worship

About Kristene DiMarco:
Kristene DiMarco is a worship leader and songwriter at Bethel Church and with Bethel Music. She joined the Bethel Music Collective in 2016, bringing with her a history of passionate worship that has inspired a new generation of worshippers. DiMarco has a heart for growing up future leaders and encouraging young creatives to step into their calling. Her worship magnifies the peace and breakthrough we encounter in Jesus.
DiMarco's song "It Is Well" was featured on Bethel Music's You Make Me Brave (2014), as well as Christian radio. The fresh perspective of this timeless hymn grew a song impacting churches all over the world. Additionally, she appeared on Bethel Music's latest chart-topper Starlight (2017). DiMarco has released three independent solo albums, Mighty (2015), Safe Place (2012) and Those Who Dream (2008). She enjoys life in Redding, California with her husband and two children, and continues to minister at home and around the world. DiMarco will turn a new page with the release of her first full album with Bethel Music on Sept. 22, 2017 titled Where His Light Was.
Get Connected With Kristene DiMarco:
Website // www.bethelmusic.com
Facebook // www.facebook.com/kristene.dimarco
Twitter // www.twitter.com/kristeneeliza
Instagram // www.instagram.com/kristenedimarco
YouTube // www.youtube.com/ibethelmusic
About Bethel Music
Bethel Music is a worship ministry that formed as an organic extension of Bethel Church in Redding, CA. Over the last seven years, Bethel Music has grown from being a local church music ministry to becoming a global outreach featuring a cadre of songwriters and worship leaders, with both online and on-campus worship schools. The Bethel Music Artist Collective includes Brian and Jenn Johnson, Jeremy Riddle, Steffany Gretzinger, Amanda Cook, Jonathan David and Melissa Helser, Leeland, Matt Stinton, Hunter Thompson, Paul and Hannah McClure, Kalley Heiligenthal, Josh Baldwin, Cory Asbury and Kristene DiMarco. Together these artists have six acclaimed albums that all went to the top of Billboard's Top Christian Albums chart, in addition to four GMA Dove Awards and a GMA Covenant Award. Bethel Music's multi-artist double-disc live recording Have It All (2016) hit No. 1 on the overall iTunes Albums chart and No. 6 on Billboard's Top Albums chart, becoming Bethel Music's highest retail debut on the charts ever. Starlight, Bethel Music's first full-length album recorded live on tour, is among their latest to top the chart.
The heart of Bethel Music is to be a steward of the worship being created and released at Bethel Church, making it a resource available to the world. In addition to thousands of people that attend Bethel's weekly worship services, another 350,000 plus people subscribe to the online stream of the services at www.ibethel.tv. WorshipU, Bethel Church's online school of worship, features ongoing training programs underneath seasoned instructors, with tracks including worship leader, songwriter, sound engineer, team essentials, producing a song and worship fundamentals, available at www.worshipu.com. More about Bethel Music can be found at www.bethelmusic.com.
Get Connected With Bethel Music
Website // www.bethelmusic.com
Facebook // www.facebook.com/bethelmusic
Twitter // www.twitter.com/bethelmusic
Instagram // www.instagram.com/bethelmusic
YouTube // www.youtube.com/ibethelmusic
##