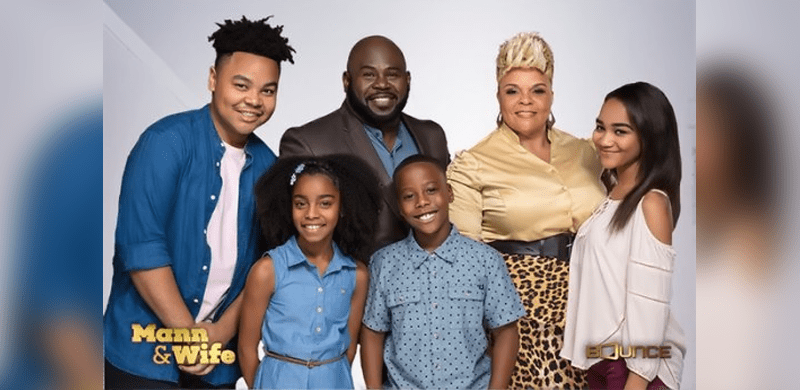 ATLANTA, March 20, 2017 /PRNewswire/ — David Mann, Tamela Mann and company bring a new assortment of hysterical family situations and laughs in the third season of their hit Bounce comedy series Mann & Wife. Bounce will double the fun by kicking off season three with two new original episodes back-to-back 9:00-10:00 pm (ET) on Tuesday, March 28. All-new Mann & Wife episodes will continue to premiere Tuesday nights at 9:00 pm (ET) through the spring on Bounce.
Real-life husband and wife team David and Tamela Mann star and serve as executive producers of Mann & Wife. The half-hour situation comedy follows their characters – newlyweds and second-chance sweethearts Daniel and Toni Mann – as they laugh and love their way through the ups and downs of life as a blended family, each with two children from previous marriages.
In addition to the show's popular stars, Tony Rock is back as Daniel's partner on the police force with Steven Wash (Daniel, Jr.), Amir O'Neil (Darren), Lauryn Kennedy Hardy (Terri) and Jadah Marie (Tosha) playing the Mann children. Terri J. Vaughn joins the cast as Daniel's new Lieutenant and also directs an episode this season.
This season sees hilarious takes on visiting family, mistaken identity, school pressure, phony health scares, an embarrassing email leak and even a 1970's cop show spoof. Guest stars include George Wallace, Antonio Fargas, Carl Payne, Victoria Rowell, Rod "Rod Man" Thompson, DC Youngfly, Blue Kimble, Vanessa Fraction and Brely Evans.
Mann & Wife co-creator Roger Bobb (House of Payne The Rickey Smiley Show) serves as executive producer and director of the series.
##