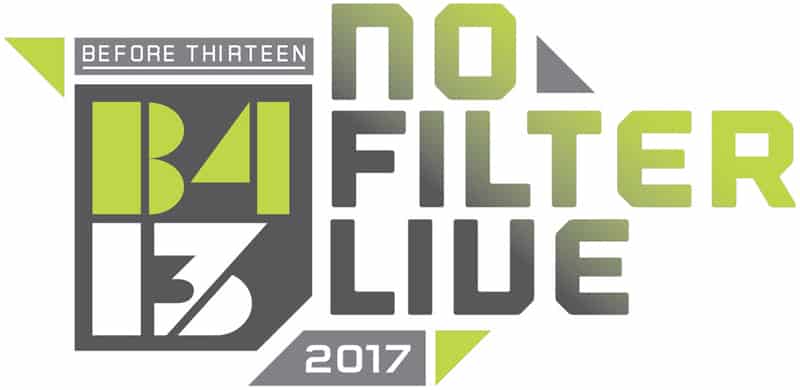 Tour Will Features Blanca, Tauren Wells, Rapture Ruckus, Parenting Expert Dannah Gresh
And Illusionist Brock Gill
21 March 2017 – Franklin, Tenn – Kicking off in just over a month is B413 "No Filter Live" 2017, a unique touring event specifically created for tweens and their parents. The tour will hit three key markets this spring – Bowling Green, KY (April 22), Austin, TX (May 5) and Ft. Smith, AR (May 6).
This two-hour family experience, pioneered by the partnerships of iShine, Provident Label Group, Essential Artist Services and Tween Gospel Alliance, was developed to best prepare the tween demographic for life beyond entering their teen years. The hope of B413 "No Filter Live" is to deeply enrich the child's faith, as well as help equip parents to set the course of their child's entire life before turning 13.
WHY B413? Young people between age nine and 13 years of age are at a key formative stage in their lives, beginning to develop their own attitudes and personal interests. Most of all, they are on the path to becoming adults to also develop their own values and beliefs.
Modern research has proven that what a person believes is locked in by age 13, and the team behind B413 believes that it is important for a child to have established an unshakable foundation of faith when entering their teen years. In response to this belief, the B413 "No Filter" Tour was created for tweens and their parents, guaranteed for an evening filled with entertainment and education.
"What you believe by the time you are 13 is what you will die believing." – George Barna
"For thousands of years this age has been recognized as a defining moment in a persons life," explains Robert Beeson, founder and CCO of iShine and co-creator/producer of the B413 Tour. "To prepare our children for this milestone could not be a more critical priority for parents, considering all that is at stake in today's world. We pray that B413 will become a movement, back to the early traditions once embraced by the church. I am personally excited to be working on a fun event for the whole family – an exceptional night of music, world class illusions, legitimate experts, and the latest interactive media – with a message that gets parents and kids on the same page with a clear understanding of their identity in Christ, stripping away the filters this world tries to put on us."
Some of today's top Christian artists are set to perform such as Blanca, Tauren Wells and Rapture Ruckus, and best-selling author and parenting expert Dannah Gresh will be the main speaker. The evening will also feature master illusionist Brock Gill, interactive videos and more.
Tickets are on sale now with tickets as low as $15! VIP and Family Packs are also available. To purchase tickets and for more information, please visit B413.org.
B413 No Filter Live tour dates:
Saturday, April 22* – Bowling Green, KY – Living Hope Baptist Church
*Rapture Ruckus will not appear at the 4/22 date
Friday, May 5 – Austin, TX – Life Austin
Saturday, May 6 – Ft. Smith, AR – Eastside Baptist Church
To find out more, please visit B413.org and on the social links below:
Twitter
Facebook
Instagram
##