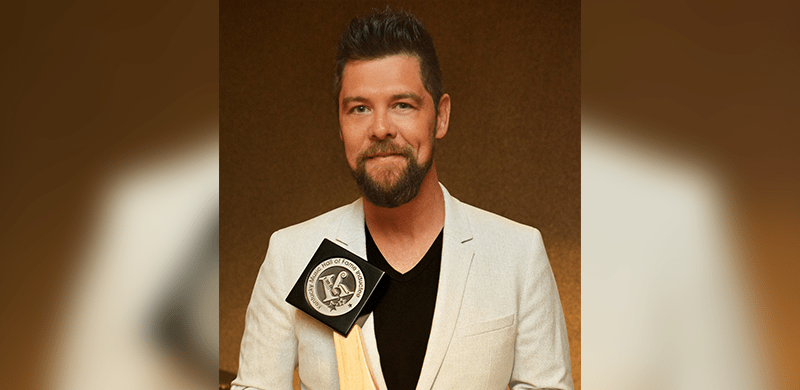 Nashville, TN (May 15, 2018) – Jason Crabb, GRAMMY® winner and 21-time GMA Dove Award winning artist, was inducted into the Kentucky Music Hall of Fame on May 11, 2018 during an induction ceremony in Mount Vernon, KY at the Renfro Valley Entertainment Center. Crabb was inducted alongside David "Stringbean" Akeman, Dale Ann Bradley, Billy Ray Cyrus, Jackie DeShannon and Bobby Lewis.
Making the night even more momentous for Crabb, Deborah Evans Price – award-winning journalist, contributor to Billboard, Redbook, Simple Grace and more – was on hand to personally induct Jason into the Kentucky Music Hall of Fame.
"I am completely humbled and honored to be included in the 2018 class of inductees into the Kentucky Music Hall of Fame and to share it with this amazing list of fellow Kentuckians," said Crabb. "I thank God, every single day, for taking this country boy from Beaver Dam, KY and using him. I can't say thank you enough. It just goes to show you, God's dreams are truly bigger than anything we can ever think or imagine. Very special thanks to Deborah Evans Price for taking time out to personally induct me, I love you so much. To God be the glory."
The Kentucky Music Hall of Fame & Museum honors Kentucky-born performers, songwriters, publishers, promoters, managers and other music professionals who have made significant contributions to the music industry locally and around the world.
The 2018 class joins an elite roster of individuals including Loretta Lynn, Bill Monroe, Florence Henderson, Clarence Spalding, Rosemary Clooney, EXILE, Wynonna & Naomi Judd, Steven Curtis Chapman, and many more.
This is the second Kentucky honor bestowed upon Crabb. In 2015, his hometown of Beaver Dam, KY named a street after him, Jason Crabb Drive.
##