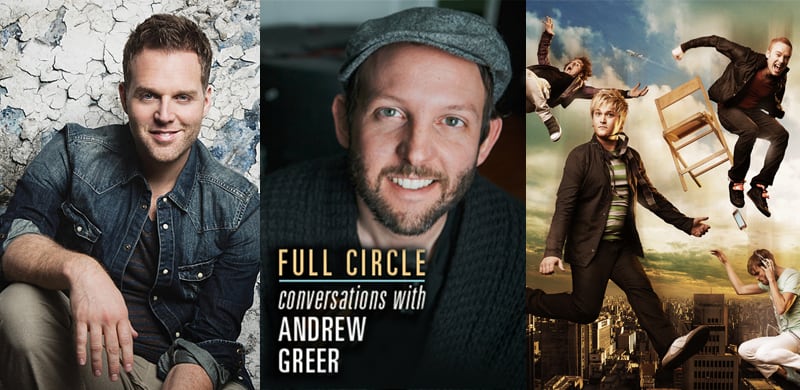 Full Circle: Conversations with Andrew Greer
Join singer-songwriter Andrew Greer as he chats with Christian music historymakers past and present.
This Month: Matthew West + MIKESCHAIR
Since his debut record released on Capitol CMG ten years ago, 2013 American Music Award winner Matthew West has steadily nurtured a captivated following through his storytelling brand of songwriting. A tribute to his main craft, West's songs have been recorded by legendary Country music acts like Rascal Flatts and Diamond Rio. Since MIKESCHAIR made its dorm debut ten years ago, writing and recording songs from their Belmont University perch, Mike Grayson and crew have cultivated a national fanbase and widespread industry acclaim for their songwriter pop/rock – garnering the band numerous Dove Award nominations and hit singles. Recording together for the first time on MIKESCHAIR's recent release, All or Nothing (Curb), Matthew and Mike chat about music past and present in this exclusive Full Circle conversation.
Andrew: What was the first song you remember writing that ended up on yours orsomeone else's record?
Matthew: Before I signed a record deal, I was signed as a songwriter. So many of my first songs were sung by other folks, like Rascal Flatts, Billy Ray Cyrus, Point of Grace and Natalie Grant. But the very first song that was recorded was the first song I wroteafter moving to Nashville, called "Be Strong." Danny Gans, a famous Las Vegas
performer, was making a Christian record on Word Records and he sang my song. Pretty random.
Mike: I have always been drawn to writing. As soon as I got a guitar in fifth grade, I started writing songs. The first song I ever completed is a song called "Strength to Shout." That song was one of the songs that we put on our first independent CD. It was so cool for me to record a song with MIKESCHAIR that I wrote back when I was in middle school.
Andrew: What artists did you grow up listening to? And what artists do you feellike most strongly influence your own records and songwriting?
Matthew: I grew up listening to DC Talk, Petra, Steven Curtis Chapman, Keith Green, James Taylor, Billy Joel, Tom Petty, John Mellencamp, Garth Brooks, and Bruce Springsteen. More modern stuff I loved tended to be radio-friendly bands like Hootie and the Blowfish, Counting Crows, John Mayer, and Goo Goo Dolls. As a songwriter, you have to be a student of all styles and genres to be prepared. So my playlist is pretty eclectic. I think my records reflect that. While you may not be able to pinpoint one specific artist that I clearly emulate, I'd like to think they're all in there somewhere, and add up to something uniquely mine. But the clarity of message and the desire to point people to Jesus through music is influenced by the guys who devoted their entire musical careers to reaching a lost world. Steven Curtis and Keith Green are two that always hit home.
Mike: I grew up in a home surrounded by music. At a really young age I was introduced to bands like The Eagles and The Beatles by my dad. As I got older, I fell in love with Christian music. I love worship music. I started leading worship when I was in sixth grade. Artists like Chris Tomlin and Delirious? were my favorite! That being said, the one group who has had the most impact on my songwriting is Jars of Clay. Dan Haseltine's mom was my middle school Bible study leader, so naturally I was drawn to their music.
Andrew: Where and how did you guys first start? And now that your audiencehas grown through major label records and tours, how do you keep the purity of those early beginnings at the center of your current career trajectory?
Mike: MIKESCHAIR started in a dorm room at Belmont University in 2003. I wrote a song and decided to record it with a friend in the dorms. As we needed different instruments, guys who are now in the band would walk by the room and say, "Hey, I play this if you need it." It seemed so random at the time, but ten years later it's obvious God's hand was all over it. Our band name is a constant reminder of where it all started, back in a dorm room with not much more than a chair to write songs in. How faithful God has been to take us from that dorm room to where we are today.
Andrew: Matthew, your current tour is an acoustic tour advertised as getting backto the basics. What is the basis for this stripped down, song-centered vibe?
Matthew: In our lives, we look for our voice, for a way to tell our story to the world. In college, I felt like God was showing me that songwriting would be that for me – a vehicle that could deliver my story to the world. As I have grown, I've realized that I'm really called not to just tell my story, but to deliver the greatest story ever told and how it can radically change each of our stories. As my platform has grown, the shows keep getting bigger, and I'm so excited for the chance to reach more and more people. Yet, I have seen from watching other careers that the more popular you become, there is a tendency to lose touch with the very people who are listening to your music. I have been determined not to let that happen. One of the ways I do that is by collecting people's stories. At my website, people can write down their story and send it to me. Over 25,000 stories have come in from all over the world! These stories have served as the inspiration for every single song on my last two projects.
Andrew: How did you first connect with Mike Grayson and/or MIKESCHAIR andthe band's music?
Matthew: MIKESCHAIR came on tour with me a few years ago, and we became fast friends. They are some of the nicest guys and their hearts are in the right place. Mike and I have talked about writing a song, but never got around to it until it was too late to for this new MIKESCHAIR record. But Mike invited me to sing on the record, and I was happy to do it. Mike has a really great voice. He certainly didn't need me, but I am very happy to be a small part of what God is doing through their ministry.
Andrew: How about you, Mike? How did you first connect with Matthew?
Mike: I have always been a fan of Matthew. I remember driving around in college, hearing "More" on the radio for the first time and loving it. Last fall, we had the amazing privilege of touring with Matthew. At the same time, we were working on All or Nothing in the studio. When I wrote "People Like Me," I knew I wanted it to be a duet. The song lends itself to having two voices, as if it is two different stories are being told. Matthew has such a distinct voice. When I asked him if he would be willing to sing on the song, he didn't hesitate. This song is by far my favorite on the album because of the connection this song has to my family and me. To have Matthew on it puts it over the top.
##
About Matthew West: Lauded by The New York Times as "a vivid and compelling songwriter with impressive approaches to the familiar," two-time Grammy nominee Matthew West's 2010 studio album, The Story of Your Life, was inspired by 10,000 stories from every state in the U.S. and 20 countries. The album garnered attention from CNN Online, Fox News, Billboard, Country Weekly, and American Songwriter. The Story of Your Life gave West his largest street week debut, selling over 10,000 units and landing at No. 3 on Christian Soundscan and No. 41 on the Billboard Top 200. A multiple ASCAP "Song of the Year" winner, West has had four No. 1 radio hits. His songwriting credits include cuts by Rascal Flatts, Billy Ray Cyrus, and Diamond Rio. He was also nominated for a Primetime Emmy Award for Original Music & Lyrics for "The Heart of Christmas" from the film of the same name. West's fifth studio album, Into The Light, was released on September 25, 2012. For more information, visit: www.matthewwest.com.
About MIKESCHAIR: MIKESCHAIR made its major-label debut in 2009 and has garnered five Top 5 and three Top 10 radio singles and 12 GMA Dove Award nominations. All of its founding members met at Nashville's Belmont University, and the band scored a coveted performance slot for Belmont's Christian Music Showcase, which led to a record deal with Curb Records. The five-piece has toured with MercyMe,Newsboys, Lecrae, Matthew West, Brandon Heath, and Big Daddy Weave, and is now partnering with Aaron Shust for "The Morning Rises Tour". MIKESCHAIR continues to maintain a heart for missions, working alongside organizations and international relief agencies who provide for those in need. To find out more, visit: www.MIKESCHAIR.com.
##
About Seventh Day Slumber: Seventh Day Slumber's critically-acclaimed 10th recording, We Are The Broken, released in May. With career sales totaling nearly 500,000 units to date, the band's 2005 release, Once Upon A Shattered Life, reached #1 on Billboard magazine's Heatseekers Albums chart, while 2007's Finally Awake landed at #1 on Billboard's Top Christian and Gospel Albums chart. In 2009, Rescatame garnered a GMA Dove Award for Spanish Language Album of the Year. A consistent force on Christian CHR and rock radio, Seventh Day Slumber has charted five #1 singles and 14 Top 10 hits. Their signature songs include "Oceans From The Rain," "Inside Out," "Caroline," "Finally Awake" and "Wasted Life." For more information, visit: www.seventhdayslumber.com.
About FLAME: A leader in the Christian rap/hip hop scene, FLAME's latest solo recording, Royal Flush, debuted last year at #2 on Billboard's Gospel Albums chart and reached #3 on iTunes' Hip-Hop/Rap Top Albums chart. His 2010 release, Captured, and 2012's The 6th were also best-selling recordings. With three Stellar Award nominations and six GMA Dove nominations to his credit, FLAME's Our World: Redeemed earned a 2009 GRAMMY®-nomination for best Rap or Rock Gospel Album. The St. Louis native has appeared on BET and "The 700 Club", as well as in Vibe magazine, The Huffington Post, and Hip Hop Weekly, among other top publications. To find out more, visit: www.clearsightmusic.com.
About Andrew: Andrew Greer is an acclaimed singer-songwriter, respected music journalist, and co-creator of the innovative Hymns for Hunger Tour with fellow singer-songwriter Cindy Morgan. All Things Bright & Beautiful: Hymns for the Seasons (Lucid Artist), an instrumental collection produced, arranged, and performed by Greer, held the #1 spot on Nielsen Christian SoundScan's Instrumental chart for 23 consecutive weeks. A 2013 Dove Award nominee, Andrew's first Christmas record, Angel Band: The Christmas Sessions, releases this fall and features collaborations with music legends Phil Madeira, The McCrary Sisters, Cindy Morgan, and Sandi Patty. For more information, visit: www.andrew-greer.com or www.hymnsforhunger.com