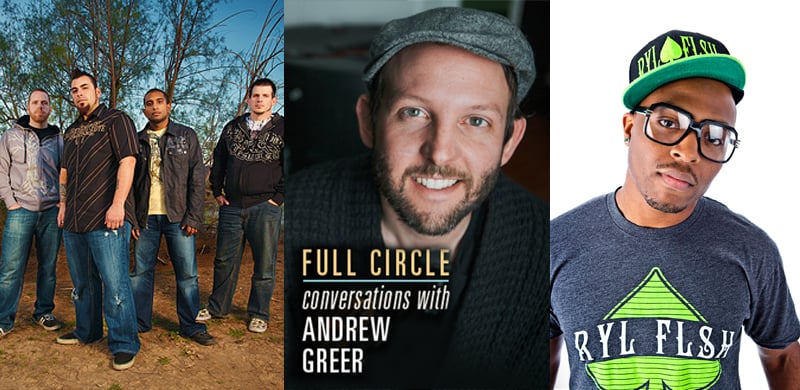 Full Circle: Conversations with Andrew Greer
Join singer-songwriter Andrew Greer as he chats with Christian music historymakers past and present.
This Month: Seventh Day Slumber + FLAME
The worlds of rap and rock have long been intertwined. A mutual admiration society of sorts, cross-collaborations and blended musical incorporations blur genre lines. And the past decade has produced watershed industry and fan recognition, transforming gospel rap and rock platforms from faith-based niches to mainstream successes. On the heels of Seventh Day Slumber's latest LP release, We are the Broken (VSR Music Group), band frontman Joseph Rojas joins Grammy-nominated gospel hip-hop artist/songwriter/ professor FLAME for a conversation about the opportunity of artists of Christian faith in both genres to proclaim a message to the masses through music.
Andrew: You both are considered leaders in your respective genres. How have you seen these genres evolve over the years, and do you think the changes have been primarily positive?
Joseph (Seventh Day Slumber): Christian rock music has definitely evolved over the years. We went from mimicking guitar riffs and styles of mainstream bands to being a musical influence for the genre. With bands like Skillet and RED, people no longer say, "Man, that's pretty good for a Christian band." While I do see this evolution in our genre as primarily positive, it's extremely important that our message doesn't get lost in the mix. Without the message of hope in Jesus Christ the rest would be a complete waste of time.
FLAME: Thanks for the kind words! I've enjoyed watching the rap/hip-hop genre grow over the years. The most obvious change would be artistically. I'm of the opinion that gospel music's version of hip-hop matches equally with the mainstream market's standard and quality. This change has been positive, especially in terms of breadth of exposure to newer audiences. Although I have seen some discouraging things invade the genre, overall, I'm still excited about our growth and potential.
Andrew: The audiences for hard rock and rap are distinct, but have much overlap.How do feel like these two genres of Christian music can better work together?
FLAME: I wrote a song titled "Joyful Noise" in 2008 that was a fusion of rock and rap. It is now one of the all-time staple songs in our genre. I'd love to see more collabs so as to demonstrate unity in the body of Christ and to explore more creativity. Touring together would also be a great solution.
Joseph: I'd love to see more tours with a rock/rap vibe. Usually fans have to go to something like Winter Jam or a festival to see their favorite rock and rap groups together. I think it would be really cool if our respective genres worked closely to bring more rock/rap tours to small town America.
Andrew: You both take the role of mentoring seriously. Joseph, how does this play out in your life and ministry?
Joseph: Sales come and go, but the message of Christ echoes into eternity. I honestlybelieve that music should come second and ministry should come first. People need more than a good song and another good concert. Staying in touch with our fans and responding to their messages is something we have always focused on. The truth is, people don't care how much you know until they know how much you care.
Andrew: How about for you FLAME?
FLAME: I'm extremely involved in my local church. I teach a systematic theology class and preach periodically. I also meet weekly with local artists in the community. I enjoy serving in that capacity. I take mentoring seriously because I'd rather influence the next generation of artists through biblical discipleship rather than complaining about problems I see in the industry and among artists.
Andrew: With this kind of commitment to study, the spiritual content of yourlyrics obviously stays relevant. How do you keep your music fresh with each newrelease?
FLAME: I study hip-hop culture and try to remain a student of the game. Also, I keep people around me who I deem as more creative. Lastly, I try to collaborate with young talent. They bring fresh ideas to the table that are always fun to try!
Joseph: Same with Seventh Day. We are always listening to new bands and new music. It's important to stay in touch with the changes in our respective genres. Sometimes we get caught up in our own style and the way we do things and miss what's going on around us. When you do that, you run the risk of being trapped in a certain time period. We have always strived to be relevant musically without losing the foundation of our style. Another way to stay relevant and current is to ask your fans what are they listening to.
Andrew: What excites the two of you most about Christian music today?
Joseph: There is no longer a line in the sand between Christian rock and mainstream rock. This allows us to minister in areas we would have normally not been able to. Mainstream rock stations are playing Christian bands just like they would any other band. The thing we should never forget is our message should be heard loud and clearly in our music. If you wow the crowd and sell tons of CDs, but God is not glorified, you have done nothing at all.
FLAME: I'm mostly excited about the Gospel being articulated clearly and boldly to a generation of people who are confused about Christianity and to those who have written off our faith due to "progressive thinking." Artists who think beyond the arts to actuallymake disciples stirs my passion. With a great deal of mainstream attention on the genre we have a rare opportunity to speak life and Truth to people who wouldn't otherwise hear it. Those who get that and appreciate this moment get me excited!
##
About Seventh Day Slumber: Seventh Day Slumber's critically-acclaimed 10th recording, We Are The Broken, released in May. With career sales totaling nearly 500,000 units to date, the band's 2005 release, Once Upon A Shattered Life, reached #1 on Billboard magazine's Heatseekers Albums chart, while 2007's Finally Awake landed at #1 on Billboard's Top Christian and Gospel Albums chart. In 2009, Rescatame garnered a GMA Dove Award for Spanish Language Album of the Year. A consistent force on Christian CHR and rock radio, Seventh Day Slumber has charted five #1 singles and 14 Top 10 hits. Their signature songs include "Oceans From The Rain," "Inside Out," "Caroline," "Finally Awake" and "Wasted Life." For more information, visit: www.seventhdayslumber.com.
About FLAME: A leader in the Christian rap/hip hop scene, FLAME's latest solo recording, Royal Flush, debuted last year at #2 on Billboard's Gospel Albums chart and reached #3 on iTunes' Hip-Hop/Rap Top Albums chart. His 2010 release, Captured, and 2012's The 6th were also best-selling recordings. With three Stellar Award nominations and six GMA Dove nominations to his credit, FLAME's Our World: Redeemed earned a 2009 GRAMMY®-nomination for best Rap or Rock Gospel Album. The St. Louis native has appeared on BET and "The 700 Club", as well as in Vibe magazine, The Huffington Post, and Hip Hop Weekly, among other top publications. To find out more, visit: www.clearsightmusic.com.
About Andrew: Andrew Greer is an acclaimed singer-songwriter, respected music journalist, and co-creator of the innovative Hymns for Hunger Tour with fellow singer-songwriter Cindy Morgan. All Things Bright & Beautiful: Hymns for the Seasons (Lucid Artist), an instrumental collection produced, arranged, and performed by Greer, held the #1 spot on Nielsen Christian SoundScan's Instrumental chart for 23 consecutive weeks. A 2013 Dove Award nominee, Andrew's first Christmas record, Angel Band: The Christmas Sessions, releases this fall and features collaborations with music legends Phil Madeira, The McCrary Sisters, Cindy Morgan, and Sandi Patty. For more information, visit: www.andrew-greer.com.