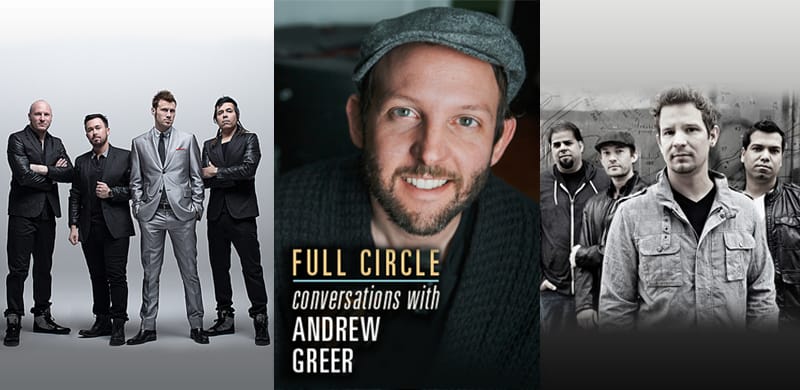 Full Circle: Conversations with Andrew Greer
Join singer-songwriter Andrew Greer as he chats with Christian music historymakers past and present.
This Month: Building 429 & Unspoken
Ten years ago, Building 429 released its major label debut, spawning a string of high-profile tours, a GMA Dove Award for New Artist of the Year, and BMI's Christian Song of the Year for their multi-format number one track, "Glory Defined". Last year, new Centricity band, Unspoken, debuted a Top 10 radio single, earned Top Christian Song of the Year honors from iTunes, and performed alongside industry staples like Sanctus Real and Big Daddy Weave.
Sounds like parallel new artist success stories.
But over the past decade, Building 429 has endured personnel changes, up-and-down sales, and label shifts a-plenty before bounding back into the spotlight with multiple recent radio and retail number one's. In this GMAil-only conversation, Building's veteran frontman, Jason Roy, and Unspoken lead singer, Chad Mattson, and bassist, Jon Lowry, talk professional and spiritual sustenance – as well as the drive behind their latest releases.
Andrew: Chad, as a new label band hitting it hard from the get-go, what has been your biggest challenge?
Chad Mattson: We have been traveling for ten years now, and each season has brought different challenges. But the common thread is finding the balance between work, or ministry, and family. It takes living with intention and discipline to strike the balance.
Andrew: Since Building 429 debuted ten years ago with a hit song and a hit record, the band has seen its share of ups and downs. What is your advice for Unspoken in maintaining a lasting career?
Jason Roy: The list of things we wish we knew then is a mile long. No matter how grounded you are, you start to believe your own press unless you are consistentlysurrounded by people who care more about your character than your talent. The challenge is to never get too high, and never get too low. We have made a career out of serving our fans where they are, in big rooms and tiny rooms, with the understanding that we are invested in encouraging them and their wellbeing more than anything else. Pray. And pray hard. Understand that the influence you have on a stage today is no more or less important than the influence you'll have at home tomorrow. And enjoy every second of it!
Andrew: You have said you wanted to "push the limits" on Building's latest record, We Won't Be Shaken. What motivated the bold lyrical and musical shift?
Jason: So many times in my life, I have misunderstood boldness for arrogance or confidence for lack of humility. Over the past few years, we've been surrounded by people who walk with a faith that permeates their being, that screams of something more. That has been infectious to us. So this is one record that we decided we just didn't care what the critics would say, and would inspire that mentality in others. Some might call it arrogance. We call it confidence. The confidence to say things like, "We won't be shaken." Or, "I came to light a bonfire." And, "I am blameless." Why can't we say these things? God has done an extraordinary work in our lives. We are a new creation, and we feel it's time to let go of what God let go of years ago.
Andrew: Chad, You have said Unspoken's latest EP – The World is Waking Up – is also about letting go. How so?
Chad: In one way or another, every one of these songs point to the themes Jesus spoke of in Matthew 6. Living righteously. Drawing close to God. Not worrying about tomorrow. As we trust God today, we find a pathway to peace.
Andrew: Do you remember where you first heard of Building 429?
Jon Lowry: I remember seeing Building 429 play the song "Glory Defined" at a GMA showcase in 2005 and thinking, "That's a great song and a unique sound." As someone who loves lyrics, I appreciate the song's excellent imagery. When they came back last year with "Where I Belong", I immediately loved it.
Andrew: Jason, what is Building 429's main aim as a band?
Jason: A lot of people shout out, "Jesus Saves!", but haven't done anything to earn the right to share something of significance with someone. We don't want to be a droning fan. If you come to our show, you'll see a spectacle. Yes, a ridiculous spectacle. But it gives us currency to cash in later in the set when we lead people to the cross. This is why we do what we do – to earn the right to share what we believe.
##
About Building 429: Comprised of Jason Roy (vocals), Jesse Garcia (guitar), Michael Anderson (drums), and Aaron Branch (bass), Building 429 sixth studio project, We Won't Be Shaken (Essential), debuted at No. 1 on Billboard's Christian Albums Chart. "Where I Belong" from 2011's Listen to the Sound set precedent as the longest-running No. 1 song in Billboard Christian Audience chart history at 15 consecutive weeks, and earned the band Billboard's 2012 Christian Song of the Year award. Building 429 first broke through with its 2004 No. 1 hit "Glory Defined," which was named BMI's Christian Song of the Year in 2005 and earned the band a Gospel Music Association Dove Award for New Artist of the Year. The group has since amassed a dedicated fan following, playing more than 150 live shows a year while developing its own touring brands ìWinter Blast and "Summer Blast." To find out more, visit: www.building429.com.
About Unspoken: Comprised of lead singer Chad Mattson, bassist Jon Lowry (who are both from Maine), guitarist Mike Gomez (Dominican Republic), and drummer Ariel Munoz (Puerto Rico), the band has made great strides as an independent artist playing with such high-profile acts as Third Day, David Crowder, Casting Crowns, and TobyMac. "Who You Are," the band's lead single from their debut EP, Get to Me (Centricity), peaked in the Top 10 and was named iTunes 2012 Top Christian Song of the Year. Their latest radio single, "Lift My Life Up," is currently in the Top 5. For more information, visit: www.unspokenmusic.com.
About Andrew: Andrew Greer is an acclaimed singer-songwriter, respected music journalist, and co-creator of the innovative Hymns for Hunger Tour with fellow singer-songwriter Cindy Morgan. All Things Bright & Beautiful: Hymns for the Seasons (Lucid Artist), an instrumental collection produced, arranged, and performed by Greer, held the #1 spot on Nielsen Christian SoundScan's Instrumental chart for 23 consecutive weeks. A 2013 Dove Award nominee, Andrew's first Christmas record, Angel Band: The Christmas Sessions, releases this fall and features collaborations with music legends Phil Madeira, The McCrary Sisters, Cindy Morgan, and Sandi Patty. For more information, visit: www.andrew-greer.com or www.hymnsforhunger.com.