I Can Only Imagine – The Very Best Of MercyMe Available Now Ahead Of Major Motion Picture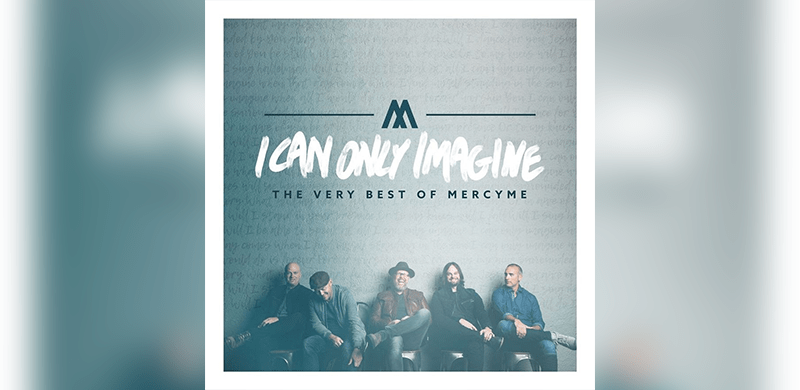 Movie Version Of Mega Hit Enters Radio Airwaves Alongside
Second Single "Grace Got You" Feat. John Reuben
Nashville, Tenn. (March 5, 2018) – Multi-platinum selling band MercyMe just released I Can Only Imagine – The Very Best Of MercyMe, a 13 piece collection of their most beloved songs alongside a special version of the monumental hit "I Can Only Imagine" made just for the anticipated movie of the same name called "I Can Only Imagine (The Movie Session)." Carefully selected by the band, the impressive track listing for this album includes their biggest hits such as "Flawless," "Word Of God Speak," "God With Us" plus the original version of "I Can Only Imagine." A critic noted, "… they have become a formidable act not only in CCM but beyond through their carefully crafted songs. This collection is proof of this."
The 5X GRAMMY® nominated band attended the world premiere of the much-anticipated new movie "I Can Only Imagine" last week alongside host Scott Hamilton and members of the cast including Dennis Quaid, Trace Adkins, J. Michael Finley, Madeline Carroll, Priscilla Shirer and more. The true story based on the life of Bart Millard who wrote the mega-hit song after the loss of his father to cancer opens in theaters Mar. 16, 2018. Carrying the same name, Millard's first memoir released last month.
"I Can Only Imagine (The Movie Session)" is now being played by radio stations nationwide in addition to "Grace Got You" Feat. John Reuben which impacted radio on Friday. This marks the second single to impact radio from the multi-platinum selling band's latest GRAMMY® nominated, chart-topping album Lifer, preceded by "Even If" which had an unprecedented 19 week run at No. 1. Stream or download "Grace Got You" today on Spotify, Apple Music and Amazon Music.
Surprising fans with a special moment during last night's sold-out "MercyMe Live" tour stop, the band invited Dennis Quaid and the Sharks to join the bill, marking their inaugural Nashville performance at the iconic Ryman Auditorium. "MercyMe Live" is currently trekking throughout the U.S. with Tenth Avenue North alongside Tim Timmons until April. For the latest information on MercyMe, visit www.MercyMe.org.
I Can Only Imagine – The Very Best Of MercyMe is available on iTunes, Apple Music, Spotify and Amazon.
##