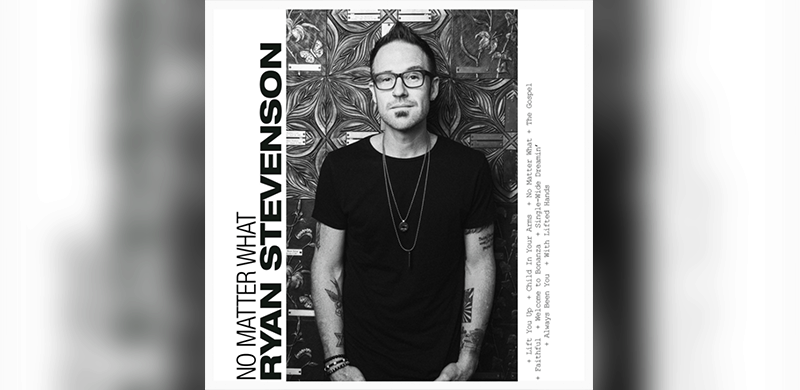 "Faithful Feat. Amy Grant" Available Now
NASHVILLE, TENN. (MARCH 05, 2018) Gotee Records' Ryan Stevenson will release a new full-length studio album on April 6th titled No Matter What. Last week, Stevenson released a new song from the upcoming album, "Faithful (feat. Amy Grant)" written by Stevenson, producer Bryan Fowler and Amy Grant. The song was also featured in Spotify's New Music Friday Christian playlist and Top Christian playlist. Click here to check out the song and below for the lyric video.
"I loved working with Ryan on 'Faithful,'" shares Amy Grant. "Can you call it 'work' when everyone is throwing in creative ideas and amping up the good feeling around a great son? I hated for our time in the studio to end."
Earlier this year, Stevenson released the title track of the new album featuring Bart Millard of MercyMe. The album features it, "Faithful", the hit song "The Gospel" and more. Produced by Bryan Fowler for Man Cub Music House the album is a result of Stevenson's prayer for his songs to exist for a reason.
"Over the course of the last several years, I've continued to ask the Lord to give me songs that exist for a reason," says Stevenson. "As we were working on this new record, a reoccurring theme I felt the Lord continually whisper to my heart was 'beloved identity.' I, like many of us, grew up in the church- a religious environment, where we weren't necessarily nurtured and taught about God's grace, patience and compassion. As I continue to grow and experience life, the truth I continue to encounter is 'I am His son, no matter what.'"
Fans can pre-order the album digitally and receive four songs instantly or pre-order on CD at www.ryanstevensonmusic.com. He is currently on the TobyMac Hits Deep Tour – see the remaining tour dates below.
2018 TobyMac Hits Deep Tour Dates:
3/2/18 – Omaha, NE – Baxter Arena
3/3/18 – Saint Charles, MO – Family Arena
3/4/18 – Grand Rapids, MI – The Van Andel Arena
3/8/18 – Belton, TX – Bell County Expo Center
3/9/18 – Lubbock, TX – United Super Market Arena
3/10/18 – El Paso, TX – Don Haskins Center
3/11/18 – San Antonio, TX – AT&T Center
3/15/18 – Tulsa, OK – BOK Center
3/16/18 – Baton Rouge, LA – Raising Cane's River Center
3/17/18 – Birmingham, AL – BJCC Arena
3/18/18 – Pensacola, FL – Pensacola Bay Center
##