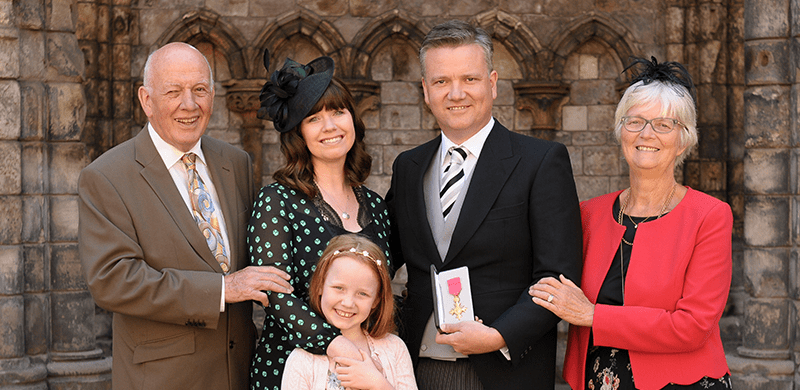 Hymn Writer Makes History as He Receives
OBE From Her Majesty The Queen
EDINBURGH, UK, July 3, 2018 — Keith Getty today personally received from Her Majesty Queen Elizabeth II the insignia commemorating the Officer of the Order of the British Empire (OBE) he was recently awarded, an occasion which marked the first time the award was made to an individual involved in the world of contemporary church music.
Getty, who was selected for his contribution to "Music and Modern Hymn Writing," attended the investiture with his wife Kristyn at a ceremony in Holyrood Palace, Edinburgh.
Beyond their work as hymn writers, the Getty's have spent the last decade as ambassadors of the genre. Their hymns, often written in collaboration with Stuart Townend, include the eponymous "In Christ Alone." An estimated 100 million people are singing Getty hymns in church services each year, with their unique ability to be sung in contemporary and more traditional contexts of church music.
Keith Getty says, "When I first received the call, I was pretty surprised. It is an honor for us as a family and also for the great hymn-writing heritage we have here in the UK of which we are a tiny part. I am very grateful to her Majesty the Queen, and it was a great privilege today to have her give the award in person."
The broader work of the couple is recognized around the world. From spearheading an annual global hymn sing with participation by millions in 100-plus countries, to their own performances for American Public Television and regularly for the BBC, to concerts and tours presented with their band of Irish and American virtuosos at Christmas and throughout the year at such notable venues as Carnegie Hall, The Kennedy Center, London's Royal Albert Hall and the Houses of Parliament, and for world leaders such as U.S. Vice President Mike Pence, former U.S. President George W. Bush and former South Korean President Lee Myung-bak, the couple is leading a world-wide revival of congregational hymn singing.

Getty continues, "I'm so grateful to my wife Kristyn, and also profoundly thankful for Stuart Townend, whose hymn writing partnership and brilliance have inspired us in every way. Kristyn and I feel utterly privileged to be able to serve the church in such a way and will continue to write and lead people in singing to build deep believers."

Last year, the Getty's first book, "Sing! How Worship Transforms Your Life, Family, and Church," was published by B&H Publishing Group to the critical acclaim of readers and media alike. The Getty's second annual Getty Music Worship Conference: Sing! will be hosted in Nashville, Tenn., Sept. 10-12, and it is anticipated there will be 7,500 attendees from around the world.
Press registration for the conference is available online and a special offer for media interested in attending the conference is available by contacting Elizabeth Bristow at press@gettymusic.com.
About Keith and Kristyn Getty: Keith and Kristyn Getty occupy a unique space in the world of music today as preeminent modern hymn writers. In re-inventing the traditional hymn form, they are creating and cultivating a catalogue of songs teaching Christian doctrine and crossing the genres of traditional, classical, folk and contemporary composition which are sung the world over. Keith and Kristyn live between Northern Ireland and Nashville with their four daughters.
##