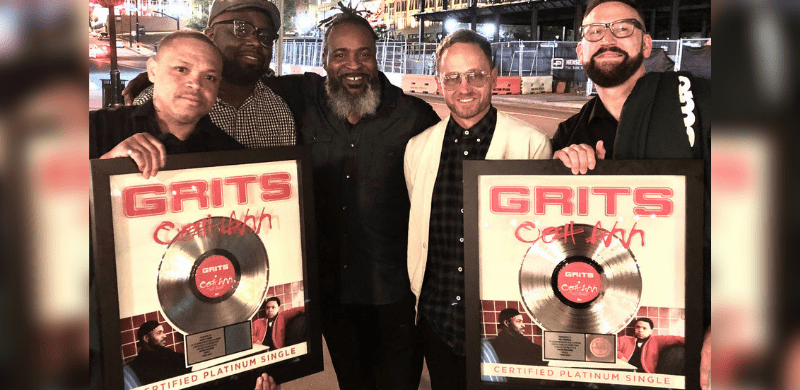 NASHVILLE, TENN. – Celebrating their 25th year, Gotee Records recently recognized the label's first RIAA Platinum certification for the hip-hop duo GRITS' song "Ooh Ahh" that features TobyMac from the 2002 album, The Art of Translation. The song, which never had a music video nor was a radio single, was used on the big screen in The Fast And The Furious: Toyko Drift and Big Momma's House 2. It was also the theme song to the two seasons of MTV's The Buried Life. Those placements in film & tv propelled the song in digital track sales to a RIAA Gold certification in 2014 and has continued to grow in streaming.
GRITS (an acronym for Grammatical Revolution in the Spirit) is the hip-hop duo consisting of Teron "Bonafide" Carter and Stacy "Coffee" Jones. Formed in 1994, they were the third artist signed to Gotee Records releasing their debut album Mental Releases in 1995. While their first three albums established GRITS as underground icons, it was their breakthrough fourth album The Art Of Translation in 2002 that solidified the ' assent as one of hip-hop's hottest rising new stars with the now Platinum selling song.
"Art of Translation was a seminal moment in independent hip-hop," shares Joey Elwood, President of Gotee Records. "It brought together creative forces from all across the hip-hop world. They merged their faith with their art in a way that blurred the lines in a really good way. The songs are timeless, but ' Ahh', was a standout for sure. The song is so widely recognized, globally and is multi-generational. Super proud of that moment in our history and will always consider it one of the big highlights in our 25 years.
Produced by Incorporated Elements, the production duo of Ric "DJ Form" Robbins and Otto Price, the song was mixed at MixStar Studios in Virginia by Serban Ghenea, who has become one of the most prolific, in demand mix engineers of his time. His vast credits include Justin Timberlake's GRAMMY winning Justified album, Kelly Clarkson's multiple GRAMMY winning album Breakaway, Mark Ronson's Uptown Funk, Taylor Swift's1989 album and many more.
Rappers Bonafide and Coffee have heard their music on the big screen before with the 2002 single ""Here We Go"" featured in Something's Gotta Give starring Jack Nicholson and Diane Keaton, as well as their music used in independent films including "Devious Beings", "Lockdown", and "Road Dogz". '' songs have also been used extensively on television including shows like "MTV CRIBS", "The Real World", "Pimp My Ride", "My Super Sweet Sixteen" and "Boston Public".
Over the course of their career, GRITS shared the stage with OutKast, Jay-Z, Nappy Roots, Ice Cube, De La Soul, A Tribe Called Quest, Goodie Mob, and Monica. They received media coverage on MTV2's Top 10 Most Requested, Top 5 Handpicked and in the pages of XXL, Spin, Vibe, Billboard, The Source, URB and other publications and media. They have a Billboard Video Award, three Dove Awards, two GRAMMY nominations and two RIAA certifications to their credit.