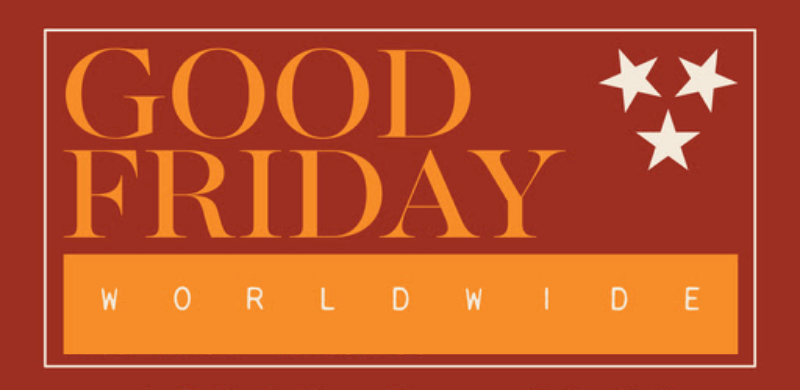 UPDATE: WATCH BELOW
---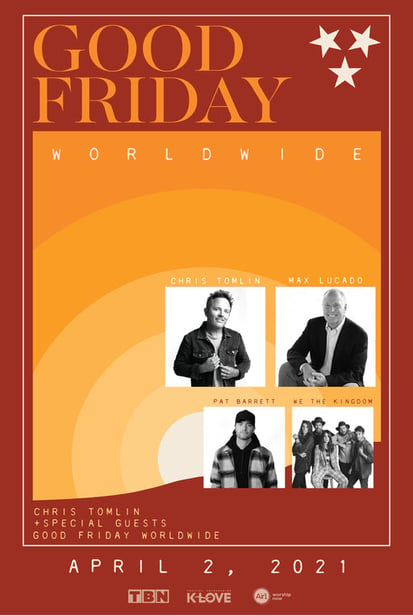 NASHVILLE, Tenn. – (March 26, 2021) – After a difficult year of global hardship and loss, Grammy award winning artist Chris Tomlin joins forces again with Max Lucado, K-LOVE, radio stations all around the country, and TBN for a second year in a row for GOOD FRIDAY WORLDWIDE one week from today. In the spirit of unity and collaboration, everyone has brought their unique gifts, audiences, and voices together to meet people wherever they are, all at the same time and in the same moment across this world, to deliver the message of hope that comes from the cross while uniting the church in worship. GOOD FRIDAY WORLDWIDE with Chris Tomlin and Max Lucado, will feature an impactful and timely message from Max and worship led by Chris along with Pat Barrett and We The Kingdom which will air on Friday, April 2 at 7PM CT/ 8 PM ET. In the spirit of Good Friday Nashville and its history of surprise guests, the program will also feature an unannounced award-winning musical guest for an unforgettable and powerful moment.
GOOD FRIDAY WORLDWIDE with Chris Tomlin and Max Lucado will simulcast with radio partners K-LOVE, and Air1 as well as over 30 additional radio stations across the country. The television broadcast alone will be seen and heard in over 32 countries.
"This is a moment aligned by God to touch millions of lives," said Chris. "One of the effects of this season and quarantine has been that the face of worship has changed. We aren't going to a physical church every Sunday. We aren't gathering in person with our community each week. We have been challenged to find new ways to not only engage ourselves and our families, but also our community in worship. What I know is that the heart of worship hasn't changed, and I am so grateful for Max Lucado, K-LOVE, the other partnering radio stations, TBN and all the people involved for being willing to come together to help deliver a message of hope and remind us the meaning and power of worship. This is a unique moment in time and there is an opportunity for this to be one of the most impactful Easter weekends we will ever experience in our lifetime."
"Seldom have we needed a Good Friday as we do this year," said Max. "We've been tested, challenged and stretched. We need a refreshing return to the One who surrendered all on our behalf. Please join Chris, friends and me as we gather at the foot of the cross."
"We're grateful for K-LOVE & Air1 to partner with TBN and these talented artists and speakers as together we share the hope of Jesus with people around the world," said Bill Reeves, CEO of Educational Media Foundation. "We're excited that this collaboration offers so many opportunities—TV, radio, streaming and social media— for people to hear about, remember and celebrate God's love."
"This Good Friday believers across the earth will take time out of their day to reflect on the meaning of Christ's suffering and death," said TBN Chairman Matt Crouch. "Here at TBN we're blessed to welcome Chris Tomlin and Pastor Max Lucado and some talented worship artists as we invite viewers to join us in thanking Jesus for His incomparable gift of salvation."
Since its inception in 2017 when it broke the attendance record as the largest ticketed Christian concert in the history of Bridgestone Arena, Good Friday Nashville has sold-out each year. In 2019 the concert smashed that earlier history-making attendance record.
Chris talked with the Tennessean about this year's GOOD FRIDAY WORLDWIDE with Chris Tomlin and Max Lucado special and his pledge to return to Good Friday Nashville on April 15, 2022, and indefinitely in years forward, to make an impact in Music City and Tennessee by donating proceeds back to the communities.