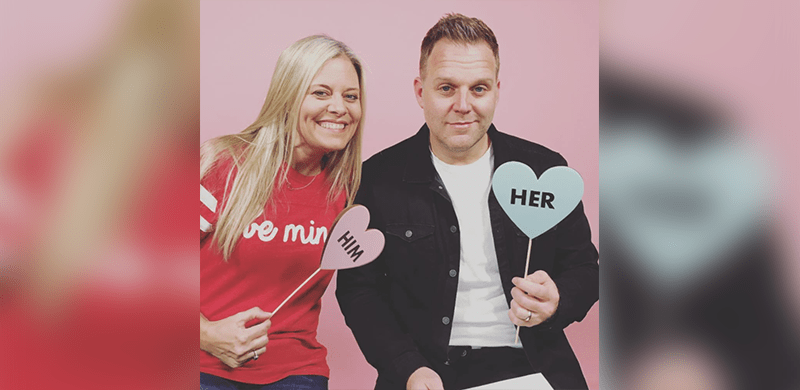 Four-Time GRAMMY® Nominee Matthew West Pens Song for Wife
Inspired by their Real-Life Music City Love Story
West and Wife Emily have Valentine's Fun with "Him or Her" Game
Nashville, Tenn. (Feb. 12, 2018) – Included on four-time GRAMMY® Nominee Matthew West's latest chart-topping album, All In, the love song "Jesus & You," is dedicated to West's wife, Emily. Inspired by the couple's real-life Music City love story, the two had an unlikely meeting when West walked into a label expecting to sign a record deal, not knowing that his future wife was also in the audience that day.
Coinciding with the song, West released a lyric video for "Jesus & You" composed of a montage of young couples interspersed with footage of West and Emily West on their wedding day, almost 15 years ago. Along with the lyric video, West recently released an acoustic performance of the song. Just in time for the holiday, West and wife Emily had Valentine's Day fun playing the "Him or Her" game. With close to a quarter million views already across social media platforms, fans are given an inside look into the couple's everyday relationship.
About Matthew West
Matthew West is a four-time GRAMMY® nominee, a multiple-ASCAP Christian Music Songwriter/Artist of the Year winner and Dove Award recipient, and was awarded an American Music Award (2013), a Billboard Music Award (Top Christian Artist, 2014), a K-LOVE Fan Award (2016), and named Billboard's Hot Christian Songwriter of the Year (2016). West also received a Primetime Emmy® Award nomination for Original Music & Lyrics for "The Heart of Christmas" from the film of the same name. In addition to his own recording career, he has co-hosted the K-LOVE Fan Awards three times and has more than 130 songwriting credits to his name, including cuts by Rascal Flatts, Scotty McCreery, Michael W. Smith, Amy Grant, and Mandisa, among others, and number one cuts by Casting Crowns and Danny Gokey. Selling more than 1.6 million albums to date (TEA), West's discography includes acclaimed releases: All In (2017), Live Forever (2015), GRAMMY-nominated Into The Light (2012), The Story of Your Life (2010), Something to Say (2008), History (2005) and Happy (2003).
Well known for communicating stories through song, Matthew West has received thousands of stories from around the world. His studio album, Live Forever (2015), continued that storytelling theme and debuted at No. 1 on the Billboard Christian Sales Chart. He has obtained numerous No. 1 singles, most recently with "Broken Things," while achieving a record-setting No. 1 for 17 straight weeks at radio with "Hello, My Name Is" and "The Motions" for 15 weeks.
Adding author to his list of accolades, West has written five books to date: Give This Christmas Away, The Story Of Your Life, Forgiveness, Today Is Day One, and his newest release, Hello My Name Is. He is also passionate about providing hope and healing through the power of prayer and story, so along with his father Pastor Joe West he founded popwe, a non-profit ministry helping others to craft, share, and live a more meaningful life. Please visit popwe.org for more information.
##