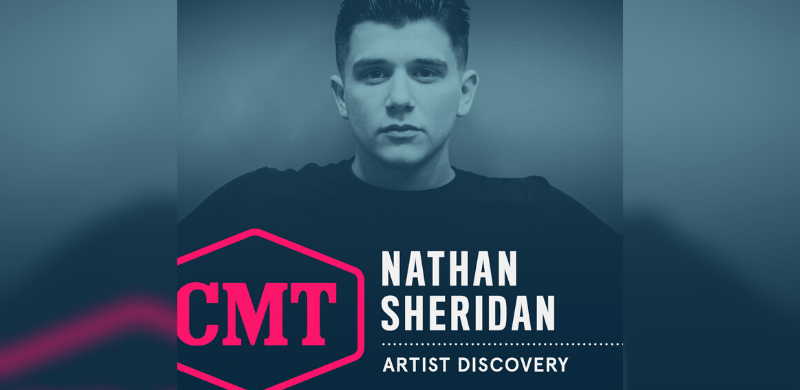 NASHVILLE, Tenn.—"Again," the emotional new music video from acclaimed Burtonwood Records singer/songwriter Nathan Sheridan, is making its world premiere today on CMT Music and CMT.com. CMT's 24-hour music video channel available in 35 million households, CMT Music will showcase the video three times today: between 7:30-8:00 am ET, 1:30-2:00 pm ET and 7:00-7:30 pm ET. Additionally, the clip is slated to air three times daily for six weeks as part of CMT's "Artist Discovery" platform.
Directed and produced by Joel Burris in association with ATD, "Again" pays tribute to veterans of the Greatest Generation, as well as honoring Sheridan's own family. Scenes depicting Sheridan's upbringing by his grandparents and his sister's untimely death parallel a series of fictional flashbacks set during World War II. Sheridan—a veteran of the US National Guard—plays an American soldier in the flashback scenes, while his wife, Harley, also portrays his wife onscreen.
"I think what makes the video so special is how it perfectly captures the lyrics," Sheridan says of "Again." "The sentiments and the nostalgia of the song are heightened through the video. And it's so personal, both for me and Joel, with his grandmother and my wife featured in the video. I think the story is relatable for everyone. We've all lost someone we love somewhere along the way and can identify with that theme."
"I'm so happy CMT Music loves the song and wants to premiere the video," he adds. "Growing up, I watched CMT every morning—that was my daily ritual—so it's pretty surreal to see this happening."
"Again" is featured on Sheridan's Burtonwood Records debut, Broken With You. The 11-song set, all written or co-written by the artist, draws from Sheridan's powerful life story and was produced by Seventh Day Slumber's Jeremy Holderfield.
Born in Slidell, Louisiana, to parents dealing with addiction, Nathan Sheridan was raised by his grandparents. Following a tumultuous childhood that included the loss of his older sister to brain cancer, Sheridan made a commitment to Christ when he was 14. Upon high school graduation he enlisted in the National Guard and served his country for six years. While deployed in Kuwait, Sheridan led worship for fellow soldiers, providing a foundation that impacts his ministry today.