Building 429 Launches 3rd Wave Music, Releases "Fear No More" To Radio/Retail April 5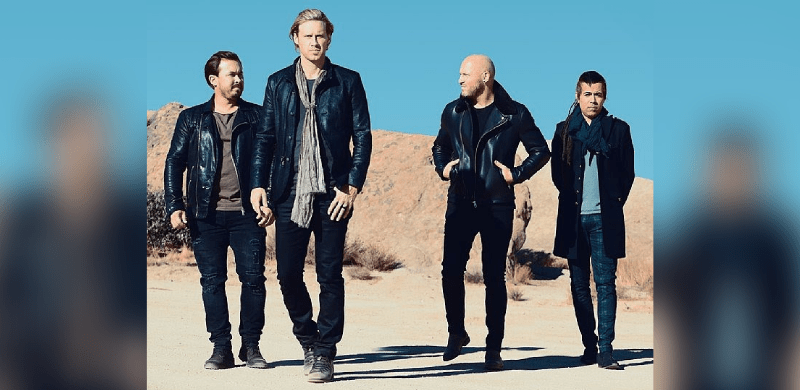 Award-Winning Band Signs Global Distribution Agreement With The Fuel Music
Billboard Breaks Label, Distribution News, Premieres Single
GRAMMY® nominated, Dove Award-winning Building 429, widely known for its RIAA Gold-selling "Where I Belong" and more chart-topping No. 1 hits like "We Won't Be Shaken," "Listen To The Sound" and "Glory Defined," releases its next single, "Fear No More," on its newly-formed 3rd Wave Music April 5. In addition to radio, the single will receive distribution for the first time from The Fuel Music into digital and streaming outlets globally.
For Building 429, anthemic battle cries about living an unshakable faith have been the catalyst to multiple hit singles and playing for millions of fans in sold-out venues internationally. Known for writing songs about faith showing up in everyday moments, the band's dynamic new single, "Fear No More," encourages listeners to hold fast to faith amid life's inevitable setbacks.
"I wanted to write a song that spoke to the reality that many times, the things we wouldn't ever choose actually lead us directly into the most beautiful, life altering moments where the reality of God's presence is beyond a doubt," says Building 429 frontman Jason Roy. "Whatever challenge you may be facing in this time, I hope this song reminds you that God is with you in the trial, that while every great book has moments of doubt, the hero is always with us, and the final chapter is yet to be written."
With Billboard breaking the label, distribution news today and premiering the new single, Building 429 is revealing the direction for its own next chapter. The band, comprised of Jason Roy (vocals), Michael Anderson (drums), Jesse Garcia (guitar) and Aaron Branch (bass), in partnership with Vasquez Entertainment, is taking over the creative reigns with the formation of 3rd Wave Music. After recently parting ways with Provident Label Group/Sony Music, Building 429 is bringing together a talented new team to help bring the award-winning band to new levels in this next season. The innovative, 3rd Wave Music label structure allows for a flexible, multi-song release schedule to satisfy fans' desire for more music, more often.
"We're in the third wave of our career," Roy says in Billboard. "The first wave was me as an independent artist, trying to figure out what would work and what wouldn't. Then the second wave was signing a big ol' record deal with a big ol' company where all your dreams seem to come true. That's all I ever wanted in life and then coming to the end of it, and beginning to realize that there's a real possibility that I could do this better and that I could do this in a way that is unique directly to me and unique to the artists that we sign — I believe that the third wave of my career is where I'm going to yield the greatest results."
"It's been an honor to walk side by side with Building 429 over the last 15 years. In partnership with The Fuel Music, I'm thrilled to see what this next season holds for the band's music and ministry," says Gabriel Vasquez, owner and president of Vasquez Entertainment. "The team that has come together around this new endeavor is beyond stellar and we look forward to the exciting opportunities that lie in approaching artist development and releasing music in a new way."
"Fuel is really excited to partner with Building 429 and Vasquez Entertainment on the launch of 3rd Wave Music," says Tony Patoto, The Fuel Music founder and CEO. "Building 429 is a highly-sought-after band whose music is brilliant, and Fuel is thrilled to be able to serve their vision and goals and make some history with them."
One of Christian music's top artists, Building 429, is taking "Fear No More" and fan favorites on tour coast-to-coast, currently headlining its Live The Journey Tour with special guestsSanctus Real, Stars Go Dim, Blanca, We Are Vessel and The Color on select dates.
For all the latest tour dates, music and more Building 429 news, visit www.building429.com,Facebook (463,000+ likes), Twitter, Instagram and YouTube (over 15 million views).