'Bridges With Patsy Clairmont And Andrew Greer' Spans Second Season with Celebrated Guests and Timely Topics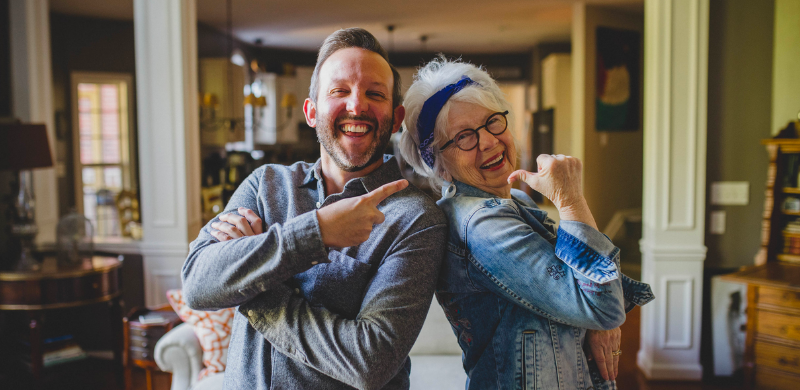 NASHVILLE, Tenn.—Continuing a mission to unite listeners of all ages around timely topics that challenge and inspire, popular podcast
Bridges with Patsy Clairmont and Andrew Greer…Spiritual Connections Through Generational Conversations
has launched its second season with a range of distinguished guests and specially themed episodes, including a series of shows celebrating Black History Month.
Co-hosted and co-produced by bestselling author and speaker Patsy Clairmont and Dove Award-nominated singer/songwriter and author Andrew Greer, the podcast's second season has already debuted conversational "bridges" with some of today's leading voices of faith, including Emmy-winning television host, author and recording artist Kathie Lee Gifford; singer/songwriter, author and Rabbit Room founder Andrew Peterson; and chart-topping singer/songwriter and author Tasha Layton, to name a few.
New this week,
Bridges
showcases award-winning comedian and singer/songwriter Mark Lowry, with upcoming guests to include
New York Times
bestselling author and speaker Jon Acuff; GRAMMY®-nominated singer/songwriter Danny Gokey and his wife Leyicet; and author, speaker and popular illusionist Harris III, among numerous inspiring personalities from all walks of life.
Throughout the next four weeks Clairmont and Greer will turn their focus to Black History Month with a series of important conversations, including a February 7 episode with lauded vocalist and former
American Idol
contestant Melinda Doolittle on her journey towards understanding in race relations. In addition,
Bridges
will revisit a key interview from its first season with Dove Award winner Lynda Randle. The Gospel songstress shares some of her experiences facing racism and why being committed to unity is so crucial in the February 14 episode.
"Patsy and I began co-hosting
Bridges
in 2020, a humdinger of a year marked not only by the introduction of a global pandemic, but our nation's struggle to balance racial relations and political unrest," Greer explains. "The ability to pause, sit around a table, and ask questions of guests from all ages, backgrounds and perspectives has given Patsy and me a new foundation for seeking understanding in the hardest of dialogues, as well as a fresh lens through which to experience our faith. Hopefully this is what our listeners receive from these inspiring and enlightening conversations as well."
"I have loved embracing these 'bridges' confirming the importance of connections that bring us together," Clairmont adds. "Andrew and I set a high priority on learning and growing so I'm thrilled we will be showcasing even more guests of all ages and all walks of life who will unite us with their stories, music and faith."
Landing in the Top 15 on Apple's Religion & Spirituality podcast chart following its debut in 2020,
Bridges with Patsy Clairmont and Andrew Greer…Spiritual Connections Through Generational Conversations
welcomed such guests as speaker and social media influencer Carlos Whittaker; bestselling author Rebekah Lyons; Cy Young Award-winning MLB pitcher Barry Zito; former star of "The Bachelor" Ben Higgins; and YouTube sibling superstars Cimorelli, among other personalities in its first season. Presented by Food for the Hungry
,
Bridges
is available via
Apple Podcasts
,
Spotify
and
Pandora
.
##