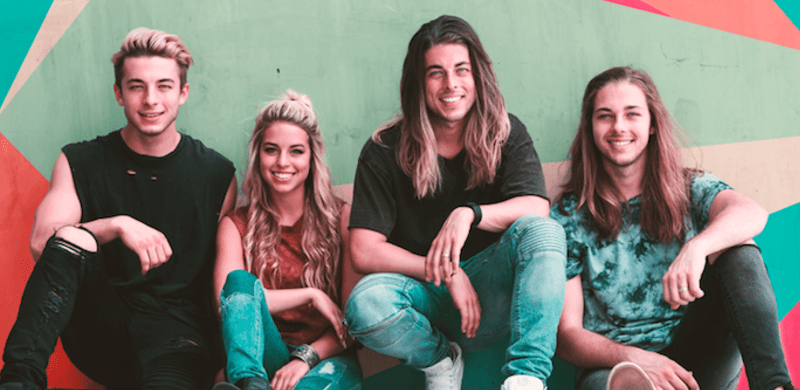 Introducing Bonray –
Four-Piece Band Makes Their Label Debut with Single, Lyric Video for "Turn My Eyes"
21 July 2017 – Nashville, TN – Sony Music / Provident Label Group announces the official debut from Bonray. This four-piece group of siblings who officially signed with the label earlier this year, are ready to drop their first single, the anthemic "Turn My Eyes," also accompanied with a lyric video. "Turn My Eyes" is now at Spotify and iTunes, and a major radio promo tour is also currently in the works.
Produced by Bryan Fowler (TobyMac, Mandisa) and co-written with the band by Fowler and Jonathan Smith (Zach Williams, We Are Messengers), "Turn My Eyes" shares the important message about where to find hope, especially during trying times in our lives.
"It's so easy to allow fear and worry to overhelm and paralyze us when we're facing difficult situations, but we can find peace and courage when we look to Jesus," the band shares collectively. "He is the only real answer. We wanted to write this song to remind us to take our eyes off of our own circumstances and turn to Jesus."
Bonray is made up of Zac, Jesse, Jake and Morgan Bonner. Hailing from Pennsylvania, they grew up in the church where their dad was a pastor and is still pastoring to this day. The siblings have been playing music and performing together for most of their lives, crediting their parents for always having music in the home. Since officially becoming Bonray in 2014, the group has been touring around the U.S. while also vlogging and creating popular mashup/cover songs for You Tube from artists such as Needtobreathe, Tobymac, Danny Gokey, and even Justin Timberlake. Bonray also had their song "Good Life" featured in ABC's 2016-17 series, "Imaginary Mary."
"We're a family and we're a band, we work together and we do life together," the group shares collectively. "Faith and music was such a big part of our family growing up…and this is what it's meant to be. We're all best friends and we work through everything together. It's awesome to be able to experience these things with people that you know will be with you for the rest of your life."
To catch Bonray live, upcoming tour dates are listed below:
July 24 – Waxahachie, TX
July 28 – Pierre, SD
Aug. 4 – Middlebourne, WV
Aug 11 – South Bend, IN
Sept. 3 – Vail, CO
Sept. 17 – Seattle, WA
Sept. 23 – Mount Vernon, OH
Oct. 13 – Forsyth, GA
Oct. 15 – Charleston, WV
Who is BONRAY?
For more information, please visit BonrayMusic.com and the social links below.
Twitter
Facebook
Instagram
YouTube
##