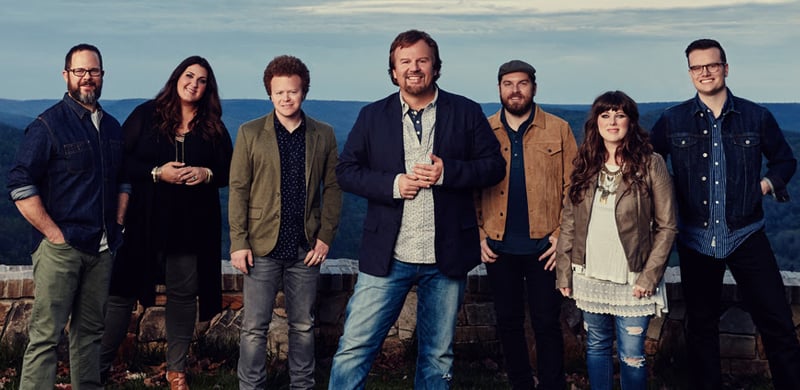 L to R: Juan DeVevo, Megan Garrett, Brian Scoggin, Mark Hall, Chris Huffman, Melodee DeVevo, Josh Mix
NEW STUDIO ALBUM, THE VERY NEXT THING, RELEASES SEPTEMBER 16
HONORED WITH FOUR 47TH ANNUAL GMA DOVE AWARD NOMINATIONS
NASHVILLE, TENN. (August 19, 2016) – Multi-platinum selling and GRAMMY® winning group Casting Crowns has joined a very small but elite group of Christian artists as they surpass 10 million albums sold to date since their label debut in 2003. This significant milestone comes on the heels of the upcoming new studio album, The Very Next Thing, releasing on September 16, 2016 (Beach Street/Reunion). This marks the group's 15th release and eighth studio album since the label debut release. With these sales numbers, Casting Crowns has held the position as Billboard's top-selling act in Christian music since 2007.
"It is a rare honor to be in a position to congratulate an artist on the milestone of selling 10 million albums in their career," states Terry Hemmings, President/CEO Provident Music Group. "The fact that Casting Crowns has done so, and in a relatively short period of time, clearly speaks to the power of the songs and the message this band has communicated over the last 13 years. It's a testimony to the impact of their hard work and dedication to ministry. We are so grateful to walk alongside Casting Crowns and be part of sharing their music with the world."
"What a true blessing Mark Hall and Casting Crowns have been to me," shares Beach Street founder and Casting Crowns' Producer Mark Miller. "It's been a joy to have a front row seat and watch GOD work through them."
Even with the outstanding sales stats, Casting Crowns remains rooted in the local church where they began and continue to serve. It is at the local level that they are walking along with people in ministry and where the inspiration for albums are formed. The Very Next Thing is full of intimate songs as well as upbeat, fresh sounding tracks that will meet the listener with lyrics that impact with a strong message song after song. Fans can pre-order the album and receive the title track and the debut radio single "One Step Away" instantly. Click here to pre-order.
Last week, Casting Crowns was honored with four GMA Dove Award nominations (Song of the Year, Contemporary Christian Artist of the Year, Pop/Contemporary Recorded Song of the Year, Worship Album of the Year). The group has been nominated 42 times and received 17 Dove Awards.
Supporting the upcoming release, the group will be hitting the road this fall for "The Very Next Thing" tour presented by Compassion International and Museum of the Bible. The tour will feature label mate Matt Maher and special guest newcomer Hannah Kerr. Check the tour dates here.
About Casting Crowns:
Prolific CCM band Casting Crowns has achieved sales milestones including one RIAA 2x multi-Platinum album, four RIAA Platinum albums, two RIAA Platinum DVDs, seven RIAA Gold albums, four Gold DVDs, one RIAA Platinum certified single and five RIAA Gold certified digital singles. The band currently holds the position as Billboard's top-selling act in Christian music since 2007. Casting Crowns has also been honored with four American Music Awards (out of seven total nominations), a GRAMMY Award for its 2005 album Lifesong, and six GRAMMY nominations. In addition, the group has garnered 17 GMA Dove Awards and two Billboard Music Awards from 11 total Billboard Music Award nominations. Casting Crowns' seven band members all remain active in student ministry in the Atlanta area and tour according to their local church commitments. Serving his 25 plus years in youth ministry, lead singer/songwriter Mark Hall maintains his role as the student pastor at Eagle's Landing First Baptist Church in Atlanta.
Connect With Casting Crowns On Social Media:
Twitter
Facebook
Instagram
##
Media Contact:
Merge PR | Lori Mahon
Lori@MergePR.com | 615.579.1266