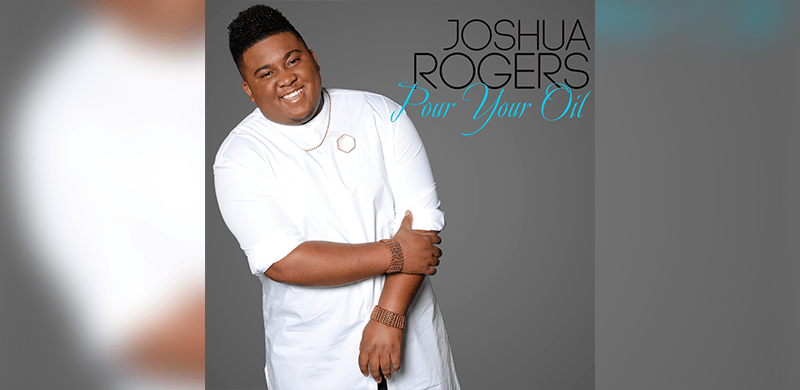 Rogers Returns With New Music And High-Profile
Public Appearances During Stellar Awards Weekend
New Single "Pour Your Oil" Is Available Now
On All Digital Outlets Where Music Is Sold And Streamed
ATLANTA, GA (Tuesday, March 19, 2018) — BET's Sunday Best Season 5 winner and Mixed Bag Music Gospel recording artist Joshua Rogers is RETURNING with new music after a 5 year recording hiatus and is set to make multiple high-profile public appearances – his first in several years in Las Vegas during the 33rd annual Stellar Gospel Music Awards this weekend including: the Stellar Awards Pre-Show, Gospel Radio Awards & Showcase among more.
Joshua Rogers returns with his new radio single "Pour Your Oil"- the lead single from his forthcoming third album RETURNING on his new record label Mixed Bag Music, LLC, which is slated for a 2nd QTR 2018 release with distribution by Entertainment One (eOne). Released Feb 8th, "Pour Your Oil," which is gaining major traction at Gospel radio is produced by BMI's 2016 songwriter of the year Lucius B. Hoskins (Shirley Caeser, Cheryl Fortune) and showcases Rogers multi-dimensional vocal ability on a soothing contemporary gospel worship tune. "Pour Your Oil" is a personal testimony for Rogers who has openly talked about depression due to his career, finances and health.
RETURNING is Joshua's most personal and career defining project to date. No longer a teenager, Rogers showcases his vocal versatility and maturity under the production of some of the industries top super producers such as; Elvis "Blac Elvis" Williams (Tamar Braxton, Smokie Norful, K.Michelle) Asaph Ward (Mary J. Blige, Kim Burrell), Pierre Medor (Sean Paul, Syleena Johnson) and celebrated newcomers Khirye Tyler (Jermaine Dolly, Jessica Reedy), James Wright (SENSERE), David Minus, Andre Johnson and Dennis Atkinson (Virtue, John P. Kee).
Additionally, Joshua is slated to release his first autobiographical book later this year, which chronicles the famed singers' highs and extreme lows of instant stardom.
"Pour Your Oil" is available now on all digital outlets where music is sold and streamed.
Listen To "Pour Out Your Oil" Below:
About Joshua Rogers
Joshua Rogers rose to prominence when he became the first male and youngest winner of BET"s Sunday Best season 5. The 22-year-old Greeleyville, South Carolina native released his first two albums Well Done (2012, #1 Top Gospel Albums) and Unconditional (2013, #2 Top Gospel Albums) on Mathew Knowles Music World Gospel label. In 2016, Rogers signed with emerging record label MixedBag Entertainment and released his first track "Don't Leave Me" in the fall of 2016.Produced by GRAMMY nominated producer, Blac Elvis (Beyonce, Tamar, Usher, Ciara) Rogers performed the new song on TV platforms such as BET's Joyful Noise, The Gospel According to Dorinda Clark Cole (TCT Network) and The Tim and Brelyn Bowman Show (The Word Network).
##