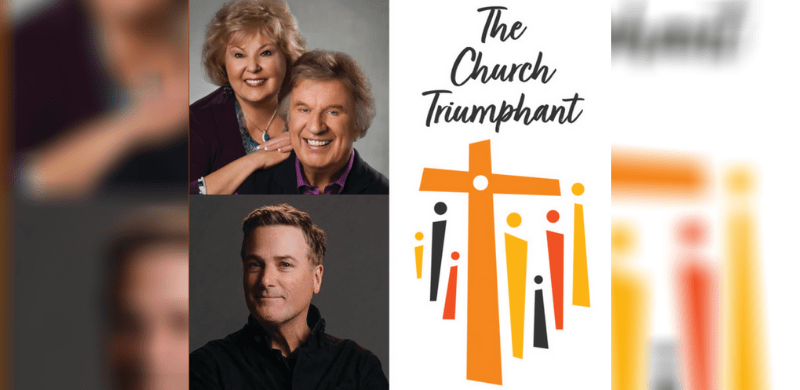 Nashville, TN: Gaither Music Group has just announced its participation with Michael W. Smith (Executive Producer), Mandisa, TobyMac, Francesca Battistelli, Michael Tate, Joel Smallbone, Sandi Patty, Natalie Grant, Mark Lowry and many others, including Bill and Gloria Gaither, who joined together to create a re-imagined version of the anthem of hope for the church "The Church Triumphant" during these difficult times. (https://www.triumphant.church/talent/)
"The past year has not been easy on the church," said Michael W. Smith. "While not all of us suffered from the virus, we all suffered from a lack of community. It can be challenging in these times of isolation, but the truth is that Christ's church is ALIVE & WELL."
Written by Bill and Gloria Gaither in 1973, "The Church Triumphant" has impacted countless people as they have been reminded of God's faithfulness irrespective of the circumstances of the day or the whims of the age. As the church gathers once again in sanctuaries and screens throughout 2021 and beyond, this newly-recorded classic, produced by award-winning producer Benjamin Backus, is a rallying cry of hope.
"The last prayer that Jesus prayed was, 'Father, may they be one,'" stated Gaither. "And to see this many artists become one is simply [them] saying, 'This is not about me. It's about something bigger than me.' What a joy to see all of these young contemporary artists out there saying, 'let the church be the church' and singing lines like '"this old ship has been through battles before, storms and tempests, rocks on the shore"…get your head up, saints. We're going to get through this one way or the other.'"
The song will premiere internationally through a one-hour television special on the Trinity Broadcasting Network this Friday, January 8, at 8, 9, 10, and 11pm (ET). The program will feature interviews with Smith, Bill Gaither, Kathie Lee Gifford and Jody McBrayer.
Churches throughout the country will celebrate Church Triumphant Sunday on January 10, introducing the recording to congregations. In addition, the audio single of the new recording will be available this Friday, January 8, on Apple Music, Spotify, Pandora, Amazon Music and everywhere you listen to music.
lnk.to/ChurchTriumphant2021 The new video will be available digitally everywhere on Monday, January 11.

All participating artists have donated their time and talent for this project. Proceeds will be donated equally to the GMA Foundation's Disaster Relief Fund and the Gospel Music Trust Fund.
Trinity Broadcasting Network, MWS Group, Gaither Music Group, Premier Productions, Gospel Music Fund and the Gospel Music Foundation have partnered together for this timely project.
To learn more about Church Triumphant 2021 and for a complete list of participating artists, click here www.triumphant.church